Chaosium at Necronomicon 2022
Posted by Michael O'Brien on 17th Aug 2022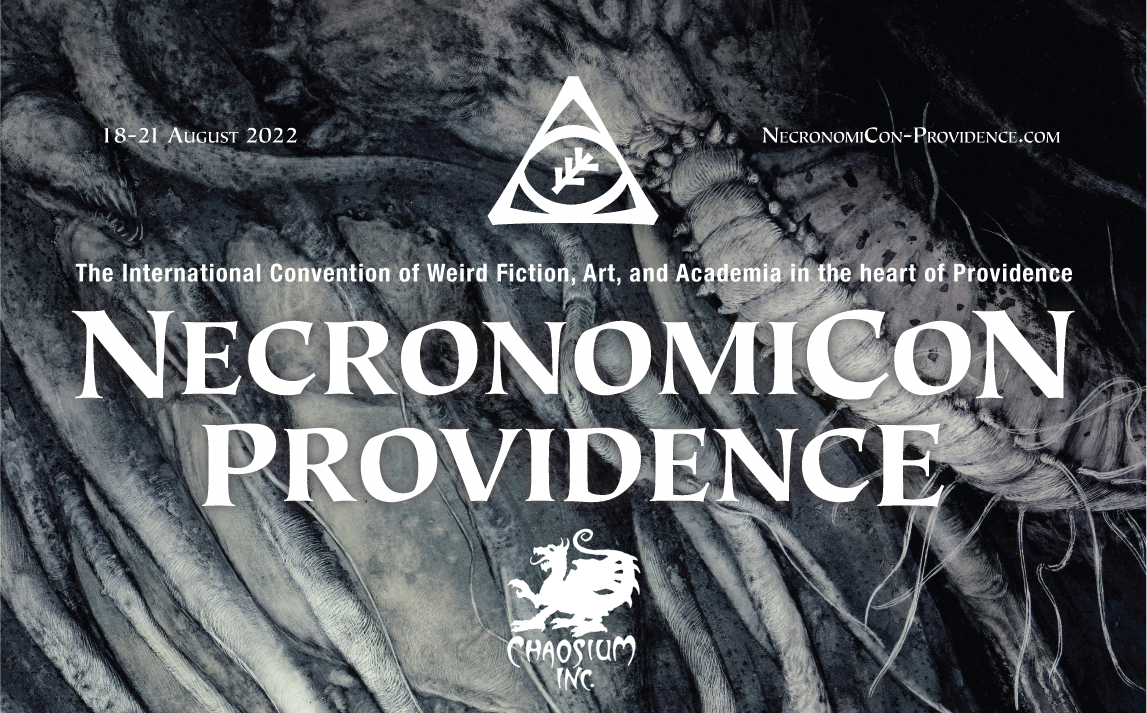 Later this week Chaosium is attending Necronomicon 2022, the International Convention of Weird Fiction, Art and Academia held bi-annually in Providence, Rhode Island.
Chaosium team members Andrew Bean, Lynne Hardy, Bridgett Jeffries, Mike Mason, Nick Nacario, and Matt Ryan will be attendance, along with Call of Cthulhu 7th edition co-author Paul Fricker, the H.P. Lovecraft Historical Society's Sean Branney and Andrew Leman, the chair of Miskatonic Repository Con Heinrich Moore, Golden Goblin Press's Oscar Rios (publisher of our Cthulhu Invictus setting and a Necronomicon 2022 Guest of Honor), and many other Chaosium authors, artists, licensees, and creative partners.
Chaosium Booth
From Friday 19th August - Sunday 21st you can find the Chaosium's booth in the Vendor Hall, aka the Grand Emporium of the Weird, where we'll be selling the latest Call of Cthulhu releases including Cults of Cthulhu and the Call of Cthulhu Classic boxed sets.
Chaosium Panels
Fri 19th - 11:00AM - Grimdark Fantasy RPGs as Cosmic Horror
Lynne Hardy (moderator), Mike Mason, Luke Stratton, Ken Hite, Badger McInnes
Fri 19th 5:00PM - Drawing the Mythos: Art Direction and Artistry for Game Books
Nick Nacario (moderator), Mike Mason, Mical Anderson, Daniel Gorringe, Badger McInnes
Sat 20th 3:00PM - Everyone Dies or Goes Insane: Survival and Consequences in Horror Gaming
Mike Mason (moderator) Lynne Hardy, Kenneth Hite, Cameron Mosbarger, Oscar Rios
Sun 21st 9:30AM - The Great Call of Cthulhu Campaigns
Lynne Hardy (moderator), Mike Mason, John Goodrich, Badger McInnes, Oscar Rios
Chaosium Games
Call of Cthulhu is naturally a big part of Necronomicon's Gaming program; and Mike Mason, Lynne Hardy, and Paul Fricker are guests for actual play sessions including a charity game for Extra Life.
For those of you attending Necronomicon, we look forward to seeing you for four days of weird fiction, art, academia, and festivities in the birthplace of Weird: Providence, Rhode Island.