Call of Cthulhu downloads continue to surge at The Dhole's House (free online toolkit for both Keepers and players of Call of Cthulhu)
Posted by Michael O'Brien on 25th Feb 2020
70,000 Call of Cthulhu pre-gen characters downloaded free from The Dhole's House last year (190 per day)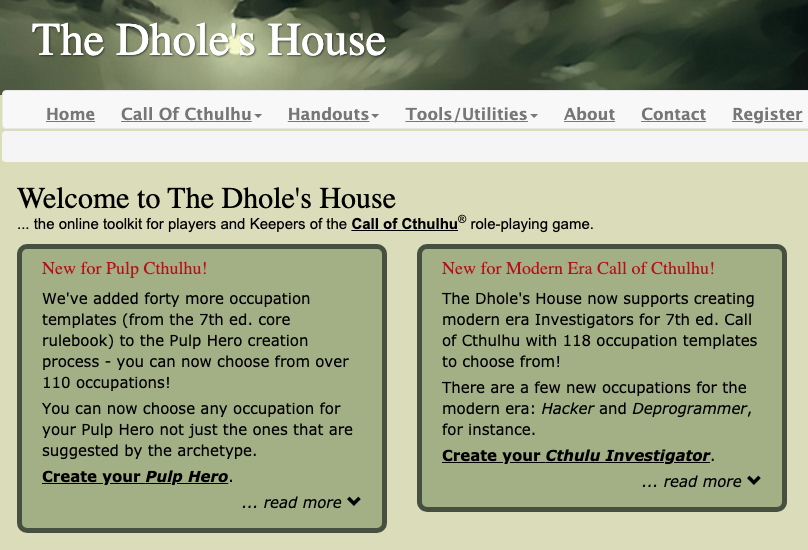 The Dhole's House is a free online toolkit for both Keepers and players of Call of Cthulhu. With it, you can create Call of Cthulhu investigators in minutes, or search the Character Library for characters for use as PCs and NPCs for Classic, Modern, Pulp, Gaslight Call of Cthulhu games. The Keeper section also includes an incredibly helpful handout generator for quick creation of in-game artefacts, and lots more.
The Dhole's House was created and is maintained by long-time fan Lee Carnell. On his blog, he recently shared usage numbers, which surged in 2019:
"Almost 70,000 Call of Cthulhu character sheets that have been downloaded from the site last year, that's 190 per day, and over 125,000 times in a little over three years, that's amazing. It's also a little scary when you take into account how much data that actually is and the fact that so many people have made the choice to create their Investigators on the site. That's mind-boggling."
Lee attributes some of the increase to Critical Role's streaming of Shadow of the Crystal Palace in July.
Here are the headline statistics for 2019.
Accounts created – 9,073
Character sheets downloaded by site members – 28,105
Character sheet downloads from the 'Library' – 41,853
7th Edition Call of Cthulhu Investigators created – 20,663
Go to https://www.dholeshouse.org to try out the investigator generator and toolkit for yourself!