Announcing new Chaosium fiction – SISTERHOOD: sixteen horror stories by some of the genre's leading female voices
Posted by Michael O'Brien on 18th May 2021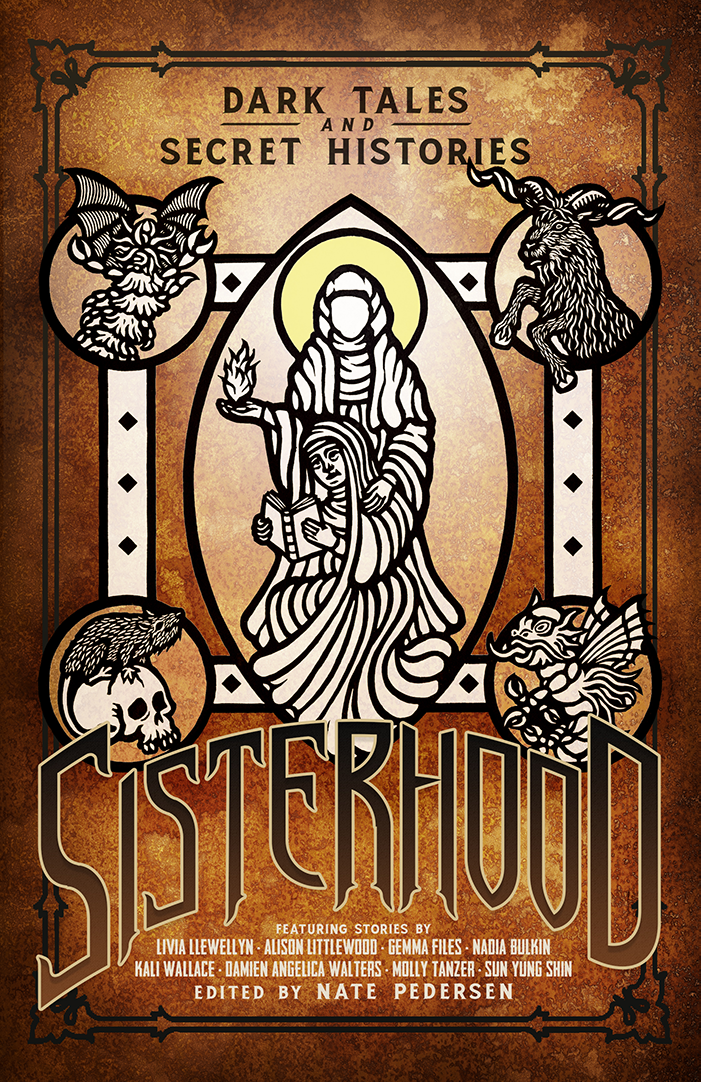 Dark Tales and Secret Histories
In churches and convents and other religious communities, sisterhood takes many forms, forged and tested by such mundane threats as disease and despair, but also by terrors both spiritual and existential—Satan's subtle minions and the cosmic nightmare of the Cthulhu Mythos. Sisterhood: Dark Tales and Secret Histories presents sixteen horror stories by some of the genre's leading female voices. Their settings range around the globe and across the centuries, from 6th century Ireland to 17th century Virginia to Indonesia in the recent past.
Contributors include such award-winning and critically acclaimed authors as Nadia Bulkin, Livia Llewellyn, Molly Tanzer, Sun Yung Shin, Gemma Files, Kaaron Warren, Damien Angelica Walters, and Selena Chambers.
Sisterhood: Dark Tales and Secret Histories
Edited by Nate Pedersen
Cover art by Liv Rainey-Smith
CHA6058
ISBN 978-1-56882-464-2
264 pages
EPUB, PDF, and MOBI formats – USD$8.49
— Available now from Chaosium.com*, DriveThruFiction, and DriveThruRPG
— Kindle version available from Chaosium at Amazon.com.
*purchase the digital version direct from Chaosium.com and you'll get the full price off the cost of the printed edition (trade paperback) when it is released later this year.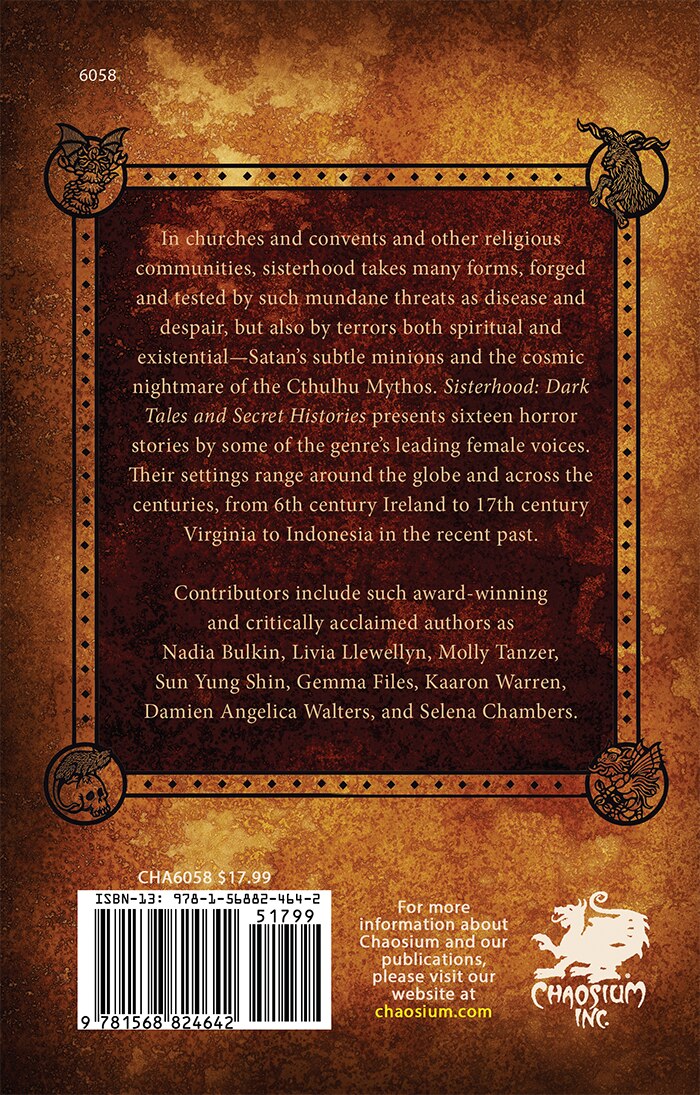 Table of Contents:
"The Wine of Men" by Ann K. Schwader
"From an Honest Sister, to a Neglected Daughter" by Monica Valentinelli
"Étaín and the Unholy Ghosts" by Lisa Morton
"The Barefoot Sisters of Saint Beatriz of the Mountain" by Kali Wallace
"Unburdened Flesh" by Penelope Love
"Only Dead Men Do Not Lie: The Trials of the Formosans" by Kaaron Warren
"Jane, Jamestown, The Starving Time" by Sun Yung Shin
"Dorcas and Ann: A True Story" by Molly Tanzer
"The Resurrected" by S. P. Miskowski
"The Low, Dark Edge of Life" by Livia Llewellyn
"The Anchoress" by Lynda E. Rucker
"Siūlais ir Kraujo ir Kaulų (Of Thread and Blood and Bone)" by Damien Angelica Walters
"Gravity Wave" by Nadia Bulkin
"The Veils of Sanctuary" by Selena Chambers
"The Sisters of Epione" by Alison Littlewood
"Red Words" by Gemma Files