The Two-Headed Serpent - Hardcover now available
Posted by Michael O'Brien on 11th Jun 2017
The Two-Headed Serpent, An Epic Action-Packed and Globe-Spanning Campaign for Pulp Cthulhu is available now in hardback, direct from Chaosium.com!
"A cross between Indiana Jones and Hellboy... awesome action movie fun with a beautifully realized Lovecraftian back drop... The staff at Chaosium have put together a marvelous globe trotting tale of monster filled, paranoia inducing, world ending mayhem." —Shoggoth.net
The 272 full color hardcover book comes with the PDF included. (If you previously bought the PDF, you'll receive a discount coupon by email).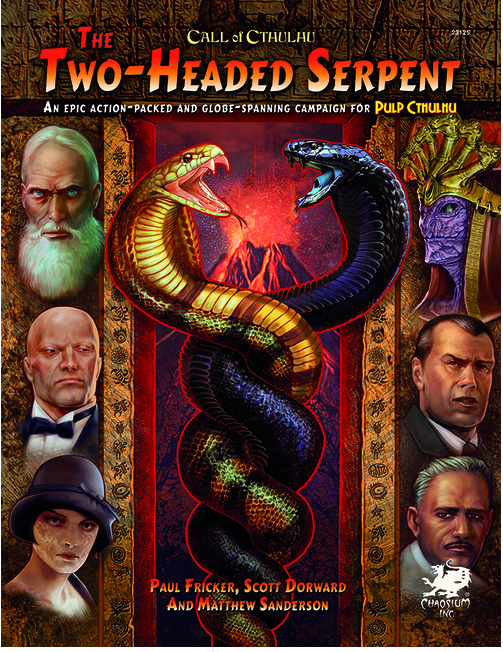 Availability Notice: We have stocks in our US and UK warehouses ready to ship. The Two-Headed Serpent will be arriving in Australia on or around June 24th. Australian orders received prior to its availability will be flagged as pre-orders.

The Grand Grimoire will go on sale in the first week of July. Buy the PDF now and receive the full price of the PDF off as a discount when you buy the hardback at Chaosium.com.