PULP CTHULHU and DOORS TO DARKNESS in Hardback - Available Now!
Posted by Michael O'Brien on 16th Nov 2016
The long-awaited Pulp Cthulhu and Call of Cthulhu scenarios book Doors to Darkness are both now available to order!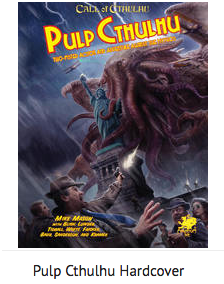 Pulp Cthulhu (272pp) is a game of two-fisted adventure, weird science, dark deeds, and brave heroes. With this book, some roleplaying dice, and the Call of Cthulhu Rulebook, you have everything you need to adventure and explore games set in the pulp genre.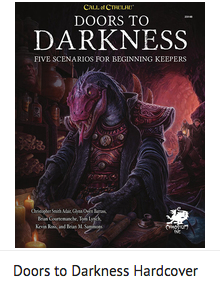 Doors To Darkness (144pp) provides five scenarios written especially for beginning Keepers and players of Call of Cthulhu. Here you will find horror, mystery, investigation, ghastly monsters, strange magics, and forgotten secrets, as well as plenty of advice about how to run the adventures for best effect that any Keeper, new or experienced, will find very useful.
Order yours now and they will be despatched by December 1st (or earlier - as soon as the shipments to the Kickstarter backers are done). Shipping is from one of our international fulfilment warehouses (USA, Australia, Europe).
Both books come with the PDF, free!