Free RPG Day's 'The Derelict' - how to get your copy if you missed out
Posted by Michael O'Brien on 20th Jun 2016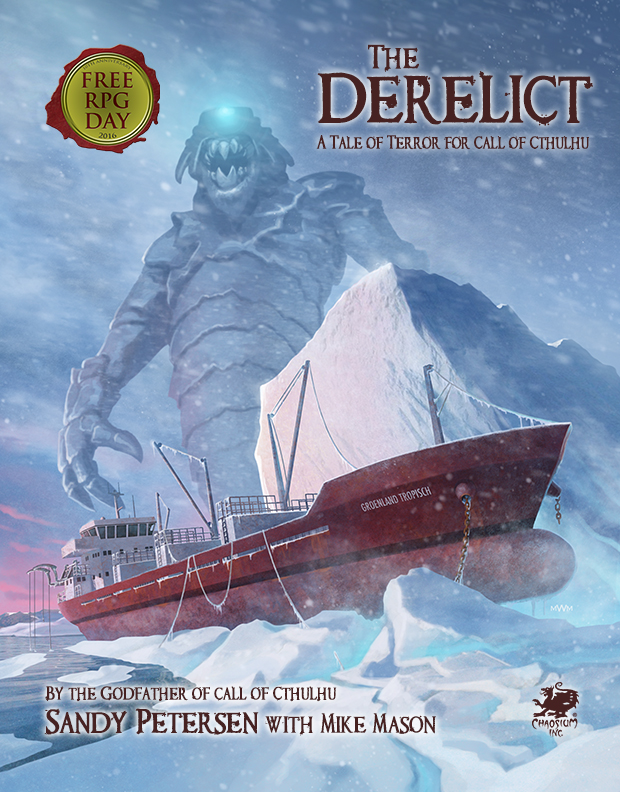 Last Saturday's Free RPG Day was a great success, with plenty of Call of Cthulhu mayhem and madness going on in Friendly Local Game Stores all over the world!
Chaosium supports Free RPG Day and its noble mission of seeing games get played in stores and supporting bricks and mortar retailers in general.
Our offering this year was 'The Derelict', a new 32 page scenario by the godfather of Call of Cthulhu himself Sandy Petersen, and Mike Mason, co-author of the new edition.
For those of you who participated, thanks for taking part - especially the Keepers and GMs running sessions!
But Chaosium didn't participate in Free RPG day to create a collectable or scarce scenario only available to a small subset of our fans. We appreciate that some people went to a FLGS on the day, only to find all the copies of 'The Derelict' had been snapped up. And many of you simply aren't in an area with a participating local game store.
So, if you really want a copy of 'The Derelict', this is what we can do:
All members of The Cult of Chaos, our organised play and gamemaster program, will get a free PDF download of 'The Derelict' on July 1st. Join here, it's free!
The physical version including color cover will be available soon via Lulu.com at cost price - $2.99 + postage. Update: POD version available from Lulu here.
(We also have a very limited number of print copies left and will be using them as convention giveaways. For example, we'll be giving physical copies to everyone who GMs Call of Cthulhu at Gen Con.)