Women in Tabletop Gaming Month #19: Chaosium interviews Liz Gridley
Posted by Michael O'Brien on 24th Jun 2018
Lynne Hardy interviews painter and graphic designer Liz Gridley for Women in Tabletop Gaming Month
Serious ones first:
1. What is your background?
I studied a Bachelor of Visual Art (Honours) degree with Monash University Caulfield and Churchill (Australia), finishing in 2010, but also have a background in oil painting, illustration, special effect makeup, and—of course—graphic design! I've worked for a variety of businesses, including secondary colleges, small business, clothing production, and promotional companies aside from the gaming community. Currently I'm working almost exclusively with gaming graphic design and my fine art career, culminating in my first solo show in Melbourne later this year.
2. How long have you been gaming? What attracted you to it in the first place, and how were you introduced to it?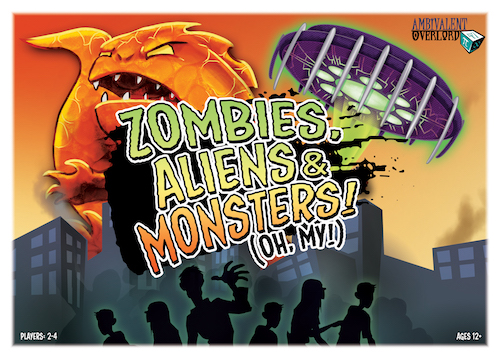 I started gaming after I left high school in 2006—the freedom to build new friendship groups let me dive into the deep end of "not just Monopoly" board games. I also worked at a chain store called Socrates which sold some early fave games such as Killer Bunnies, Ticket to Ride and, of course, Settlers of Catan. I loved how these games brought together my new friend groups and could be repeatedly fun (especially Ticket to Ride, a game that sounds so boring when described and now I'm always raring to play—yay trains!!). Talisman was probably one of the first long strategy games I played and I loved how it married to other fantasy worlds such as Lord of The Rings. I now enjoy watching strategy games as much as playing them, and often set up a painting easel next to the table so I can paint and stay in the story or world created through my friends' game experience.
3. How did you get into the gaming industry? What was the first gaming product you worked on, and in what capacity?
I'd been working in commercial graphic design for six years when I answered a call out from Ben Hughes of Ambivalent Overlord Games. Hughes particularly liked my previous work marketing the Victorian Discworld Klatch's events (for Terry Pratchett book fans!) which were very colorful and fun. I ended up picking up concept art started by another artist to complete his board game Zombies, Aliens & Monsters (oh my!). My first game design, this was a huge challenge, but incredibly fun. Ben Hughes had a solid concept and was very receptive to my own artistic flair in putting the game pieces and intense board together. I designed all the in-box pieces based off the predetermined "cartoony" style, as well as marketing material for crowdfunding the game's second edition. This project was a great jump in the deep end for me and I learned a lot.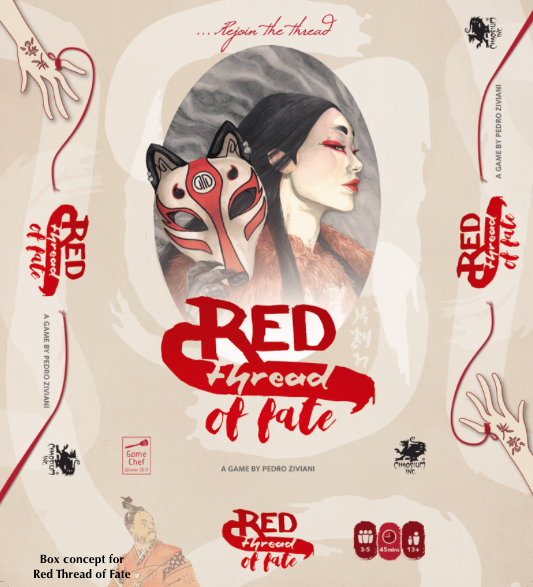 4. What was the last gaming product you worked on, and in what capacity?
I've just finished up the game design for Chaosium, Inc's newest board game Red Thread of Fate. Created by Pedro Ziviani, the game is set in ancient Japan and allows the characters to take the roles of folklore Henge (guardians). This game was a fantastic opportunity to learn a lot about a different country's history and traditional narratives. I designed all the cards, box art, and rulebook using some key artwork commissioned from artist Kat G. Birmelin (see Kat's own Women in Tabletop Gaming Month profile here) and historical illustrations by Japanese artists of the 1800s. Susan O'Brien of Chaosium, Inc (also profiled for Women in Tabletop Gaming Month) was again very collaborative in my designs to get not only the pieces right, but also allowing the visual story of the game to impart a "mood" on the players to influence storytelling.
5. What has been the most challenging gaming product you've worked on, and why? (Alternatively, this could be the gaming product you've learned the most from working on)
Honestly, Red Thread of Fate was initially very challenging, as not being Japanese myself I had a lot of work to do to research culture and design in a sensitive and accurate context. It was a hard task but we worked with collaboratively with Chaosium's colleagues at Arclight (Japanese publishers of Call of Cthulhu and Khan of Khans) on the design and use of Kanji text for accuracy and suitability. I'm very proud of the game and how my skills brought together many people's visions and hard work.
6. What has been the most enjoyable/rewarding gaming product you've worked on, and why?
I'm itching to hold a copy of Red Thread of Fate. I always get such a buzz holding (and playing) my latest work in its final form! So, this answer is pending—ha ha!
And now for some more frivolous ones:
7. Just how large is your dice and/or stationary collection?
Dice, I'm very sentimental and have my fave green/purple mix in my homemade pouch—but stationary is another thing entirely. I previously worked in a craft shop so my paper/art supplies collection rivals the store now—ha ha! (You can never have too many sketchbooks, pens, or paintbrushes!)
8. What is your favourite gaming snack?
I'm a big popcorn fiend! Sweet, salty, or buttery—it doesn't matter!
9. What's the most unusual/exotic location you've gamed in? Or that one of your games has been played in
I haven't globetrotted much with games, but my friends and I have done our share of trying to game on trampolines or in an outdoor spa! (More games need to come in a waterproof version!)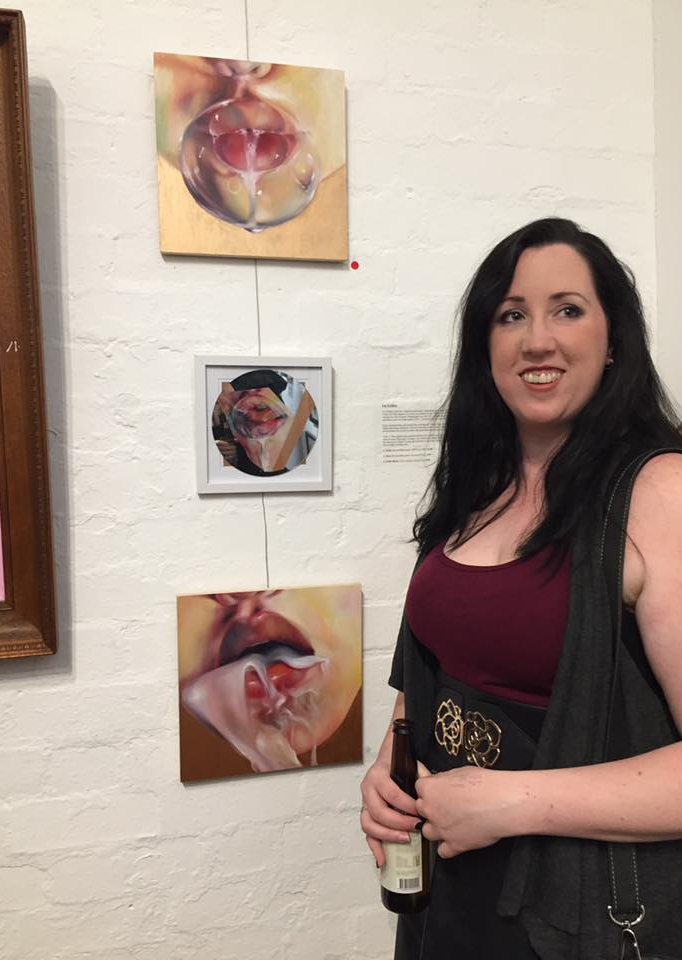 Bio:
Liz Gridley was born in 1989 in the eastern suburbs of Melbourne, Australia. In 2011, she received her Bachelor of Visual Art (Hons) degree from Monash University, which concluded with winning the Tolarno Painting Prize and the LaTrobe Regional Gallery Emerging Artist Award.
Focusing between her two loves of graphic design & oil painting, Gridley has recently moved back to Melbourne (from the Victoria countryside) and works out of her Knoxfield studio. In 2017, she won the Graeme Hildebrand Major Art Prize which included prize money to further her painting career and has funded her debut Solo Melbourne Art Show at Off the Kerb Gallery, October 2018.
If you would like to get in touch with the artist, she can be reached at lizgridley@gmail.com
Website: www.lizgridley.com.au
Graphic Design: https://lizgridley.com.au/graphic-design
Instagram: @lizgridleyartist