Unnatural Selections: Recent Chaosium Reviews of Note #3
Posted by Michael O'Brien on 27th Mar 2018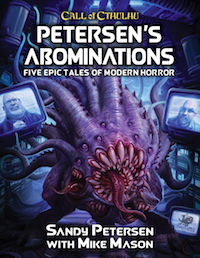 Petersen's Abominations is now out in hardback! This is a collection of five nightmarish modern-day scenarios by the creator of Call of Cthulhu himself.
Here's the Reckoning of the Dead blog's review (of the PDF):
"The scenarios in Petersen's Abominations are every bit as dangerous as those he wrote for Shadows of Yog-Sothoth in 1982, and every bit as enjoyable... Chaosium does it again, and offers us a marvelous supplement for our insatiable Call of Cthulhu appetites."
—Reckoning of the Dead.
ORDER PETERSEN'S ABOMINATIONS HERE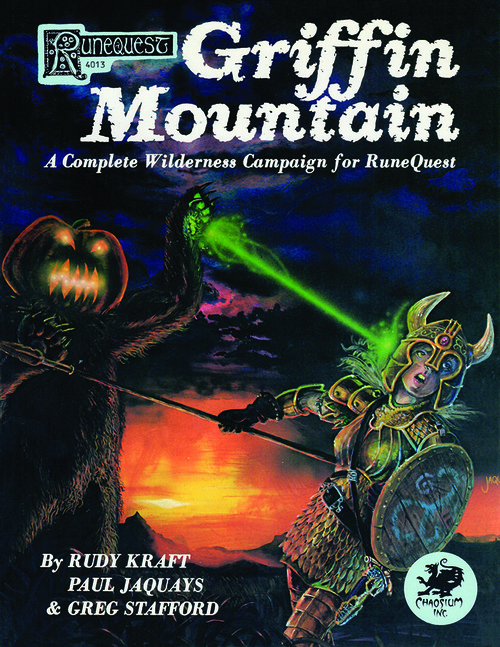 OK, this is not a recent review (in fact, the Grognardia Blog itself ended in 2012). But RuneQuest's Griffin Mountain is back in the wild again as a fully-remastered PDF true to the original printing. This is what Grognardia said about it in a retrospective review in 2010:
"Originally published in 1981, Griffin Mountain has been called -- not unreasonably -- one of the best RPG products ever produced for any game... a true masterpiece of the early days of gaming. It's a great example of a sandbox, filled with people, places, and adventure hooks to keep a party of characters busy for innumerable nights of adventure. Best of all, none of it feels heavy-handed or pre-scripted. Instead, what you get is a large canvas on which to create stories of one's own against the backdrop of one region of the world of Glorantha."
—Grognardia
ORDER GRIFFIN MOUNTAIN PDF HERE (or from DriveThruRPG HERE).
Finally, still speaking of classics, Seth Skorkowsky explains why Sandy Petersen's starter scenario 'The Haunting' has been in print constantly for nearly 30 years, and has been "a rite of passage for nearly every Keeper in that time."
—video review:
ORDER THE HAUNTING, AVAILABLE IN THE CALL OF QUICKSTART RULES HERE (or from DTRPG HERE)