Unnatural Selections #25 - what the reviewers are saying about the Call of Cthulhu Starter Set
Posted by Michael O'Brien on 30th Jul 2019

We designed the Call of Cthulhu Starter Set to contain everything you need - even dice - to start playing Call of Cthulhu, the tabletop roleplaying game of mystery and horror. And reviewers are in agreement - here's what they have to say:
Reviews from R'lyeh says the Starter Set is "the best introduction to Call of Cthulhu and best starter set for any roleplaying game currently available."
"Freaking Fantastic" says Seth Skorkowsky in his YouTube review, "… this big beautiful box contains everything a new player would need to get started playing."
"...this is a magnificent, perfect entry-level product. And no, this isn't misplaced nostalgia about boxed sets of yore. This is exactly how a new entrant should get access into a game as rich and elaborate...Tons of material. Easy to use rules. Dice. A low level price. What more does one want from a starter set?"—Antonios S. review, RPGNet.
"An extremely well done, well thought-out product that should appeal to players old and new."—Bud's RPG Review (YouTube review).
"Absolutely top notch… this is a quality item—hell it managed to convince me to put my hand into my pocket and I'm an old hand at Call of Cthulhu – and you know what? I don't regret a single penny of it, for this Starter Set has just been an absolute joy to delve into."—Hypnogoria, Answering the Call of Cthulhu (audio review).
"The Call of Cthulhu Starter Set is an investment that pays off many times over. Get this if you want to start gaming with the Mythos. Everything you need to play and start checking out the rules, plus a good bit more; a slam dunk for me at around 25 USD."—Burning Luck Reviews.
"When they say this is all you need to enjoy horror roleplaying they certainly aren't kidding… I can't stress enough how every person who loves RPGs should have this in their collection."—The Vintage RPG Podcast (podcast).
"...an ideal entry drug to the joys of Cthulhu one-shots"—Burn After Running.
"9.3/10: as an introduction to Call of Cthulhu this product is phenomenally well done."—The Gaming Gang (video review).
"I really can not recommend the Call of Cthulhu Starter Set highly enough. You could get this box and play for years… So, seriously. Get this box set. Give this box set to friends you think might like Tabletop RPGs. Do it."—matthewjconstantine.com.
When you are ready to delve deeper into the game, expand your fun with the 7th edition Call of Cthulhu Keeper Rulebookand Investigator Handbook, or get the complete Call of Cthulhu Slipcase Set!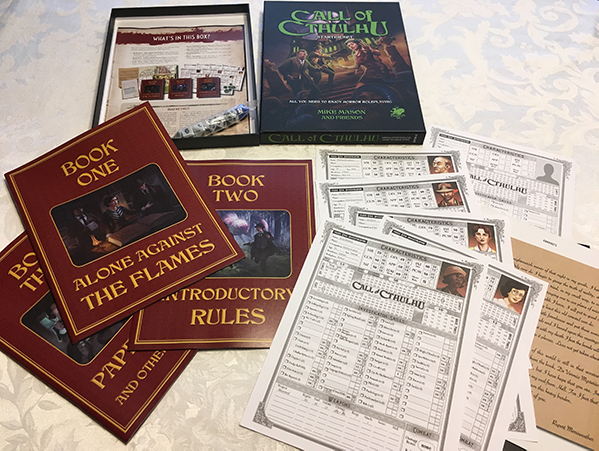 Download the Starter Set Pre-Generated Characters and Handouts