Unnatural Selections #20 - Call of Cthulhu the Video Game is 25% off on Steam until Feb 11
Posted by Michael O'Brien on 6th Feb 2019
Call of Cthulhu the Official Video Game is 25% off on Steam. This special ends on February 11.

Check out the game which terminallynerdy.com says is "The best representation of the Tabletop RPG Call of Cthulhu rules I have ever seen…Basically, it's a Call of Cthulhu tabletop RPG session played between a GM and a single player, and that is awesome."—terminallynerdy.com.
And here are some more recent reviews which we like:
9/10 - "I enjoyed every second spent in this game and truly recommend it to everyone that's a fan of H.P. Lovecraft, as well as classic pen & paper games."—Fuzion Reviews.
"Very engaging – I really like this game… recommended"—Skungy's Game of the Week, Geek of the Week Podcast (segment commences 18.18)
"The story is immersive and has buckets of atmosphere, as you'll explore labyrinthine areas and reconstruct events from clues at crime scenes. If you're a fan of cosmic horror, you'll love the game's more trippy sequences. It asks just as many questions as it answers, but knowledge is not necessarily a good thing…"—Vampire Squid, 'The Best Horror Games of 2018'.
"A game completely recommended to fans of HP Lovecraft's stories as well as fans of Survival Horror genres or RPG games."—Andalusia Game (review is in Spanish)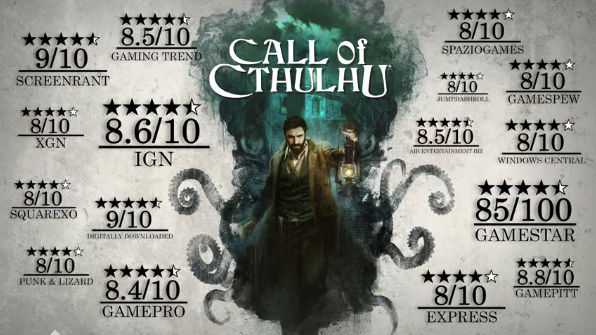 "I find you care about what happens in the narrative and what happens to Edward… it's easy to get invested in his journey. A short but immersive story that is worth exploring."—Michela (YouTube review).
MondoXbox Community Awards 2018: nominated for Best Storytelling Adventure—MondoXbox (Italian).
More reviews we like:
here, here, here, here, here, here, and here!