The Stars Continue to Be Right: vote Chaosium, vote Cthulhu at the 2018 ENnies
Posted by Michael O'Brien on 13th Jul 2018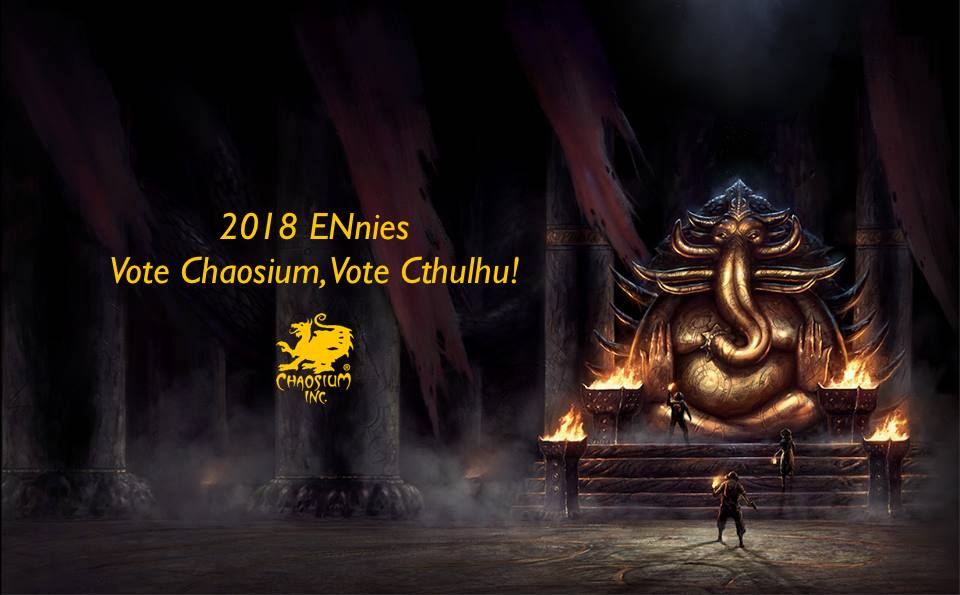 The ENnies are the annual fan-based celebration of excellence in tabletop roleplaying gaming. Last year Call of Cthulhu 7th Edition performed exceptionally well, winning nine of the record ten ENnie Awards it was nominated for, thanks to your support.
This year, the Stars Continue to Be Right because the judges awarded Chaosium another record eight nominations (equal with Paizo).
ENnies voting for 2018 has opened, and once again we need your support!
Here's how you can vote for Call of Cthulhu and Chaosium at the ENnies: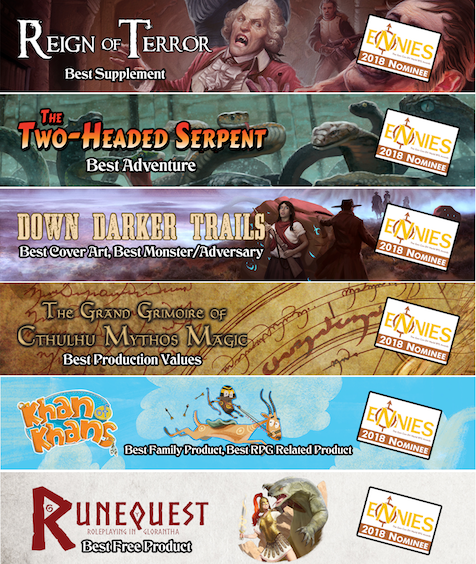 1. Go to the ENnies page: http://www.ennie-awards.com/vote/2018
2. Vote 1 for the Call of Cthulhu/Chaosium product in these categories:
BEST SUPPLEMENT—Reign of Terror
BEST ADVENTURE—The Two-Headed Serpent
BEST PRODUCTION VALUES—The Grand Grimoire
BEST ART COVER—Down Darker Trails
BEST MONSTER/ADVERSARY—Down Darker Trails
BEST FAMILY PRODUCT—Khan of Khans
BEST RPG-RELATED PRODUCT—Khan of Khans
BEST FREE PRODUCT—RuneQuest Quickstart
Your second favourite gets a "2" vote, third favourite gets a "3", and so on. Please also vote for our licensees and friends!
Stygian Fox Publishing: Hudson & Brand—Best Electronic Book
Darker Hues Studios: Harlem Unbound—Best Cover Art, Best Rules, Best Setting, Best Writing, Product of the Year
Miskatonic University Podcast—Best Podcast.
3. Choose Chaosium as your FAN FAVOURITE PUBLISHER - we'd be flattered! Like the Great Old One himself, Chaosium has arisen from the depths, and your support keep us above the waves.
4. Tell your friends who are Call of Cthulhu and Chaosium fans to submit their vote too!
Congratulations to the many talented writers, artists, creators and fans world-wide involved in Chaosium's and Call of Cthulhu 7th Edition's continuing success—these nominations are a testament to your talent, dedication, and support!
Voting is live and runs until 11PM EST on July 21st. We encourage all members of the tribe to get behind Chaosium and Cthulhu!
Chaosium ENnies Nominations
BEST ADVENTURE—The Two-Headed Serpent
BEST ART COVER—Down Darker Trails
BEST FAMILY PRODUCT—Khan of Khans
BEST FREE PRODUCT—RuneQuest Quickstart and Adventure
BEST MONSTER/ADVERSARY—Down Darker Trails
BEST PRODUCTION VALUES—The Grand Grimoire
BEST RPG-RELATED PRODUCT—Khan of Khans
BEST SUPPLEMENT—Reign of Terror
FAN FAVOURITE PUBLISHER—Chaosium