RuneQuest in German: the crowdfunding campaign gets underway
Posted by Michael O'Brien on 19th Sep 2020
The crowdfunding campaign for the licensed German Edition of RuneQuest: Roleplaying in Glorantha is live on Game On Tabletop! In less than 24 hours it has gotten 239% of its target!
The German edition is being published by our friends at Uhrwerk Verlag. They have the core rules currently in layout, with the printed book will be available in (northern) Winter 20/21. The unlocked stretch goals will be ready in the first quarter of 2021.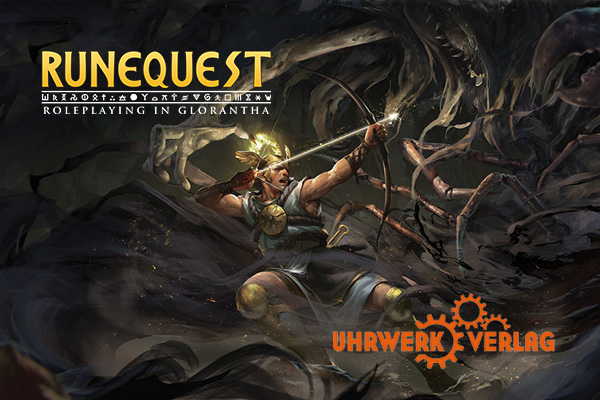 The translation of RuneQuest was the work of Chaosium's multi-talented Julia Rawcliffe. In addition to being our 'merc of merch' merchandise coordinator on Redbubble, Julia is a professional translator, specialising in games. Her other translation work for Chaosium includes the German rules for Khan of Khans and Miskatonic University: The Restricted Collection.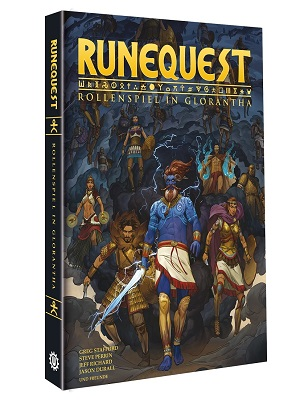 Julia has observed that the new German edition "probably marks the first-ever instance of an inter-familial generational hand-down of an RPG translation." It was her father Lutz, who translated the first German edition of RuneQuest (the original 3rd Edition) in the early 90s.
Uhrwerk Verlag's crowdfunding campaign runs for the next three weeks. The first seven of the 11 stretch goals have already been met, less than two days into the campaign!
Check out and support RUNEQUEST - ROLLENSPIEL IN GLORANTHA here:
https://www.gameontabletop.com/cf195/runequest-rollenspiel-in-glorantha.html