Rivers of London RPG: celebrating the tenth anniversary of the Rivers of London series
Posted by Michael O'Brien on 18th Aug 2021
Rivers of London 10th Anniversary Message
By Lynne Hardy, line editor for Rivers of London - The Roleplaying Game.
It's a wet Sunday afternoon here in the North East, so the perfect time to reflect on something else with a watery theme: Rivers of London, now celebrating its tenth anniversary.
I wasn't quite there ten years ago. According to the very faded receipt from the Waterstones in Newcastle, still jammed in the back of my copy, I actually bought Rivers of London on 3rd June 2015, so definitely late to the party despite friends telling me for years it was something I would probably enjoy.
They were right. Having been raised on Sherlock Holmes, Agatha Christie, and Columbo on the murder mystery front, the police procedural element was right up my street. And, having also been surrounded by the likes of Doctor Who, The Adventure Game, and Bagpuss as a nipper, I was also on board with the whole urban fantasy side of things as well. Ben's sense of humour shone through, and I quickly devoured the other available novels, then sat down to wait for the next release.
Fast forward to 2018, to a book signing queue in that self-same Waterstones where I'd bought Rivers of London a little over three years earlier. First in the queue with my hardback copy of Lies Sleeping, I broached the subject of a potential roleplaying game to Ben. I knew he must be a gamer from the various references in the novels, and it was something I'd been thinking about for a while. Happily for me, he was interested, and over the course of the next year, the paperwork was sorted and put in place to make Rivers of London: the Roleplaying Game a reality.
Now in the final stages of production, I can safely say that immersing myself in Peter and Nightingale's world over the last few years has taken me to some very interesting places, ones I couldn't really have foreseen when I picked up that first paperback in the Emerson Chambers six years ago. Working with Ben has been an absolute pleasure, and I look forward to where the rivers flow next.
Happy Birthday, Rivers of London! And thank you, Ben.
Lynne Hardy,
Line Editor, Rivers of London: the Roleplaying Game, Chaosium Inc.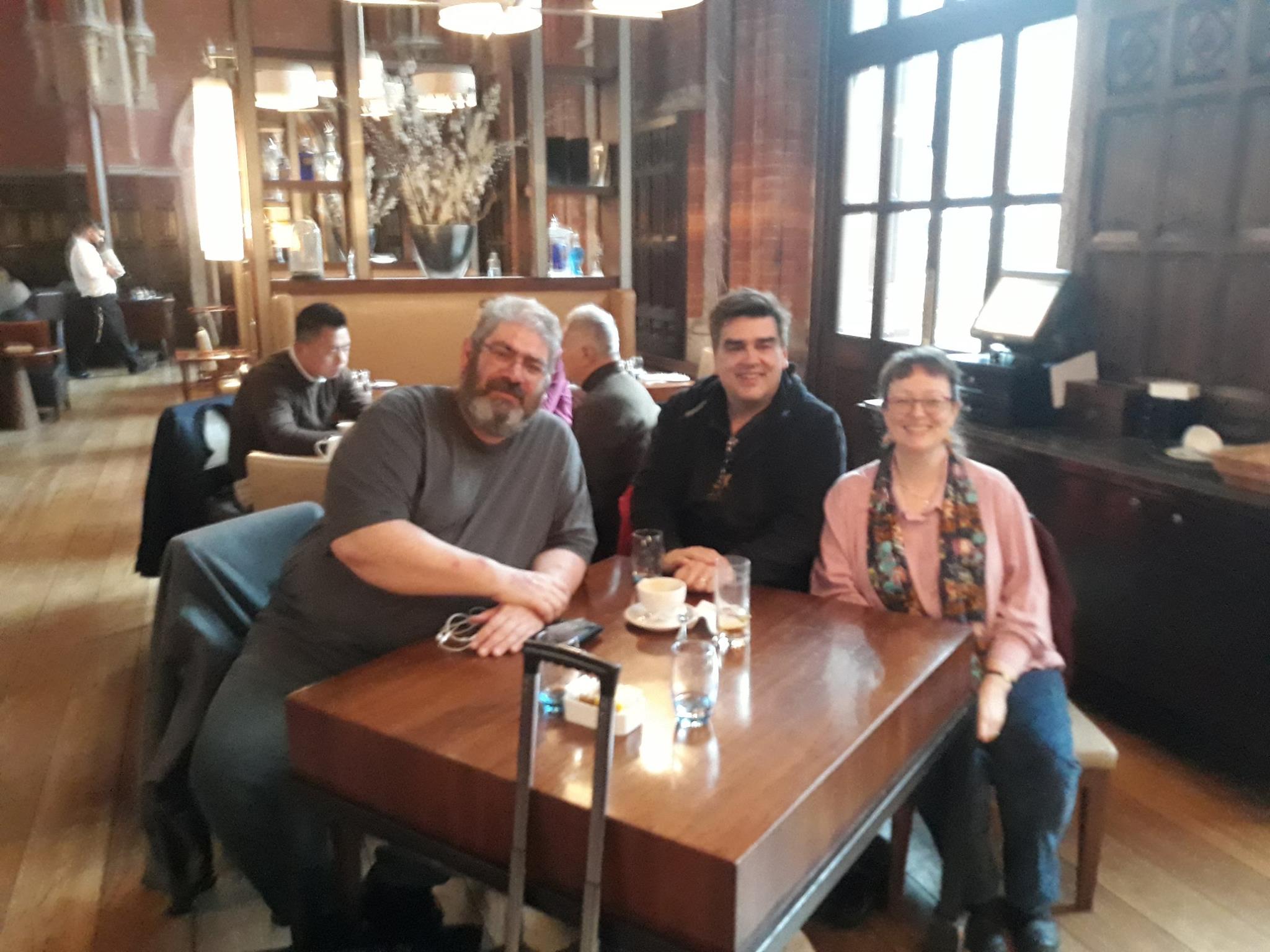 Chaosium's Lynne Hardy (R) and Michael O'Brien (C) met with Ben Aaronovitch (L) in London in April 2019 to discuss a roleplaying game based on his Rivers of London series.
Rivers of London

The Rivers of London series follows Peter Grant, an ordinary constable turned magician's apprentice, as he solves crimes across London in a sensational blend of inventive urban fantasy, gripping mystery thriller, and hilarious fantasy caper. The series debuted in 2011 with Rivers of London (Midnight Riot in the US) and now includes more than a half-dozen novels, several novellas, and a number of comic book series. The series has sold well over two million copies and has been translated into fourteen languages. In May 2019, Simon Pegg and Nick Frost announced that their production company, Stolen Picture, had acquired rights to create a television series based on the world of the Folly. Author Ben Aaronovitch is also known for his work on both television and audio scripts for Doctor Who.
Ben Aaronovitch is represented by John Berlyne of the Zeno Agency Ltd.