New Game, Who Dis? The third and final part of The Glass Cannon's RuneQuest Starter Set game now on YouTube
Posted by Michael O'Brien on 28th Sep 2021
Mernyr's Landing has a scorpion man problem and it's up to a ragtag band of mercenaries to stop them! Join Troy Lavallee, Tanya DePass, Connie Chang, Noura Ibrahim and Matthew Capodicasa for the thrilling conclusion to their RuneQuest adventure.
It's the third and final part of The Glass Cannon Network's New Game, Who Dis? intro to RuneQuest. And here are Parts One and Two.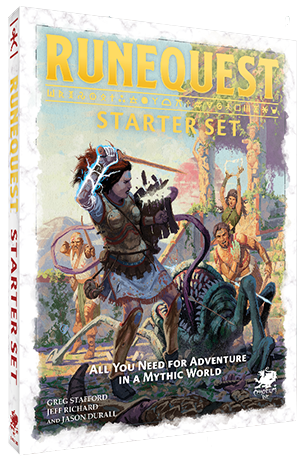 The Glass Cannon are playing one of the scenarios in the forthcoming RuneQuest Starter Set.
Sign up with this link and by Issaries, you'll receive an email as soon as the RQ Starter Set is available to order!
http://eepurl.com/hH175z
In the meantime, don't forget to use code RUNECANNON to get 10% off everything at Chaosium.com.