Miskatonic Monday: November 2020 titles abound
Posted by Michael O'Brien on 2nd Nov 2020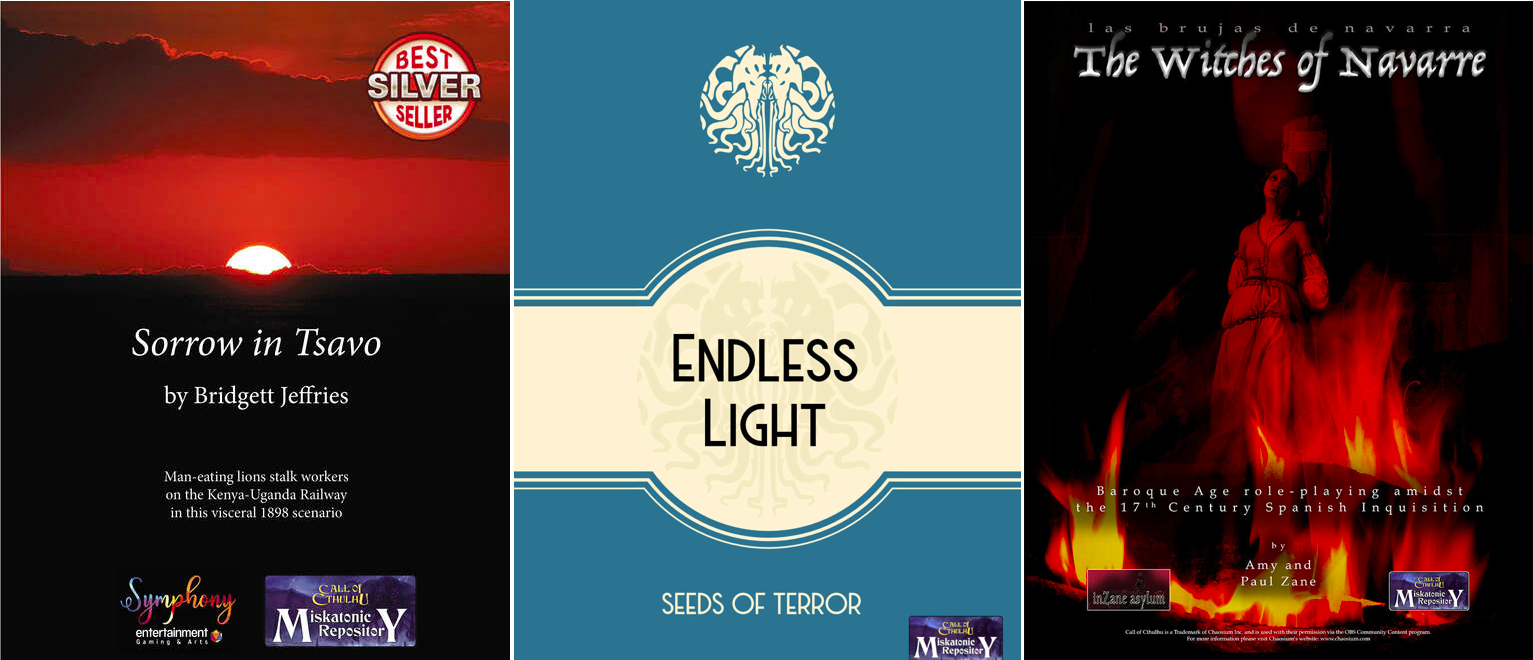 It's Miskatonic Monday, so here is the latest selection of new titles in the Miskatonic Repository, our community content platform for independent Call of Cthulhu creators at DriveThruRPG!
Sorrow in Tsavo
Bridgett Jeffries ($2.99, 43 page PDF)
Welcome to 1898 Kenya. The British are building a railway bridge over the River Tsavo to solidify their position of trade and wealth in the region. The Investigators serve as leaders to the project. In addition to social dissonance and illness within the camp, a pair of man-eating lions known as "The Ghost" and "The Darkness" are stalking and brutally killing members of the construction crew. What happened to those 30 crewmen that disappeared overnight? Who, or what, sent the lions into camp?
Sorrow in Tsavo's play style is story driven, sandbox, and combat light.
Endless Light
Allan Carey ($8.99, 31 page PDF)
"On the craggy island of Midland Skerry stands a Lighthouse, ensuring the safe passage of ships and sailors that ply this treacherous coast. But as the waves crash and a storm brews, something dark stirs beneath the island..."
Brought to you by award winning Chaosium licensee, Type40. Designed to be played in a single evening of terror with 4 - 5 players. Endless Light is the second scenario from their new monthly "Seeds of Terror" range. You can find the first scenario The Mummy of Pemberley Grange here.
The Witches of Navarre
Paul Zane and Amy Zane ($10.00, 30 page PDF)
The Witches of Navarre takes place in 17th Century Spain following events arising from theBasque Witch Trials of 1609. In 1611, Alonso de Salazar Frías is instructed by the Holy Office of the Inquisition to further investigate the accusations of witchcraft within the communities of Navarre. His mission is to interrogate alleged witches and determine if their statements tally. In January 1612, Salazar attests to the Grand Inquisitor "I have not found [any proof] that [even] one act of witchcraft has actually taken place…" though the truth that the players, Salazar's investigative team, uncover in 1611 is far more malevolent than he would ever say.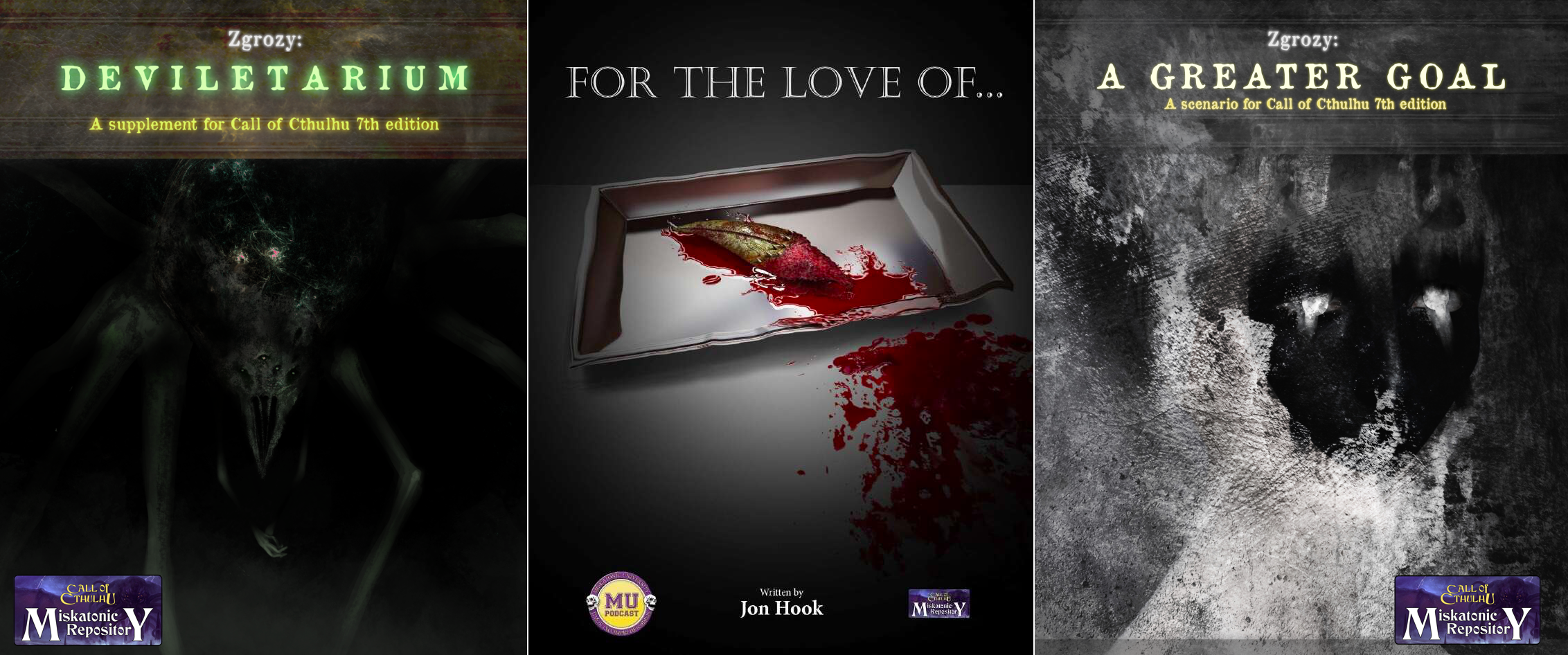 For the Love Of...
Jon Hook ($3.00, 24 page PDF)
You and your companions are recognized as local experts in things strange and unusual, which is why Dective Harden has asked you and your team to consult on the murder of Arkham socialite, Eugene Saltonstall. For the crime scene defies all resonable explanation, and is more aptly described as something strange and unusual. Drained of blood and torn to pieces, the murder of Eugene Saltonstall is something the Arkham Police Department is not trained to understand and unprepared to handle. Hopefully you're up for the task!
A Greater Goal - a Zgrozy scenario
Marek Golonka, Piotr Kozioł, Keith Mageau ($2.99, 16 page PDF)
The Star-Seekers were a group of heretical monks who stumbled upon traces of the Cthulhu Mythos lore centuries ago. It made them doubt the Christian God and try to understand and influence the world's true nature. Their search ended successfully, but it turned out that cosmic revelations were too much for them...
A standalone scenario by default set in the Roaring Twenties, anywhere around the world, and can be played over the course of one session. To run this scenario as a one-shot you can use Zgrozy's Investigator Archetypes for Zgrozy, available here as a pay-what-you-want product. A Greater Goal is the eighth English release in the Zgrozy line.
Deviletarium - a Zgrozy supplement
Michał Gralak, Michał Podłubny, Marek Golonka, Sylwester Gdela ($1.49, 9 page PDF)
Deviletarium features: a description of an Outsider – a cosmic explorer that tours between the worlds encased in his exoskeleton; a description of an Immortal – a cursed being that was reborn due to the machinations of mysterious, nightmarish creatures; a description of an Outcast – Atlach-Nacha's wayward daughter, ready to hunt weak-willed mortals.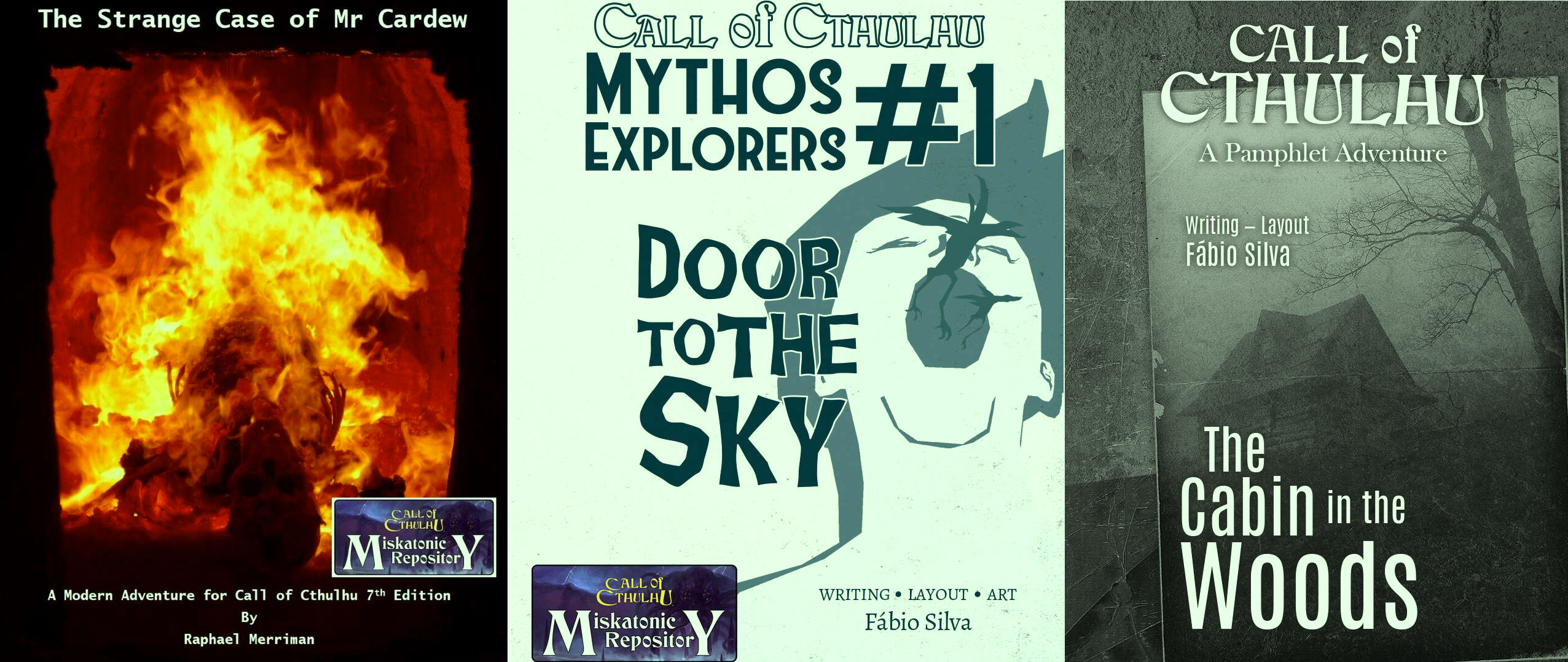 The Strange Case of Mr Cardew
Raphael Merriman (Pay-What-You-Want; suggested price Free; 9 page PDF)
Raymond Cardew, founder and owner of Cardew Enterprises, a company specialising in rare minerals, died from a heart attack. His funeral service was well-attended, and The Times ran an obituary on him. Everyone loved him. But a chance discovery by his widow led to suspicions about the cause of death, and Mr Cardew was subject to an exhumation order. But when they dug the coffin up, it was empty! It's up to a group of investigators to discover what happened to the body, and solve…The Strange Case of Mr Cardew!
Mythos Explorers #1 - Door to the Sky (Pamphlet Adventure)
Fábio Silva ($2.00, 2 page PDF)
An astronomer from Miskatonic University disappears while making some lunar studying, in her home observatory. On her last contact, she talks about discovering something incredible. The MU financed the final part of the research and now fears that she is a charlatan. The University contacts Investigators to check Loretta's home for answers to her disappearance after funding her research.
This is a pamphlet with an adventure structure – Print, fold, and play. A few minutes of reading, some hours of fun.
The Cabin in the Woods (Pamphlet Adventure)
Fábio Silva ($2.00, 2 page PDF)
A group of people spends some time in a cabin, far away from the city, to party with alcohol (banned in the 1920s), camp, and hunt in the woods. After a while, some strange events occur in the cabin, and the wood surrounds the area. This scenario can be used by the Keeper to introduce a new group of Investigators that have their first contact with the Mythos.
This is a pamphlet with an adventure structure – Print, fold, and play. A few minutes of reading, some hours of fun.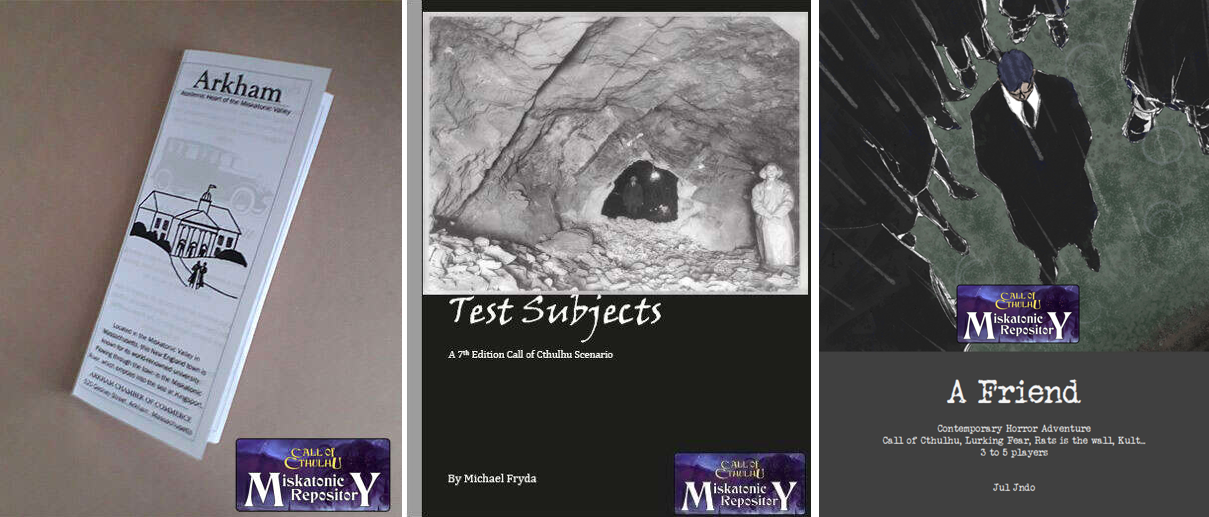 Arkham Brochure
Adrian Kennelly ($0.99, 2 page PDF)
This two-page PDF is intended to be printed out double sided and folded into a brochure, one that has been issued by Arkham's chamber of commerce. It's intended to be used a game prop and is designed for use in the 1920s setting. The brochure itself is based on a similar one found in Kingsport: The City in the Mists, but promoting Arkham instead.
A Friend
Jul Jndo ($4.80, 79 page PDF)
United States, New England, Durham, 1937. They were eleven. Eleven kids the same age, always together, pulling all sorts of pranks and bullshits. A tight-knit group that nothing could break. Nothing but life and war…
Twenty years later on October 18, 1957, a call announced that one of theirs had died, Jeff, found murdered in strange and unnatural circumstances. What really happened? Back in Durham for the funeral, something does not feel right. Is someone threatening them? Is someone or something in a quest for revenge? From afar, he is watching them. And he knows he can count on his FRIEND.
Test Subjects
Michael Fryda ($3.00, 21 page PDF)
Are you brave enough to explore the Boston underground? This 21-page exploratory sandbox scenario pits 1920s Investigators against a hidden foe. What will happen when a job in a newspaper advertisement leads to strange places? Will you feed your curiosity with only an electric torch to light your way? Will you seek help from locals? Will you flee?
For a great look at what you get, creator Michael Fryda has produced a YouTube video showing what's inside his Miskatonic Repository release, Test Subjects:
Want to take part in the Miskatonic Repository yourself?

Under The Miskatonic Repository community content license, Call of Cthulhu fans can make their own work for use with the game line available to the public, using guidelines, templates, and art provided by Chaosium.
Whether you share your content for free or put it up for sale, this program is a digital home for terror that joins the dreamscapes of all who peruse it.