Miskatonic Monday: many, many more new titles!
Posted by Michael O'Brien on 3rd Feb 2020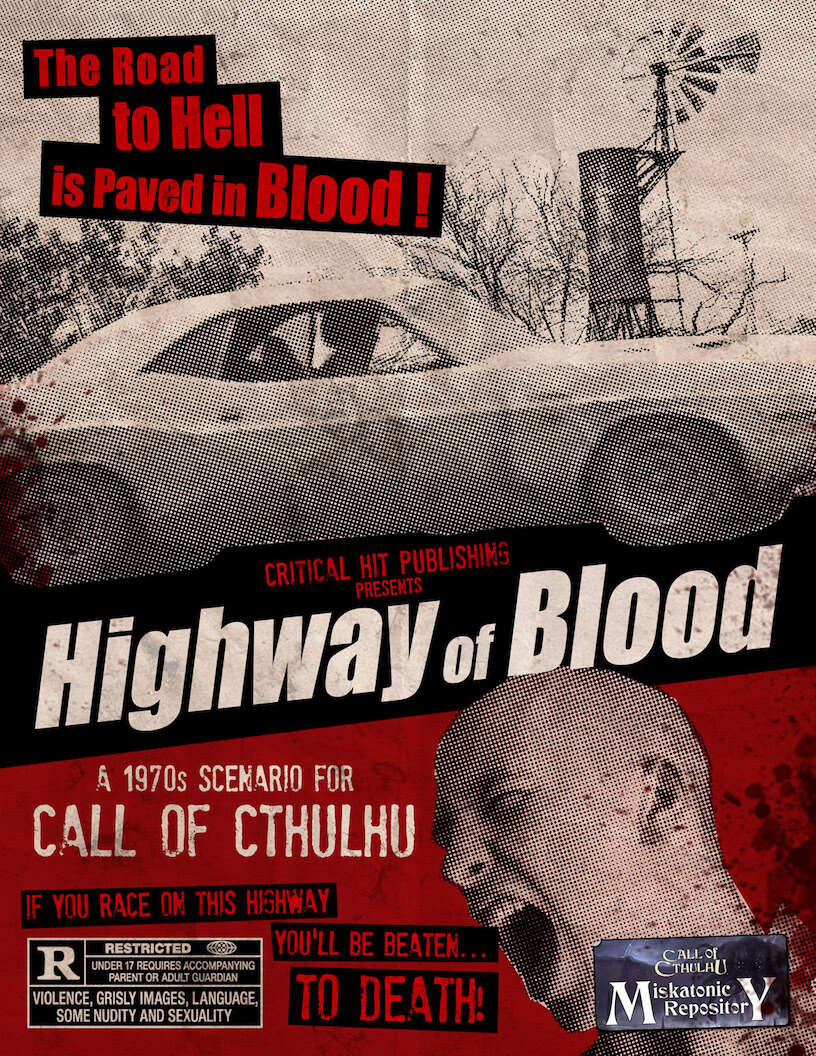 There's a huge selection of new Call of Cthulhu community content to choose from at the Miskatonic Repository on DriveThruRPG!
Scenarios
The Highway of Blood: A Call of Cthulhu Scenario for the 1970s, Alex Guillotte, Ian Christiansen ($11.95, 130 page PDF)
You find yourselves in West Texas during one of the worst heatwaves the region has ever seen. You're driving along a stretch of lonely highway with the gas gauge edging slowly towards empty when you suddenly spot a sign that promises gas and maybe a cold drink! The Highway of Blood is set in 1975 and pays homage to the grindhouse movies of the time. For that reason, it is extremely deadly and gritty and is intended for MATURE AUDIENCES ONLY.
The Second Amphora, Enrique Camino ($3.99, 32 page PDF)
A contemporary scenario in which the historical myth of the desert devil (the Arab djinn) is intertwined with the presence of the Mythos entities.
The Mad Priest, Marco Carrer (free, 10 page PDF)
The mad priest has arrived in your village. Are you ready to face the consequences? A one-shot scenario set in the Viking era.
Refractions of Glasston, Taylor University PWR Press, Sam Guinsatao, Carson Jacobs, T.R. Knight, Joy Lemont, Elijah Oates, Rayce Patterson, Emily Pawlowski, and J. Tucker White (free, 46 page PDF)
A 1920s horror scenario tempered in northern Indiana. the result of a creative collaboration between the Professional Writing major at Taylor University, Upland IN and Chaosium Inc. The creators are all students at Taylor University.
Reviews from R'lyeh review: "...a good mix of background and plot, with some nicely creepy—and well thought out—aspects to the body horror that plagues the town."
The Vernissage - a Zgrozy scenario, Michał Gralak ($4.99, 31 page PDF)
By default The Vernissage takes place in 1920s and is centered around a Polish artist but it can easily be set anywhere around the world and adapted to other eras.
Santa - Time RIP 4, Daniel Profeta ($3.00, 17 page PDF)
Get in the Christmas spirit with Time RIP 4, a set of scenarios which take a look at the most well known holiday character, Santa! He's here to teach you the unspeakable truth...
We Are All Savages, William Adcock ($5.99, 37 page PDF)
January 1760. Six months ago, British troops captured Fort Niagara from the French, and with it, control of the Great Lakes region and the Ohio River Valley. Now snow piles high against the walls of the fort, and somewhere beyond the shadowy pines, something ancient stirs, woken by the European conflict.
Reviews from R'lyeh review: "Potential Colonial Gothic one-shot... strongly plotted."
Tales From Ye Dusty Olde Crap Shoppe, James Thomson ($3.95, 80 page PDF)
A 21st Century Scenario from the author of "Blood Orgy on Vampire Island"
The Boss: A Tale of Dark, Distilled Secrets in a Bottle, Genevieve Colter ($7.00, 31 page PDF)
The Boss is a psychological horror, closed oubliette scenario where the Investigators seek out answers to one question, but find much more than they bargained for.
Dr. Clarke's Cabin, Michael Bertolini ($2.99, 8 page PDF)
Doctor William Clarke has gone missing, it is unclear what is behind his disappearance. The Investigators need to find Dr. Clarke and find out what happened to him. This adventure takes place in New England in the 1920s, but can easily be adjusted by the Keeper.
Little Torches, Heinrich D. Moore ($3.95, 60 page PDF)
This investigation features the Great Old One, Cthugha, and explores themes of isolation and alienation. It confronts Investigators with the question of what motivates one to keep battling the Cthulhu Mythos in the face of insurmountable hardship and indescribable nightmare.
A Fossil, Sean Monaghan ($6.54, 12 page PDF)
An investigator is contacted by a bookseller who has secured a copy of a rare text they've been seeking (and recently missed out on at auction).
Sunken Dreams, Benton Hodges ($4.99, 22 page PDF)
Strange tidings from Porham Cove, the isolated fishing village located on the coast of Massachusetts. Supernatural sightings are nothing new to the area which has always had its fair amount of cryptids and ghost stories, but the chain of disappearances is definitely new. The residents struggle to sleep and a sickly pale light seems to arise from the cove. Could it have something to do with the secretive Government facility located up the shore?
Bundle
The Zgrozy Collection [BUNDLE], Marek Golonka, Michał Gralak ($9.95, 69 page PDF)
Bundle includes Future Echoes, Sheperd of Moths, The Vernissage, Investigator Archetypes for Zgrozy.
Keeper and Player Resources
Boom or Bust: Credit Rating Simplified and Amplified for Long Campaigns, Genevieve Colter (Pay-what-you-want, suggested price $3.00, 5 page PDF)
Intended to help a Keeper use Credit Rating in a boom and bust cycle mechanic. It mimics the way stocks, money, banking, and other financial concerns work in reality, and is intended to add a little extra oomph to how Credit Rating functions on longer journeys.
[EN/PL] CoC 7ed Chara Sheet, Jan Szymański ($5.00, PDF)
Customized character sheet for Call of Cthulhu 7th edition for players that crave more eye candy design to their adventures. It covers both sides of the sheet with all the crucial information. Available in English and Polish.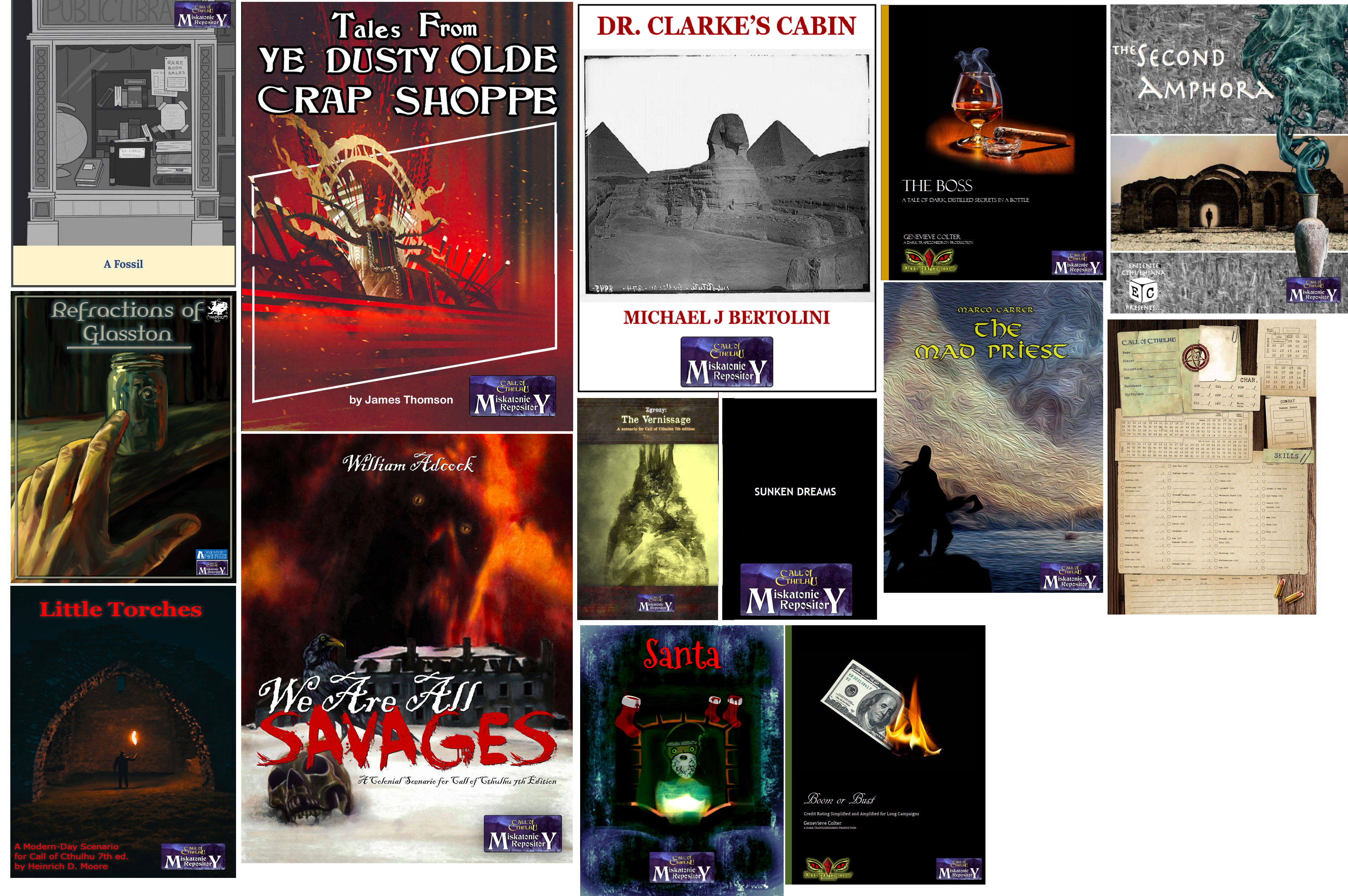 And these new foreign language titles:
What is the Miskatonic Repository?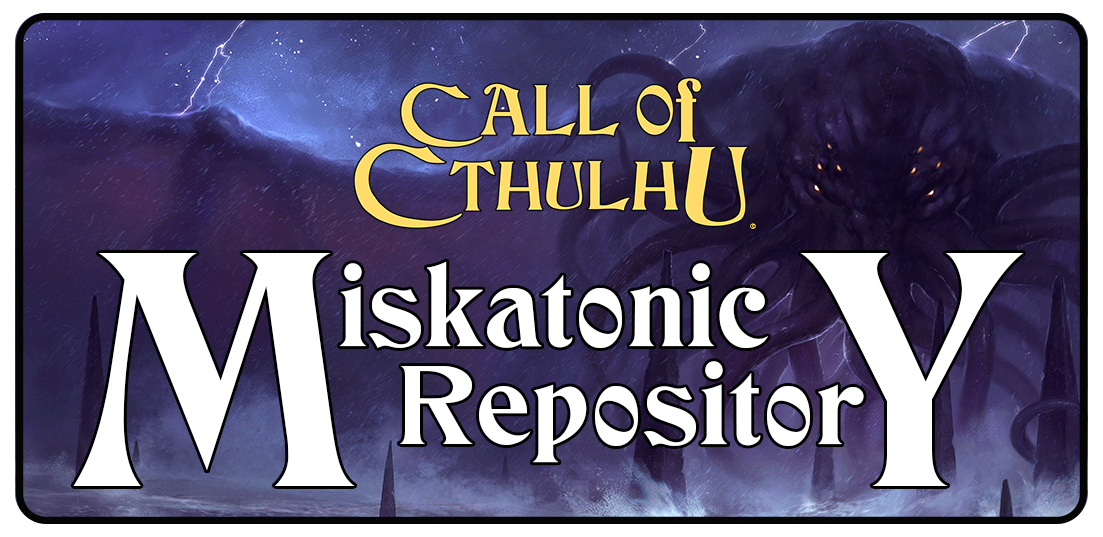 Are you a Keeper looking for new scenarios and story elements? A player looking for something mysterious to spark a character idea? Is your group looking for eerie ideas to use in your game? The Miskatonic Repository is where you can find —and create —self-published material for the Call of Cthulhu roleplaying game.
Interested in submitting content? Go here to see the guidelines, and here for the additional guidelines. No extra license is required. Get started and download the MS Word template or the InDesign template for Miskatonic Repository submissions, and check out our other free creator resources.