Miskatonic Monday #67c: current print titles in the Miskatonic Repository
Posted by Michael O'Brien on 25th Jan 2023
The Curse of Black Teeth Keetes is our newest POD title in the Miskatonic Repository (released today!) and Viral is one of the best-selling (and fastest to Platinum status).
Call of Cthulhu titles in the Miskatonic Repository that achieve Electrum Best Seller status in PDF (251+ sales) are eligible to become Print-On-Demand. Here we're featuring all the titles currently available in physical print format – there are many (and more being added each month), so we're splitting this post up into several parts - part A, part B, part C.
The Curse of Black Teeth Keetes
Perry Grosshans (Softcover, Standard Color Book, 31 pages)
Kingsport, June, 1933. The heroes are contacted by Old Cobb, a fisherman who claims to have found a waterlogged diary on a boat adrift at sea. The diary is from Howard Winchester, a well-known explorer and friend of the heroes, and describes the discovery of a mysterious island connected to a pirate known as John "Black Teeth" Keetes and a cache of South American gold. The last entry hints that Howard may be trapped on the island. Off to rescue their friend and find the pirate treasure, the heroes discover strange statues, crazed survivors, and a pirate cove that holds the real secret behind the island, and why it should never have been found in the first place…
A Pulp Cthulhu adventure set in the 1930s, and can be played as a one-shot or integrated into an existing campaign.
Viral: A Modern Call of Cthulhu Scenario
Alex Guillotte, Bud (Softcover and Hardcover, Premium Color Book, 124 pages)
Join Marco Proudfoot, host of the successful YouTube channel The Spektral Krew, as he and his fellow paranormal investigators journey to an island off the coast of Sicily to explore its very dark past. The only public information is a pixelated satellite map and a pile of redacted documents, but a little digging on the Dark Web has revealed something far more sinister. What better way to make their final push for one million subscribers than to stream their investigation live from the island! The Krew hopes to find evidence of the paranormal, but what they discover is so much more horrific than just orbs of dust and incoherent voices in the static.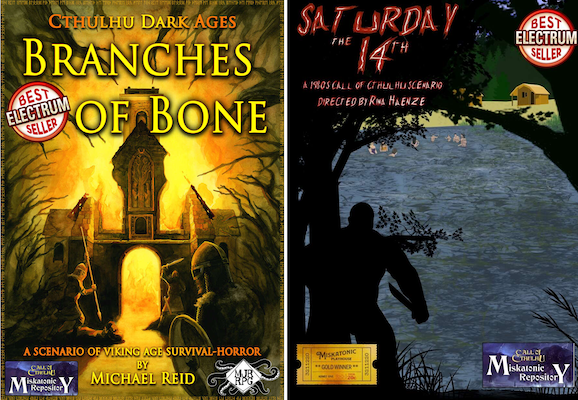 Branches of Bone - A Viking Age Cthulhu Dark Ages Scenario
Michael Reid (Softcover, Premium Color Book, 40 pages)
Beleaguered chieftain Askr Yelloweye leads you and your impoverished clansmen to the rocky isle of Skógrbein, off the coast of Northumbria. Askr chases a vision from Freya, claiming she showed him a relic of Yggrdasil held in the heathens' stone temple sitting upon Skógrbein. How far you believe your chieftain, who can say? But you know the people of these lands hold treasures in their temples.
A Cthulhu Dark Ages Scenario of Viking Age Survival-Horror.
Saturday the 14th
Sabrina Haenze (Softcover, Standard Color Book, 27 pages)
It's Saturday, June 14, 1980. Your crime scene team has been dispatched to Camp Shady Pines to investigate the bizarre deaths of the camp's counselors who had been preparing for the arrival of the campers next week. According to Shelly Peters, the sole survivor, the counselors were attacked and brutally hacked to death by a mysterious masked stranger. It's up to you and your team to find the truth, and fast, so the camp can open on time.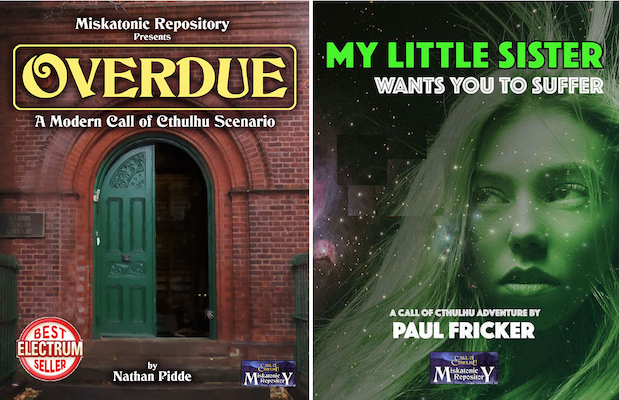 Overdue
Nathan Pidde (Softcover, Premium Color Book, 18 pages)
Robert "Bobby" Armstrong, the kid in school that everyone likes, has gone missing. After discovering people have been disappearing for years, it's up to the investigators, Bobby's own classmates, to find out what is going on before he is lost forever. Overdue is a scenario set in the modern era and is designed to be run in one session.
My Little Sister: A Call of Cthulhu Scenario
Paul Fricker (Softcover, Standard Color Book, 37 pages)
The investigators awaken to find themselves aboard a spaceship travelling away from Earth. How did they get here? The ship is not a safe environment, and the investigators face numerous challenges. As the investigators explore the ship, the players open sealed envelopes to reveal flashes of memory. Ultimately, through their suffering, they discover the truth.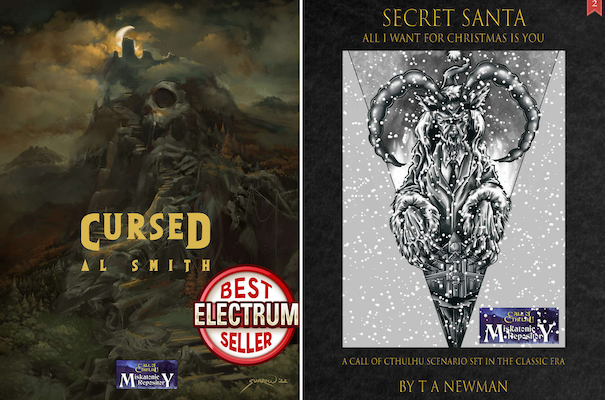 Cursed
Al Smith (Softcover, Standard Color Book, 58 pages)
In modern Aylesbury, Massachusetts. a group of military veterans have wonderful lives. They have careers, marriages, families, and children. They left everything bad that has ever befallen them in the past, where it belongs. But now, a strange woman is watching them. She has been for some time. They just haven't noticed. You probably don't remember her, but she remembers them... and she is going to take everything that they have... starting with that nice little family...
Introductory scenario for Keepers and investigators interested in modern day adventures and "family" horror, like The Ring, Hereditary, Us, Midsommar, The Babadook, or The Witch, while also serving as a sort of sequel to the HP Lovecraft classic The Dunwich Horror.
Secret Santa
Thomas Newton (Softcover, Standard Color Book, 58 pages)
All I want for Christmas is you . . . We wish you a merry Christmas as you don your black tie and ballgowns to attend the Holmouth Museum of Antiquities fundraiser in celebrating the career of Dr Johnathon Breeze. As you hand over you secret santa present and take a glass of champagne you revel in the seasonal merriment until you realise you are stuck in the middle of a horrific plan for revenge using cosmic artifacts to bring the anti-claus himself to the party - Krampus! Can you survive the hunger of the beast, and the first born of Shub-Niggurath's thousand young? Make your Christmas one to remember this year.
The Blasphemous Tome 8
Paul Fricker, Matthew Sanderson, Scott Dorward, Hannah Hobson, Greg Osborne, Graeme Patrick (Softcover, Standard Color Book, 56 pages)
The Blasphemous Tome is the semi-annual fanzine that The Good Friends of Jackson Elias create for Patreon backers of of their podcast. It contains articles about RPGs, horror films and weird fiction, not to mention plenty of sanity-blasting artwork and original content for the Call of Cthulhu roleplaying game.
Featured in this issue is a new Call of Cthulhu scenario by The Good Friends of Jackson Elias's very own Scott Dorward, entitled "Night Bus".
The Blasphemous Tome 9
Scott Dorward, Paul Fricker, Matthew Sanderson, Hilary Van De Burg, Andrew Edward, Nicolas Jovanovic, Anthony Lee-Dudley, Gaspard du Nord, Ian Scanlon (Softcover, Standard Color Book, 48 pages)
Featured in this issue is a new Call of Cthulhu scenario by The Good Friends of Jackson Elias's very own Paul Fricker, entitled "Step Into My Parlour".
The Blasphemous Tome 10
Scott Dorward, Paul Fricker, Matthew Sanderson, John Hagan, Gaspard du Nord, Greg Osborne (Softcover, Standard Color Book, 56 pages)
Featured in this issue is a new Call of Cthulhu scenario by The Good Friends of Jackson Elias's very own Matt Sanderson, entitled "Educement".
Want to take part in the Miskatonic Repository Program yourself?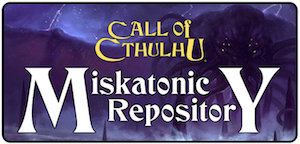 Whether you share your content for free or put it up for sale, this program is a digital home for terror that joins the dreamscapes of all who peruse it.