Miskatonic Monday #67a: current print titles in the Miskatonic Repository
Posted by Michael O'Brien on 23rd Jan 2023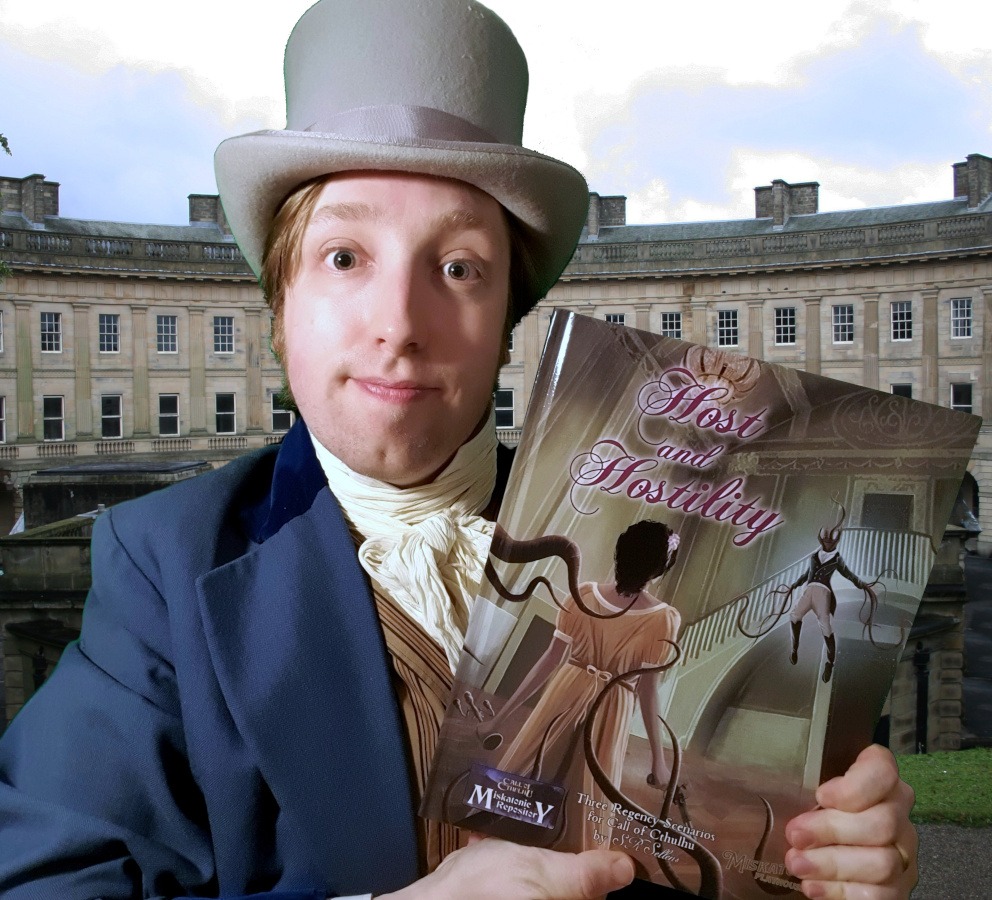 "No one who had ever seen this guy in his infancy would have supposed him born to be an author" – Jane Austen (probably).

Stuart Sellens is excited to announce he's got another Call of Cthulhu release to print: Host and Hostility, his Miskatonic Repository collection of scenarios for use with Regency Cthulhu. These adventures pit you against the high society of the era, with themes ranging from weird science to high-mythos. Stuart's even dressed up for the occasion!
Miskatonic Repository titles that achieve Electrum Best Seller status in PDF (251+ sales) are eligible to become Print-On-Demand. Here are all the titles currently available in physical print format in the Miskatonic Repository. There are many (and more being added each month), so we're splitting this post up into several parts – part A, part B, part C.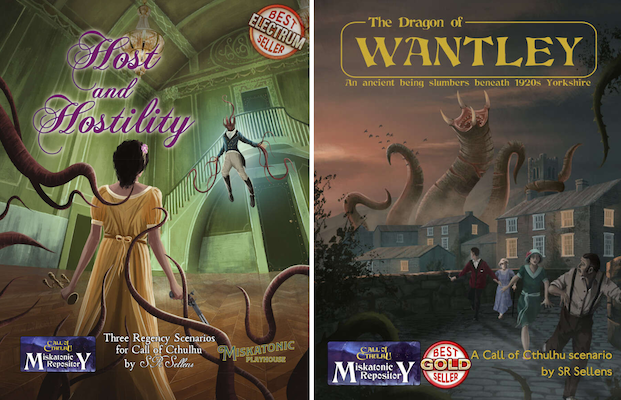 Host and Hostility: Three Regency Call of Cthulhu Scenarios
SR Sellens (Softcover or Hardcover, Standard Color Book, 105 pages)
A collection of three one-to-one scenarios, making use of the Regency Cthulhu sourcebook. The scenarios range from weird science to high-mythos. Each scenario is written to be run in a single 2-4 hour session.
The Dragon of Wantley
SR Sellens (Softcover, Standard Color Book, 52 pages)
1920s England: No-one who had ever met Flora Jacobs would describe her as scandalous, but when the young socialite mysteriously disappeared on a trip up north with a man she had only recently met, intrigue was sure to follow. What on the surface appears to be an 'innocent elopement' will lead the investigators to a quiet Yorkshire village with a big secret to unearth.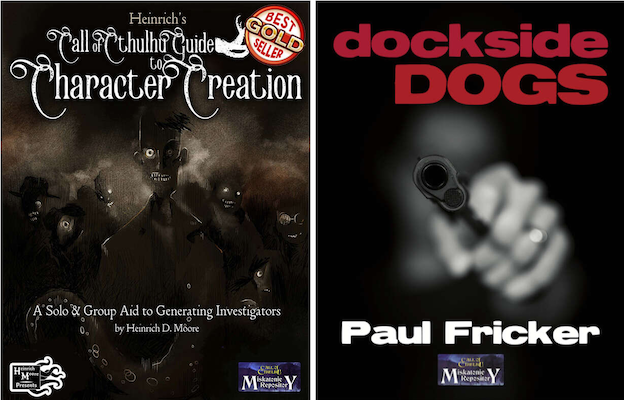 Heinrich's Call of Cthulhu Guide to Character Creation
Heinrich D. Moore (Softcover or Hardcover, Standard Color Book, 153 pages)
Heinrich's Guide is a role-playing product for creating character backstories through emergent storytelling. Experience your investigator grow up from strange going-ons accompanying their birth, to them finding love (and then rescuing said loved one from cultists), to skipping class to spend more time studying esoteric pursuits, to being recruited by a "Secret Government Agency," to traveling to other dimensions!
Dockside Dogs: Call of Cthulhu
Paul Fricker (Softcover, Standard Color Book, 40 pages)
This was supposed to be a simple heist... Dockside Dogs is a modern-day, one-shot scenario by Paul Fricker, co-author of the 7th edition Call of Cthulhu Keeper Rulebook and Investigator Handbook, and many other Call of Cthulhu titles including Two-Headed Serpent and Masks of Nyarlathotep. The previous edition of this scenario was a Platinum seller on DrivethruRPG. This new, updated version has been thoroughly revised, and includes a choice appearance/gender for each investigator.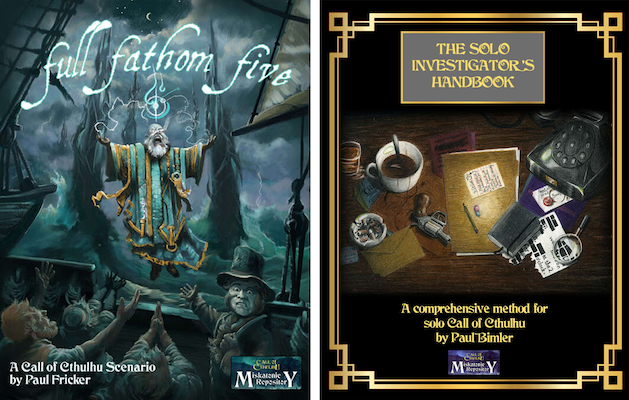 Full Fathom Five
Paul Fricker (Softcover, Standard Color Book, 60 pages)
You've been at sea for 13 months. There's salt in your beard, and weevils in your biscuits! Taking inspiration from Moby Dick, Full Fathom Five puts the players aboard a whaling vessel in 1847. As the ship sails across the Pacific Ocean strange and terrible events unfold.
The scenario is intended for four to six players, with advice included for running with fewer (all the way down to one Keeper and one player). The game usually runs in a single intense session of play.
Solo Investigator's Handbook
5e Solo Gamebooks (Softcover, Standard Color Book, 60 pages)
This product is the result of months of work and extensive playtesting, and contains a full system for generating on-the-fly, immersive adventures for your investigator(s). Using paper, pen, dice, this system, and your fevered imagination, you can generate full scenarios for yourself without the need for a Keeper. This is great if you cannot find a group, or for creating little scenarios for yourself in between your regular group games.
Carnival of Madness: A Call of Cthulhu Scenario for the 1970s
Alex Guillotte and Ian Christiansen (Softcover or Hardcover, Standard or Premium Color Book, 92 pages)
On the evening of Friday, October 30th, 1970, you're headed for the Carnival Pandemonium in western Massachusetts on the night before Halloween. It's a time for pumpkins, costumes, apple cider, colorful leaves, wood smoke, and of course, bone chilling terror!Most of the folks going there tonight are families and couples just out for a bit of fun, games, and a little spooky excitement, but others have far more serious or even sinister purposes. Whatever your reason for being there, one thing is certain. Everyone at the carnival this evening will experience things unimagined in their darkest nightmares. You don't know it yet, but the part you play may determine the fate of all humanity.
The Hammersmith Haunting
Kat Clay (Softcover, Standard Color Book, 39 pages)
London 1890: ghost fever grips the suburb of Hammersmith. For three days, no person can sleep without experiencing terrible nightmares, and locals swear to have seen a ghostly medieval woman stalk the streets. Investigators find themselves trapped in Hammersmith, confronted by ghost hunters and an all-pervading fog. But is the ghost all that she appears? Or is there a more sinister reason for the Hammersmith haunting…
Cthulhu by Gaslight scenario by Australian crime and horror author Kat Clay.
"Bravo to my Melbourne friend Kat Clay, who has made the leap from writing award-winning detective fiction to publishing her debut scenario for Call of Cthulhu. And it's a gaslight haunting. Perfection. Right up my fog-shrouded alley." — Mark Morrison (Horror on the Orient Express, Terror Australis, Reign of Terror, etc.)
The Catcott Collection
Peter Willington (Softcover, Standard Color Book, 15 pages)
A scholar working within the Catcott Collection in the Bristol Museum's archives has been plagued by headaches ever since their journey to the South West of England. When they find an untitled 13th Century text it begins a series of unusual events that sees them trapped in their rooms at The Royal Hotel, with seemingly no avenue for escape...
The Catcott Collection is an intimate one-to-one story set in 1920s Bristol, beautifully illustrated with period images sourced from the archives of the Bristol Museum, and is now officially part of the Bristol Archives.
Sorrow in Tsavo
Bridgett Jeffries (Softcover, Standard or Premium Color Book, 43 pages)
Welcome to 1898 Kenya. The British are building a railway bridge over the River Tsavo to solidify their position of trade and wealth in the region. The Investigators serve as leaders to the project. In addition to social dissonance and illness within the camp, a pair of man-eating lions known as "The Ghost" and "The Darkness" are stalking and brutally killing members of the construction crew. What happened to those 30 crewmen that disappeared overnight? Who, or what, sent the lions into camp?
Play style is story driven, sandbox, and combat light.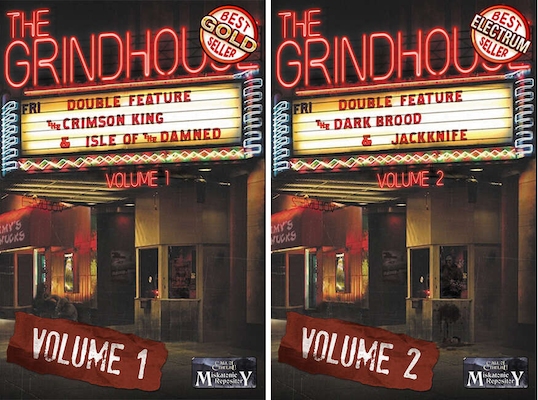 The Grindhouse: Volume 1
Alex Guillotte, Ian Christiansen (Softcover or Hardcover, Standard or Premium Color Book, 40 pages)
grindhouse [grahynd-hous] n. – A grindhouse or action house is an American slang term for a theatre that mainly shows low-budget horror, splatter and exploitation films for adults.
Friday Night Double Feature!
The Crimson King: This scenario takes place in the early 1980s. The characters have been invited to an exclusive nightclub that features early goth music with industrial and punk influences. Illicit drugs and overt sexuality are ubiquitous with the underground nightclubs of the time, and by all accounts The Court of the Crimson King is no exception.
Isle of the Damned: Set on a small island off the coast of Maine, this scenario takes place in the summer of 1974. A group of friends have rented a small vacation house with the intent of spending a week fishing, drinking, and maybe smoking a little weed. Things begin to go sideways when they hear a noise from beneath the cabin that leads them to a hidden door. What lies beyond will change their lives forever.
The Grindhouse: Volume 2
Alex Guillotte, Ian Christiansen (Softcover or Hardcover, Standard or Premium Color Book, 42 pages)
Friday Night Double Feature!
The Dark Brood: This scenario takes place in July of 1977 at a sleepaway summer camp. The counselors are short-handed due to transportation issues, but by the third day, everything seems to be going smoothly apart from the normal bouts of homesickness and poison ivy. Unfortunately, everything takes a downward turn on the fourth day when the kids begin complaining of nausea and cramps. The counselors decide to give the kids something to settle their stomachs and send them to bed early, convinced that everything will be better in the morning. They couldn't be more wrong.
Jackknife: This scenario takes place in the 1970s on some highway in the Southwestern United States. Making the long haul across the New Mexico desert with a load of lumber, Jackknife Samson decides to pick up some desperate-looking hitchhikers, but he gets more trouble than he bargained for when they find themselves being hunted by a cult of psychotic snake worshipers for hell. [
Note: Jackknife is a light sequel to Highway of Blood, and may contain spoilers. So if Keepers intend to run Highway of Blood for their players, they may want to hold off on this scenario, or fold it into the story at the end.]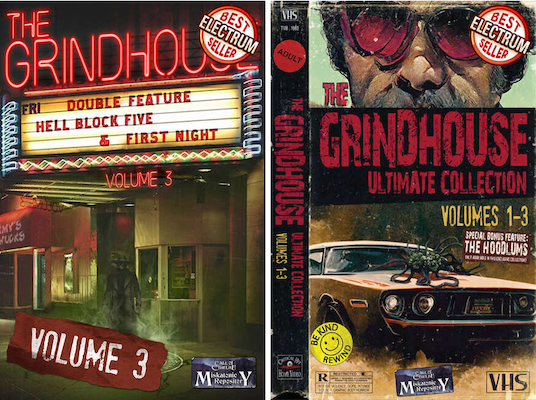 The Grindhouse: Volume 3
Alex Guillotte, Ian Christiansen (Softcover or Hardcover, Standard or Premium Color Book, 46 pages)
Friday Night Double Feature!
Hell Block Five: Irongate Penitentiary in Aylesbury, Massachusetts houses some of the most infamous criminals in the United States, and Cell Block Five contains the worst of the worst. One night in the summer of 1978, all of the cell doors unlock and slide open, but there's no alarm and no guards. Something is very wrong.
Note that since this takes place in an all male prison, all of the player characters are male.
First Night: In the Fall of 1980, a group of college girls decide to spend the night in the mansion that was recently purchased by their sorority. Unfortunately, their slumber party turns into a nightmarish fight for survival when they use a witch board and accidentally summon a terrifying entity from another dimension. Unless they can figure out how to send it back, none of them may live to see the dawn.
Note that since this involves the members of a college sorority, all of the player characters are female.
The Grindhouse Ultimate Collection: Volumes 1-3
Alex Guillotte, Ian Christiansen (Softcover or Hardcover, Standard or Premium Color Book, 140 pages)
Now you can get the first three volumes of The Grindhouse in one convenient 140 page book, plus a special bonus scenario that is only available in this collection!
Bonus Scenario – The Hoodlums: In Worcester, Massachusetts, during the summer of 1983, a group of high school friends breaks into an abandoned train station to smoke some weed, but when they hear a voice calling out for help from a drain in the floor, they begin a journey that will take them through the sewers beneath the city into the unseen world that lurks just beyond the shadows.
Under the Miskatonic Repository community content license, Call of Cthulhu fans can sell and share their own independently-created material on DriveThruRPG. If that appeals, check out the Miskatonic Repository Guidelines and free creator resources and start creating!