Miskatonic Monday #67b: current print titles in the Miskatonic Repository
Posted by Michael O'Brien on 24th Jan 2023
Under the Miskatonic Repository community content license, Call of Cthulhu fans can sell and share their own independently-created material on DriveThruRPG. Ttles that achieve Electrum Best Seller status in PDF (251+ sales) are eligible to become Print-On-Demand. Here we're featuring all the titles currently available in physical print format in the Miskatonic Repository. There are many (and more being added each month), so we're splitting this post up into several parts - part A, part B, part C.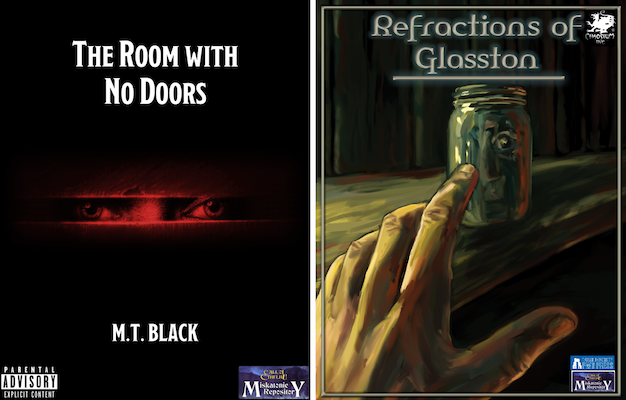 The Room with No Doors
M.T. Black (Softcover, Standard Color Book, 28 pages)
When Hannah Flynn buys a new house in Arkham, she encounters nothing but tragedy and misfortune. She hires the characters to investigate, and they uncover the grim history of the residence before confronting its nightmare secret!
By bestselling DM's Guild author M.T. Black.
Refractions of Glasston
Taylor University PWR Press, Sam Guinsatao, Carson Jacobs, T.R. Knight, Joy Lemont, Elijah Oates, Rayce Patterson, Emily Pawlowski, and J. Tucker White (Softcover, Premium Color Book, 46 pages)
A 1920s horror scenario tempered in northern Indiana. the result of a creative collaboration between the Professional Writing major at Taylor University, Upland IN and Chaosium Inc. The creators are all students at Taylor University. ENNIEs Judges' Spotlight Award winner 2020.
Elias Taylor Winters, the CEO of TWJ Co., discovered a secret to the glass-making process that finally put him above his long-standing competition: Ball Glass. Shattering expectations for such a small company in rural Indiana, Winters has put Glasston on the map. The town and its economy are booming. But not everything in Glasston is as it should be…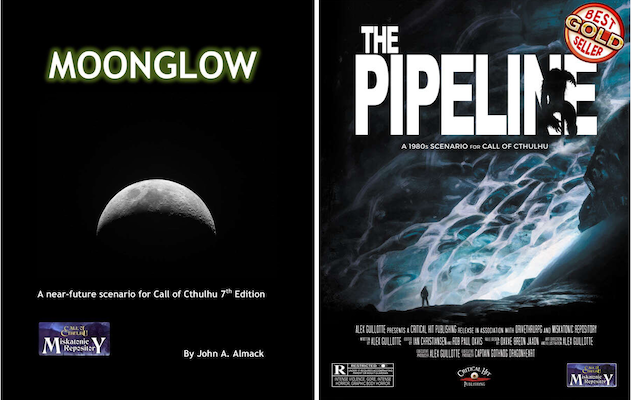 Moonglow
John Almack (Softcover, Premium Color Book, 21 pages)
In the latter half of the 21st century, humanity begins the colonization of space by establishing a permanent manned outpost on the rim of Shackleton Crater, at the lunar South Pole. But when contact with the previous crew is lost, it is now up to a new team of brave explorers to find out what happened...and why the moonbase has suddenly gone silent.
Moonglow is a short near-future scenario set on the moon.
The Pipeline: A Call of Cthulhu Scenario for the 1980s
Alex Guillotte (Softcover, Premium Color Book, 82 pages)
In the Fall of 1986, contact was lost with Exxon Pumping Station #31 near Telegraph Creek, BC Canada. The media reported that a radical environmental group called the North Wind sabotaged the facility, leading to the deaths of several Exxon employees and a number of civilian contractors. The official statement made it clear that all members of the North Wind were killed during the incident by a group of private security personnel hired by Exxon. Following the incident, the pipeline was shut down pending further investigation by the Canadian government and unnamed US agencies. The matter was soon forgotten by the public and no more was heard about The Pipeline Incident.... Until now.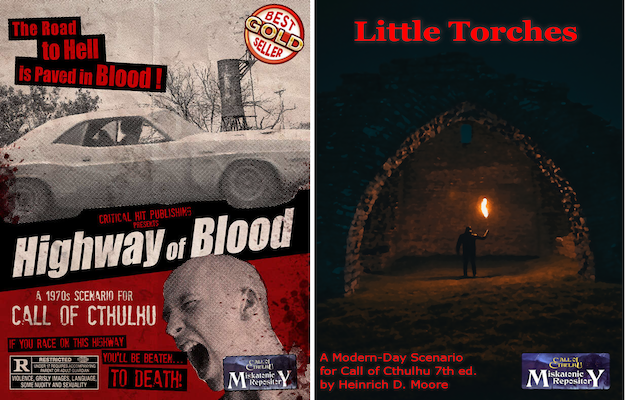 The Highway of Blood: A Call of Cthulhu Scenario for the 1970s
Alex Guillotte, Ian Christiansen (Softcover, Premium Color Book, 21 pages)
You find yourselves in West Texas during one of the worst heatwaves the region has ever seen. You're driving along a stretch of lonely highway with the gas gauge edging slowly towards empty when you suddenly spot a sign that promises gas and maybe a cold drink! The Highway of Blood is set in 1975 and pays homage to the grindhouse movies of the time. For that reason, it is extremely deadly and gritty and is intended for MATURE AUDIENCES ONLY.
Little Torches
Heinrich D. Moore (Softcover, Standard Color Book, 60 pages)
This investigation features the Great Old One, Cthugha, and explores themes of isolation and alienation. It confronts Investigators with the question of what motivates one to keep battling the Cthulhu Mythos in the face of insurmountable hardship and indescribable nightmare.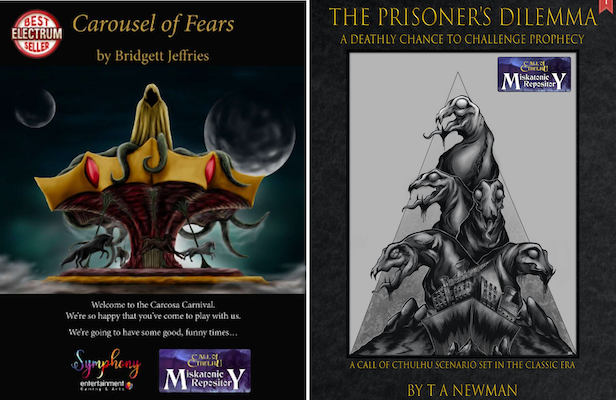 Carousel of Fears
Bridgett Jeffries (Softcover, Premium and Standard Color Book, 70 pages)
Welcome to the Carcosa Carnival. We're so happy that you've come to play with us. We're going to have some good, funny times... A group of post-apocalyptic survivors seek supplies and their missing friends in an abandoned carnival. Once inside, the Investigators find themselves unable to leave. Their only chance for escape is to interact with the Carnival's malicious, cruel and treacherous attractions in order to receive tickets to redeem upon exit.
Unfortunately, this Carnival is sentient, and it serves as an insanity inducing playground for an "unspeakable" Mythos deity. This modern day (post-apocalyptic) Call of Cthulhu scenario includes easy to follow rules to allow playtimes of 2, 4, 6, or 8 hours.
The Prisoner's Dilemma
T A Newman (Softcover, Standard Color Book, 56 pages)
A letter from an inmate at HMP Dartmoor Prison, Devonshire, England. A request for your forgiveness in the final days of a man's life in exchange for a substantial reward for your time. Is this too good to be true?
Looking for survival horror TTRPG like no other . . . look no further. Take your players into the infamous HMP Dartmoor Prison and watch them run, hide, and fight to survive. This 1920s scenario is designed specifically to build tension and suspense in your game leading to a climax that forces the investigators to make a decision that will live with them for the rest of their lives. However long that will be.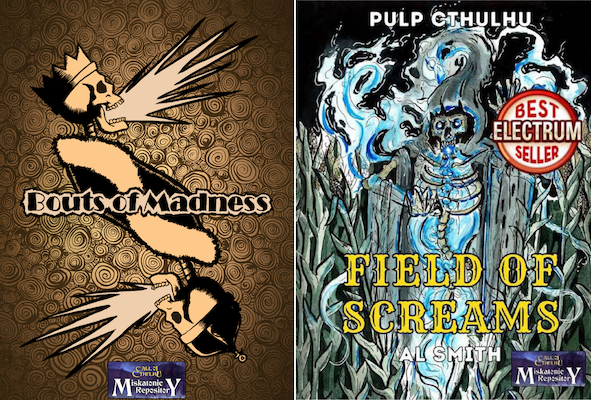 Bouts of Madness Deck
Aaron Sinner, Todd Walden (55 cards)
A physical deck of 54 cards offering expanded bouts of madness for play with the Call of Cthulhu roleplaying game. Also available as PDF print-and-play version of the deck. Includes a full color and a black-and-white, low ink file for home printing.
Field of Screams
Al Smith (Softcover, Premium Color Book, 31 pages)
If you build it… THEY will come! In this baseball-themed Pulp Cthulhu scenario, investigators play members of the All Nations baseball team, a team comprised of players that have been shut out of the major leagues. Now, they're barnstorming across the country, playing games in whatever small town will have them.
Now the owner has scheduled a game on a piece of land near a town that loves baseball. The only problem is that nobody in town wants to attend the game, because they all think that field is haunted by ghosts! The investigators are going to have to figure out what is going on with that field, and possibly, confront these evil spirits that threaten to ruin the baseball game! Little do the investigators know that these apparitions are not, in fact, ghosts, but actually something much worse. In fact, the problem may go much DEEPER than the investigators could ever expect…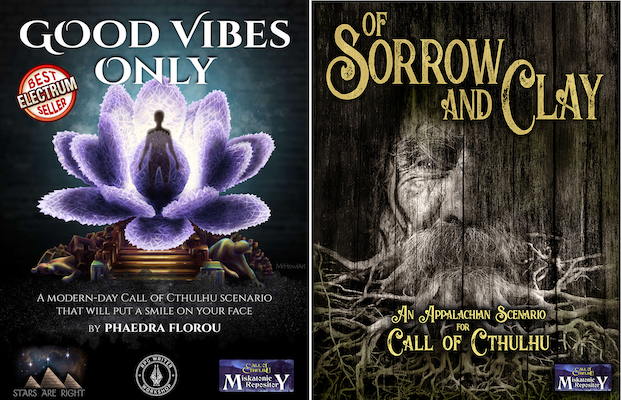 Good Vibes Only
Phaedra Florou, Stars Are Right (Softcover, Standard Color Book, 44 pages
...a Call of Cthulhu scenario that will put a smile on your face.
Come to a spiritual retreat the likes of which you've never seen before!
Of Sorrow and Clay
Graeme Patrick (Softcover, Premium Color Book, 40 pages)
Family is everything in the Appalachian Mountains. When everyone else turns their backs, they will be there, waiting. They may not like you. They may even hate you. But there is a loyalty to blood that runs deep in those black soiled hollers.
Of Sorrow & Clay delves deep into the history of an old Moonshiner, Carson Taft, and his family. At the ripe old age of 89 he has gone missing is the deep forests of James Holler in Kentucky. Telling his neighor Jack, that he is going to see his first wife Sadie who disappeared some 45 years earlier and never found. Carson himself is now missing a good few days now, and Jack has gathering the Carson's family and friends to help search the dark woods in hopes to find the old fool.

Created for a one-shot special mini series presented and run by Ain't Slayed Nobody, with Cam Collins from The Old Gods of Appalachia and Becca Scott from The Calyx as guest players. Written by Graeme Patrick winner of Chaosium's 2019 Cult of Chaos writers competition. Here's the first episode:
Want to take part in the Miskatonic Repository Program yourself?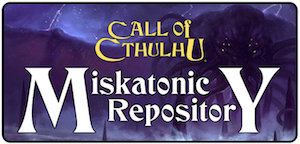 Whether you share your content for free or put it up for sale, this program is a digital home for terror that joins the dreamscapes of all who peruse it.