Miskatonic Monday #58: 'The Strange Case of Anthony Hanson' - our 1000th Miskatonic Repository title!
Posted by Michael O'Brien on 12th Sep 2022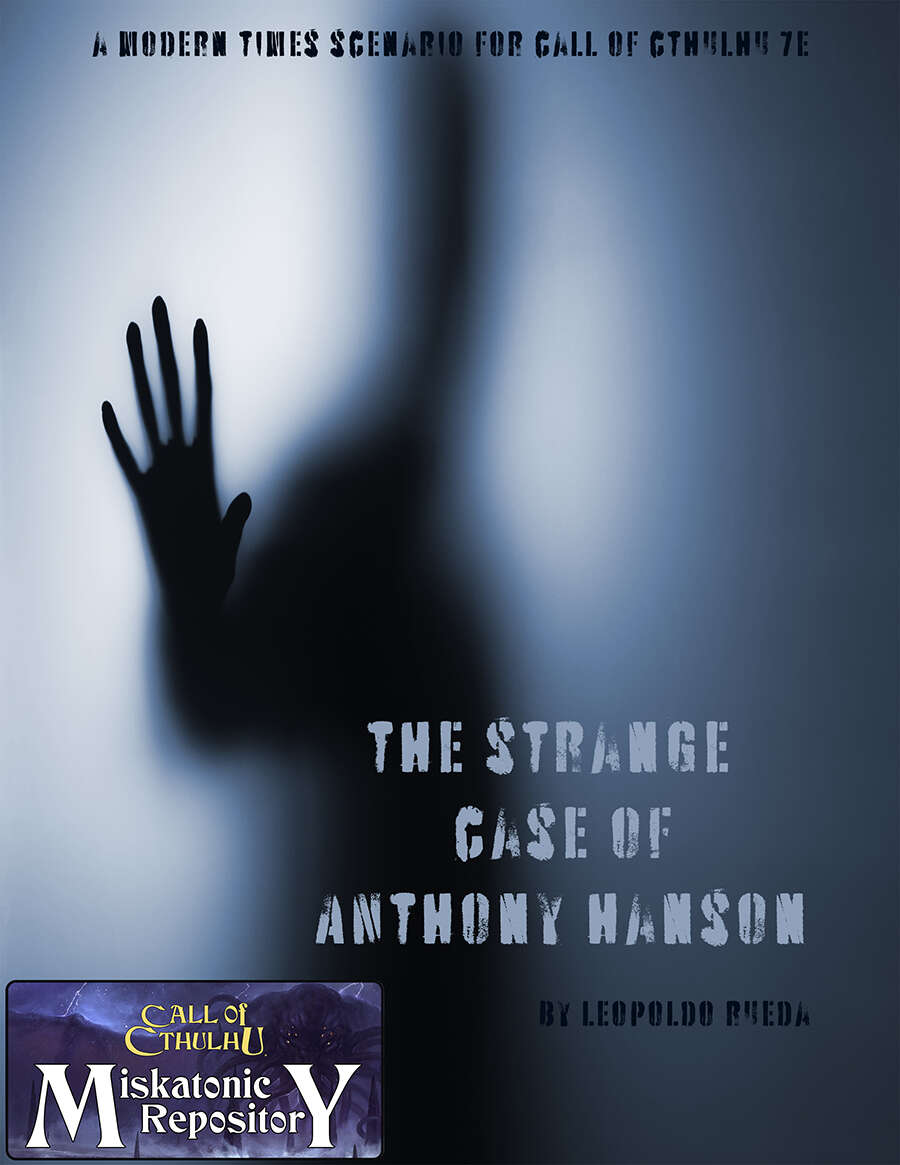 Today we celebrate the release of the 1000th title in the Miskatonic Repository, Chaosium's community content platform for independent Call of Cthulhu creators at DriveThruRPG!
Chaosium vice president Michael O'Brien said, "We congratulate the hundreds of creators involved in reaching this significant milestone, many of whom got their first experience of publishing a TTRPG title in the Miskatonic Repository. They are now part of a thriving and supportive Call of Cthulhu creator community, producing works of amazing variety, set in mysterious locations all over the world and in time periods from Ancient Egypt to the far future. We encourage Call of Cthulhu fans to check out everything on offer in the Miskatonic Repository, and if they have an itch to create something themselves, our community is ready to help!"
Chaosium has helped foster new Call of Cthulhu creators through initiatives including the appointment of Community Ambassadors Nick Brooke, Allan Carey and Bridgett Jeffries; by working with the Storytelling Collective to develop a dedicated Call of Cthulhu stream for their 'Write Your First Adventure' workshop series; and by sponsoring Miskatonic Repository Con. The #MiskatonicMonday posts at the Chaosium news blog also promote new releases in the Miskatonic Repository on a regular basis.
"We know Miskatonic Repository titles are popular with fans because they invariably feature in the Top Ten of DriveThruRPG's Top Selling Community Content list, and sometimes even at the top of the bestselling list for the entire DriveThruRPG site itself." said O'Brien.
And the thousandth title itself? That is The Strange Case of Anthony Hanson, a scenario set in the modern day by Leopoldo Rueda. Also, do check out Leopoldo's previous Miskatonic Repository release, Horror at the Westmore Hotel – a Silver bestseller, and also available in Spanish.
Here are the most recent releases in the Miskatonic Repository:

The Strange Case of Anthony Hanson
Leopoldo Rueda ($2.99, 32 page PDF)
Anthony Hanson is missing. His family and friends are looking for him but, what will they do when they find him?
A Modern Times scenario suitable for 4 investigators and about 3 to 4 hours of play. This book contains pregenerated investigators already tied in the story and it's ready to read and play. It also contains 3 Location Maps; 5 Handouts; 4 pregenerated investigator sheets.
The Heat
Michał Pietrzak ($1.00, 18 page PDF)
The recent heat wave has made the citizens of Kingsport weary, tired and annoyed. Extremely annoyed. When a pair of upstanding citizens is arrested for assault, their son decides to start an investigation to clear their name. Following the breadcrumbs may lead the investigators to discover a different kid of family...
Short adventure is set in Kingsport of 1921. The adventure is intended to be played as a one-shot, to be played by two to four experienced or new players.
Split
Stephen Oliver ($3.95, 42 page PDF)
A plucky small town bowling team is caught up in the horrific human experimentation plot of an eccentric billionaire named Orson Reed. When the bowling team's captain, Jordan, doesn't show up for the last game before nationals, the investigator's inquest into his disappearance will lead them on a confronting journey of self-discovery... quite literally. This scenario is guaranteed to get under your players' skin, and keep them guessing at every turn.
Set in 2005 in the small town of Notchwood Vermont.
Deep Mud
Jared Tallis ($3.99, 35 page PDF)
Hunter Region, NSW, Australia 1924. What would you do if your friend or colleague disappeared into the countryside, would you visit if you were concerned about them?
A marine scientist learns about a technique to create new creatures; that is after learning occult rituals to combine the essence of different creatures from a shady man with links to the deep one hybrid community. Can the investigators overcome the new creations and stop their friend's compulsion in this dangerous maddening topic? Or will he and/or the investigators get killed or worse in the process?
A Red, Red Rose
Keith DEdinburgh ($3.95, 68 page PDF)
Love, horror and death metal ...After witnessing a horrific event on the last tram to Edinburgh city centre, investigators find themselves caught up in a centuries-old struggle between two horrific groups of creatures who inhabit the crypts and tunnels beneath the city's streets.
Will the fortune of two ill-fated lovers seal Edinburgh's fate? Who - if anyone - will the investigators choose to side with? And will they ever be the same again after attending a gig by Black Heart Dawn, a secretive and shocking death metal band?
Also available in a $4.50 Bundle with the author's inaugural title, The Pharaoh's Sacrifice (save 35%).

Ten Destinations for the Vacationing Investigator
Ryan Sheehan ($2.99, 17 page PDF)
Because every investigator needs a break from the terrors of the world...
Offers Keepers ten interesting vacation destinations around the world for investigators to enjoy. From the beaches of Hawaii to the ski slopes of Norway, the coral reefs off the coast of Australia to the savannahs of Kenya, there's a place for every investigator!
NPC Pack – Modern Days
Ivo Zanin ($5.00, 12 files)
This will make your life easier - illustrations of 12 distinct characters, with a total of 16 variations.
100 People to Encounter in Arkham
Adrian Kennelly ($1.99, 11 page PDF)
This is a collection of 100 people that investigators could encounter in Arkham. They tend to be those that are most likely to be encountered, rather than general members of the populace, and as a result include a lot of people working at different businesses in the town, though there are others as well, from students to retirees. Most are not in positions of real importance and most have no knowledge of the Mythos, though some may brush its edges.
Plus new titles in German, Japanese, Korean, and Polish!
WANT TO TAKE PART IN THE MISKATONIC REPOSITORY COMMUNITY PROGRAM?
Under the Miskatonic Repository community content license, Call of Cthulhu fans can make their own work for use with the game line available to the public, using guidelines, templates, and art provided by Chaosium.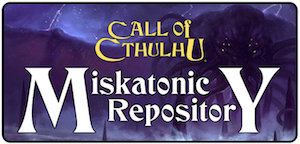 Whether you share your content for free or put it up for sale, this program is a digital home for terror that joins the dreamscapes of all who peruse it.