Miskatonic Monday #51: cool covers for Cthulhu community content
Posted by Michael O'Brien on 2nd May 2022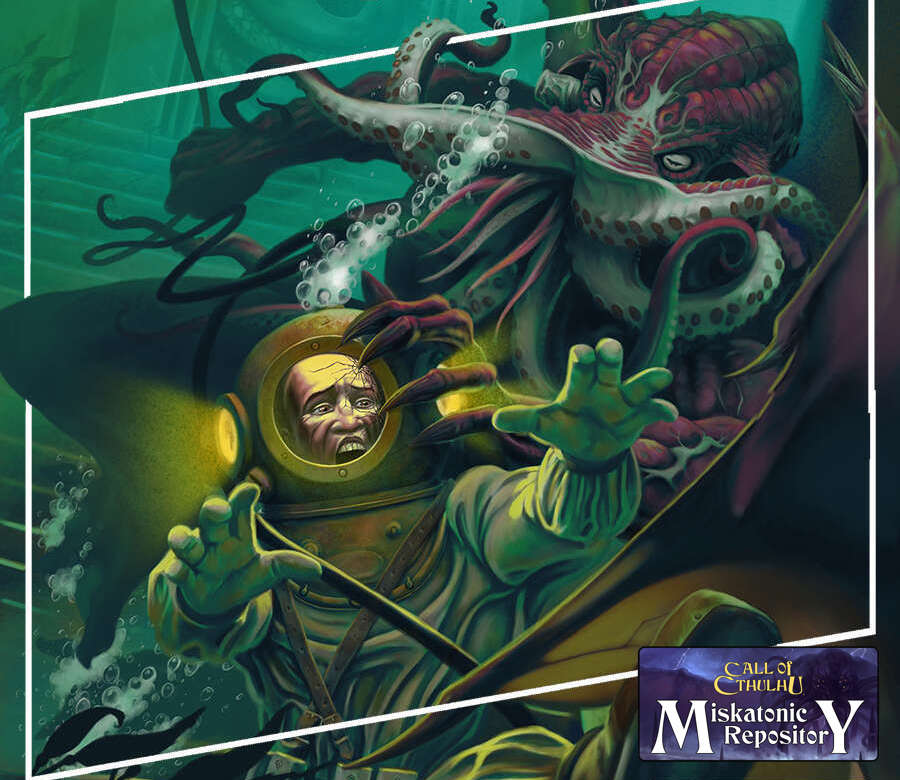 There's some stand-out cover art going on in the Miskatonic Repository! So we got Call of Cthulhu creative director Mike Mason, Chaosium vice president Michael O'Brien, and our community content Ambassadors Nick Brooke, Allan Carey, and Bridgett Jeffries to pick out some of their favourites by indie creators.
What makes an effective Miskatonic Repository cover? Mike Mason says:
For me, the key to a good Miskatonic Repository cover is ensuring it stands out from the crowd. You have a small window to catch someone's eye and make them click on your book: the DriveThruRPG preview image is roughly 3 x 2 cm. Thus, ensuring the artwork and design of the cover is focused on doing just that is (very) important.
Having good art is not always enough – it's how it's used, how it shapes the cover, how it draws the eye, and how eye catching it is – that's key.
The three (plus one honorable mention) covers I have chosen do the above in different ways. But, what's important is that they drew my eye and made me want to know more."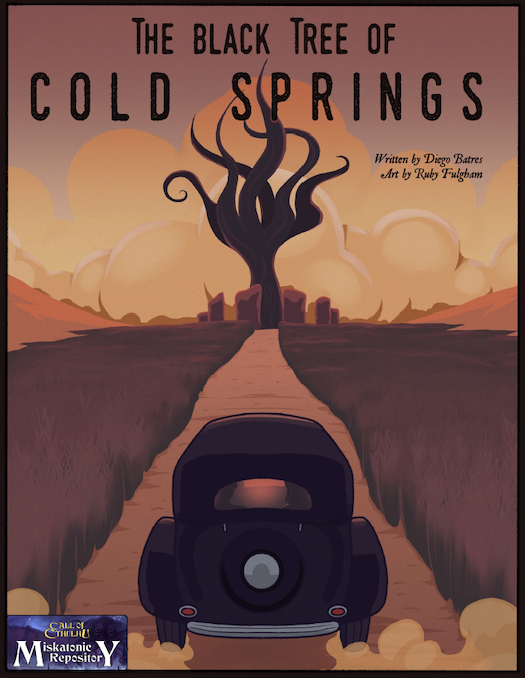 The Black Tree of Cold Springs by Diego Batres. Cover by Ruby Fulgham.
Mike says, "Very nice stylized artwork that draws the eye to the main title – and that funny-looking tree! Color pallet reinforces the Dust Bowl setting of the scenario."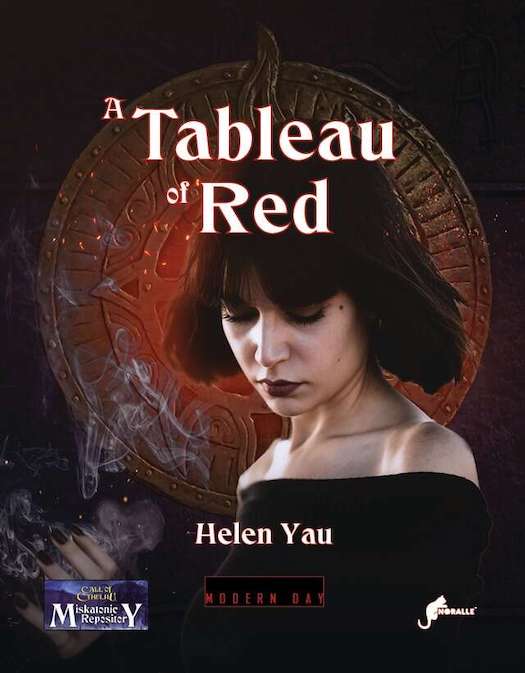 A Tableau of Red by Helen Yau. Cover by Lucas Neves.
Mike says, "Lovely illustration, with red color reinforcing the scenario's title. Evocative and very human-centric art that draws you in."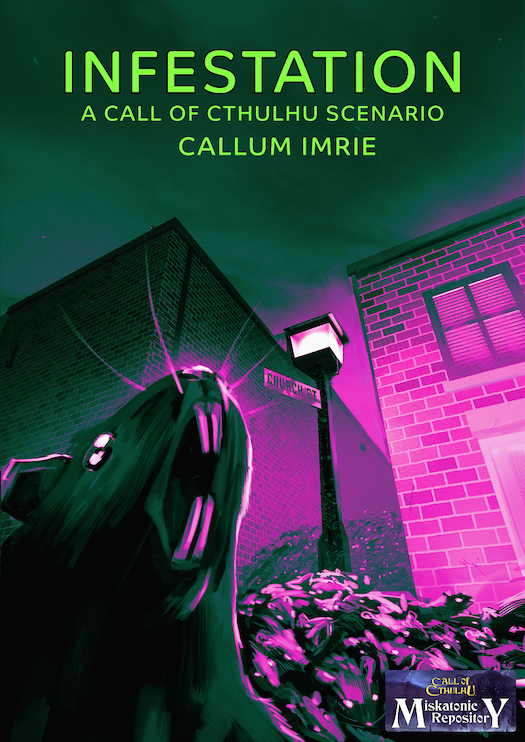 Infestation by Callum Imrie. Cover by Leon Möller.
Mike says, "Good use of color that makes the illustration stand out. Simple yet effective design, which leaves the main title unencumbered."
An Occurrence at Como Bluff by Dawson Wohler. Cover by Jake Blackwood.
Mike says, "Honorable mention – I love the period styled artwork and the classic "movie" poster set up (plus there's a dinosaur!)."
The Hammersmith Haunting by Cat Clay. Cover by Evanto Elements.
Bridgett says: "Clean, classy, crisp, elegant, easy, breezy, beautiful CoverGirl cover."
Full Fathom Five by Paul Fricker. Cover by John Sumrow.
Bridgett says: "Because Sumrow is awesome, and I love how present this cover feels. It's evocative in the sense that the second my eyes fall upon this cover, I'm on the ship with the crew."
The Snake's Oil by Michael Frank, Arthur Rothfuss III, Emily Mills-Woodruff, Chris Hogan, Scott Stamper, Wayne Holt. Cover by Ginny Munson.
Bridgett says: "Every time I see this cover, I stop to examine and find something new. It's atmospheric, yes, but it's also alarming in a sense that you've got this no nonsense, heavily pregnant woman, seemingly summoning a snake. I already have a good sense of how this scenario may feel.... And then you have, "mature content, immature people," running across the bottom. ... And that will never not be funny to me.
PS: In case you missed it... Check out the tattoos on the woman."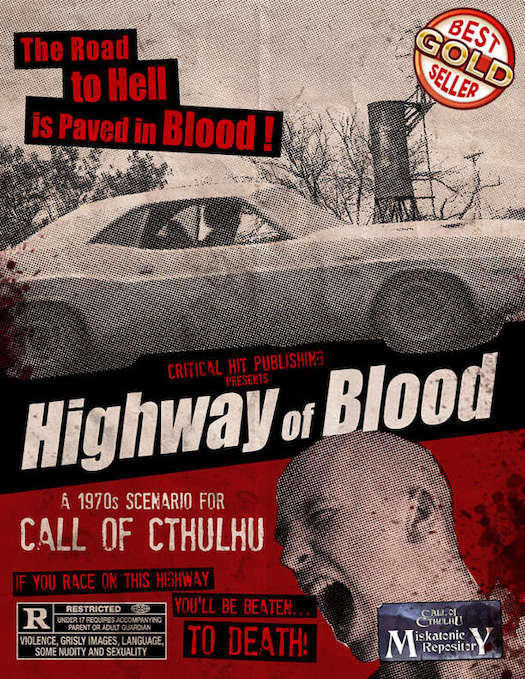 The Highway of Blood: A Call of Cthulhu Scenario for the 1970s by Alex Guillotte and Ian Christiansen. Cover by Alex Guillotte.
Allan says, "This one because it leans right into the genre it is portraying. Is well laid out and pulls the eyes in different directions across the page so you see all the elements."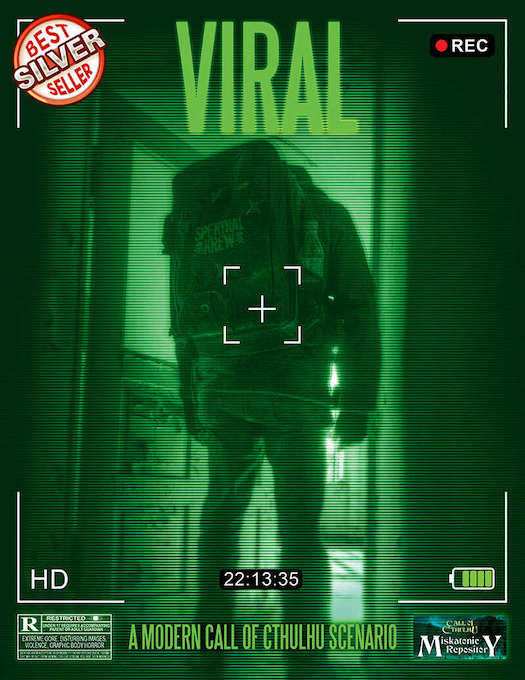 Viral: A Modern Call of Cthulhu Scenario by Alex Guillotte and Bud. Cover by Alex Guillotte.
Allan says, "This one because the cover evokes the kind of story you are going to be playing , it has a stand out palette amongst the crowd, and it is well laid out with all the right elements."
Cthulhu Maps - Masks of Nyarlathotep - Prologue - Peru Pack by Lovemaps. Cover by Lovemaps.
Allan says, "A stand-out brand, clearly identified as part of a group when you see multiples of them on the same page. Clear, informative well-branded."
Storm from a Teacup by Royce Wilson. Cover by Pexels (Pixabay.com)
MOB says, "Here's an example of an evocative image sourced from a free use site (in this case Pixabay) that matches the title theme of the scenario perfectly. I love how the broken open infuser and scattered tea leaves darkly suggests something violent might have just happened: truly a storm from a teacup."
Sorrow in Tsavo by Bridgett Jeffries. Cover by Alex Strachan (Pixabay.com)
MOB says, "Another great example of an image sourced from Pixabay. A blood-red sunset is perfect for a cover that promises the visceral experience of man-eating lions in Africa. The design also leaves plenty of room for cover text, description, and logos."
The Mummy of Pemberley Grange - Seeds of Terror by Allan Carey and Nic Holland. Cover by Simon Lissaman.
MOB says, "What Allan did with his 'Seeds of Terror' series is come up with a simple yet elegant and effective cover design that can be easily repeated (with minor color variations). If you like the first one you try – and you almost certainly will – you can easily identify all the others in the series."
Carnival of Madness: A Call of Cthulhu Scenario for the 1970s by Alex Guillotte and Ian Christiansen. Cover by Alex Guillotte.
Nick says, "Alex Guillotte's cover for Carnival of Madness is typically genre-savvy: if you saw this in your local multiplex, you'd join the queue to see that movie."
The Dragon of Wantley by S.R. Sellens. Cover by Vitogh.
Nick says, "Vitogh's cover for The Dragon of Wantley captures the classic Chaosium Call of Cthulhu look and feel. A Mythos monster destroying Yorkshire? Count me in!"
Beach Blanket Bloodbath by James Thomson. Cover by Dean Spencer.
Nick says, "Dean Spencer's cover for Beach Blanket Bloodbath is luridly over-the-top and really sells this gonzo collection of five scenarios from different eras to me."
WHAT IS THE MISKATONIC REPOSITORY?
Are you a Keeper looking for new scenarios and story elements? A player looking for something mysterious to spark a character idea? Is your group looking for eerie ideas to use in your game? The Miskatonic Repository is where you can find —and create —self-published material for the Call of Cthulhu roleplaying game.
Interested in submitting content? Go here to see the guidelines, and here for the additional guidelines. No extra license is required. Get started and download the MS Word template or the InDesign template for Miskatonic Repository submissions, and check out our other free creator resources.