Miskatonic Monday #49: April 2022 releases
Posted by Michael O'Brien on 4th Apr 2022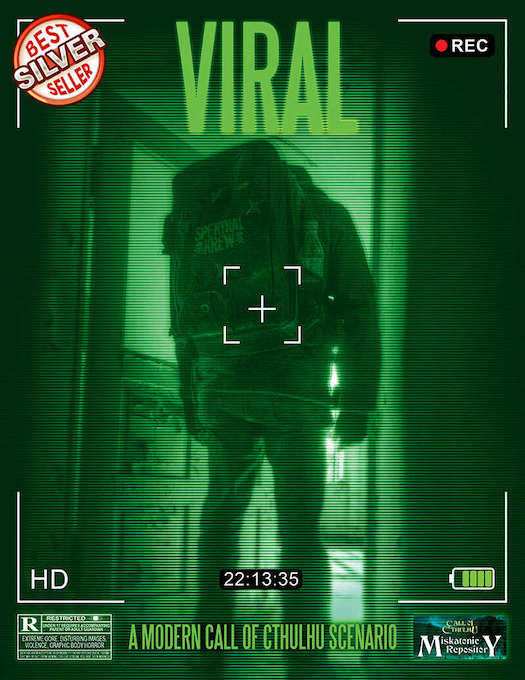 Check out these new Miskatonic Repository titles by indie Call of Cthulhu creators!
Viral: A Modern Call of Cthulhu Scenario
Alex Guillotte, Bud ($12.95, 110 page PDF)
Join Marco Proudfoot, host of the successful YouTube channel The Spektral Krew, as he and his fellow paranormal investigators journey to an island off the coast of Sicily to explore its very dark past. The only public information is a pixelated satellite map and a pile of redacted documents, but a little digging on the Dark Web has revealed something far more sinister. What better way to make their final push for one million subscribers than to stream their investigation live from the island! The Krew hopes to find evidence of the paranormal, but what they discover is so much more horrific than just orbs of dust and incoherent voices in the static.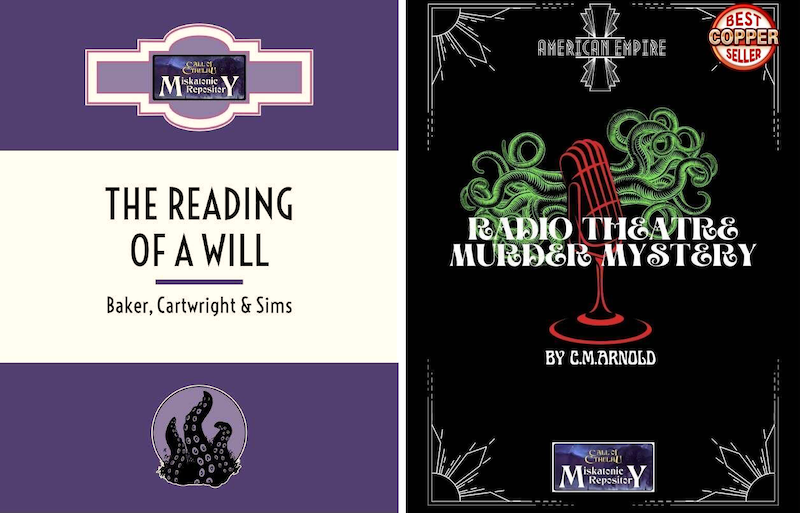 The Reading Of A Will
Drew Baker, Richard Cartwright, Paul Sims ($9.99, 75 page PDF)
Welcome to a different kind of Green and Pleasant Land: The year is 1923, the place, Great Britain. Contacted out of the blue by a firm of respected London solicitors in regard to the estate of their late client, one Captain Robert Joyce, the beneficiaries - all strangers to each other - must travel to the late Captain's home in a quiet corner of the county of Essex to hear their benefactor's Last Will and Testament and claim their legacies.
Radio Theatre Murder Mystery
C.M.Arnold ($1.99, 35 page PDF)
Wednesday, July 14th, 1926. Boston is in mourning as the body of Mayor, Arlow Jeffreys is finally laid to rest. Jeffreys was found dead in his home two weeks prior. Every bone in his body broken and no sign of an intruder. Boston needs a new Mayor and there is one name everybody is calling for...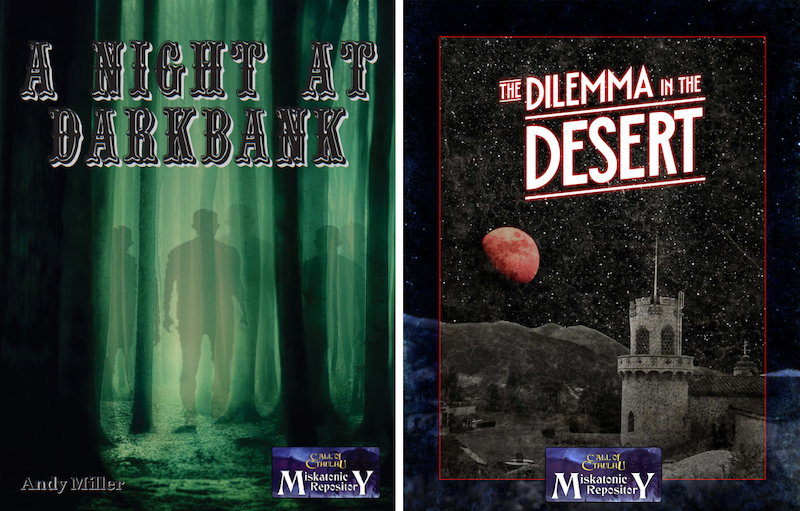 A Night at Darkbank
Andy Miller ($1.99, 24 page PDF)
While passing through the tiny village of El Rito, New Mexico Territory, a lone investigator learns a notorious criminal recently escaped from the tiny town jail. Someone needs to track him down and bring the murderer back to justice.
The Dilemma in the Desert
Ryan Graham Theobalds ($5.99, 27 page PDF)
The scenario is about a group of investigators who are travelling to attend an initiation ceremony in an isolated location at Scotty's Castle in Death Valley. The scenario incorporates initially an element of paranoia between the investigators who dont know each other and dont know who they can trust.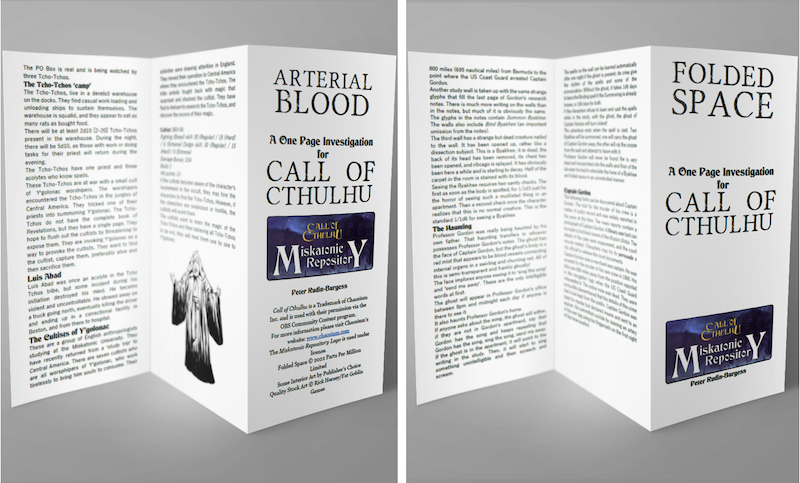 Peter Rudin-Burgess ($1.99, 2 page PDF)
The characters get caught in a conflict between some English cultists visiting Arkham and a group of Tcho Tchos on a mission to destroy those cultists. A One Page Investigation for Call of Cthulhu.
Folded Space
Peter Rudin-Burgess ($1.99, 2 page PDF)
Professor Gordon is missing and his lab has been destroyed in the most bizarre fashion, as if liquified and twisted in every direction. Boston University wants you to find the missing professor, and discover what happened during the experiment that went wrong, without involving the police in what is a purely university matter.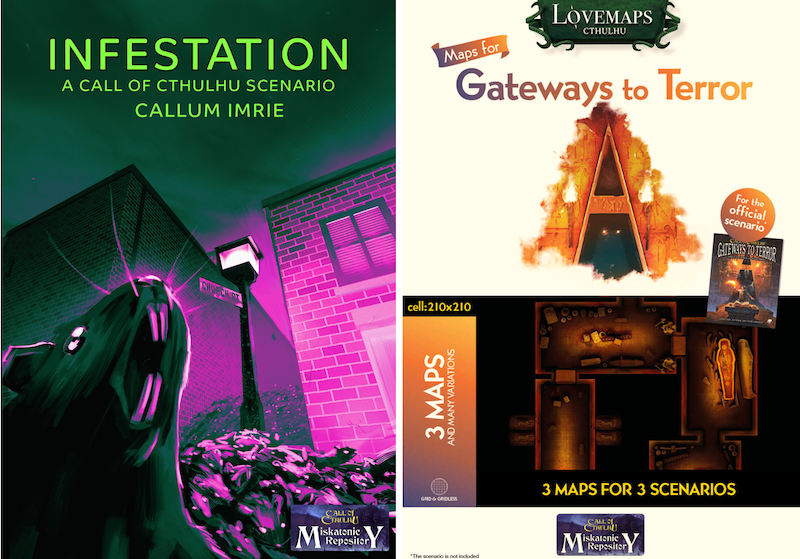 Infestation
Callum Imrie ($1.99, 14 page PDF)
Something is wrong in Arkham. For several weeks now, the sleepy Massachusetts town has been troubled by a vermin epidemic. Thousands of rats have come out of the walls to take to the streets with a ravenous hunger for anything they can sink their teeth into. If there is something causing the rodents to run rampant around the town, then it will be up to the investigators to solve it!
Cthulhu Maps - scenario map pack - Gateways to Terror
Lovemaps ($4.90, 10 maps)
Maps for Gateways of Terror: detailed maps and their situational tokens for the 3 scenarios in the official Chaosium release.
Also new titles in Korean and Polish!

Under The Miskatonic Repository community content license, Call of Cthulhu fans can make their own work for use with the game line available to the public, using guidelines, templates, and art provided by Chaosium.
Whether you share your content for free or put it up for sale, this program is a digital home for terror that joins the dreamscapes of all who peruse it.