Miskatonic Monday #44: a host of new community content titles for December 2021
Posted by Michael O'Brien on 6th Dec 2021
Here's a host of new titles in the Miskatonic Repository by independent Call of Cthulhu creators. Among these is Australian crime and horror writer Kat Clay's first foray into Call of Cthulhu scenario writing, and some from alumni of last month's RPG Writer Workshop, run by our friends at The Storytelling Collective!

The Hammersmith Haunting
Kat Clay ($10.00, 29 page PDF)
London 1890: ghost fever grips the suburb of Hammersmith. For three days, no person can sleep without experiencing terrible nightmares, and locals swear to have seen a ghostly medieval woman stalk the streets. Investigators find themselves trapped in Hammersmith, confronted by ghost hunters and an all-pervading fog. But is the ghost all that she appears? Or is there a more sinister reason for the Hammersmith haunting…
Cthulhu by Gaslight scenario by Australian crime and horror author Kat Clay.
"Bravo to my Melbourne friend Kat Clay, who has made the leap from writing award-winning detective fiction to publishing her debut scenario for Call of Cthulhu. And it's a gaslight haunting. Perfection. Right up my fog-shrouded alley." — Mark Morrison (Horror on the Orient Express, Terror Australis, Reign of Terror, etc.)
Field of Screams
Al Smith ($2.99, 31 page PDF)
If you build it… THEY will come! In this baseball-themed Pulp Cthulhu scenario, investigators play members of the All Nations baseball team, a team comprised of players that have been shut out of the major leagues. Now, they're barnstorming across the country, playing games in whatever small town will have them.
Now the owner has scheduled a game on a piece of land near a town that loves baseball. The only problem is that nobody in town wants to attend the game, because they all think that field is haunted by ghosts! The investigators are going to have to figure out what is going on with that field, and possibly, confront these evil spirits that threaten to ruin the baseball game! Little do the investigators know that these apparitions are not, in fact, ghosts, but actually something much worse. In fact, the problem may go much DEEPER than the investigators could ever expect…
Foreign Body - Call of Cthulhu
Raymond J. Hicks, Arjade Productions ($2.00, 32 page PDF)
After a long mining expedition to Antarctica, the crew of The Costaguana are on their way home when they receive an encrypted distress call from an uncharted island. What strange adventures await on their voyage home and what terrifying discoveries will be made? The only way to find out is to play.
A tense and claustrophobic homage to moder science fiction horror films, set in the 1920s Cthulhu mythos. Can you and your crew survive the Son of Kane?
The Time Shadow Over Darnesville
Paola Pedranti ($10.00, 9 page PDF)
Frank has called one of the investigators, who is an old friend of many years, saying that he is need of urgent help. He warns the investigator that he is in mortal danger and cannot trust the police. Frank asks that the investigator to come immediately and bring allies. Frank refuses to give further details, providing only an address with a house and a room number for the investigators to meet him. When the investigators arrive at the room, they find it deserted.
This stand-alone scenario takes place in the 1920s in a small, fictional American town called Darnesville.
Headless Valleys: A Call of Cthulhu Scenario for 1920s-1930s Alaska
Charlotte Lenox ($11.00, 76 page PDF)
Gold Fever strikes the last frontier of Southeast Alaska... During the 1920s, Juneau, Alaska was a booming gold town with frontiersmen, miners, businessmen, homesteaders, and miscreants. But the land was still untamed wilderness where civilization was hacked out of the dark forests and towering mountains. Danger, natural and otherwise, lurked in the spruce and hemlock, deep in the murky emerald ocean, and inside the very bones of the Earth. In nearby Silver Bow Basin, where gold mining operations are in full swing, a decapitated human body has been discovered, but the head is nowhere in sight. Who--or what--is murdering the miners, then leaving everything behind except the missing head? Is it the work of unhappy locals, wild animals, or something far worse? Something hungry...
Pay a visit to the newly-settled Last Frontier, and uncover the terrors the wild land has hidden for unthinkable eons!

Pass The Giggle Water
Christopher DiFoggio (Pay-what-you-want, rec price $3.00, 30 page PDF)
In 1929 prohibition was a problem. But that problem can always be made worse by nefarious characters using it to their adavantage. There is a sickness in Arhkam, Mass. people are flyng into a rage and murdering each other. If only there was ateach specializing in the supernatural to assist with finding out what is going on.
Whispers from Wavering Hills
Scott Cox ($2.77, 14 page PDF)
Wavering Hills Sanatorium, a hospital for the relief of suffering lies nestled in central Kentucky on grounds with a sordid and mysterious past. The apparent suicide of a troubled young girl yields questions of an otherworldly nature. Will the investigators unravel the mystery of Wavering Hills?
Ravishing Beauty
Dr. Benjamin Will ($3.87, 18 page PDF)
The investigators visit the luxurious Villa Gaudium and are treated by the owners to a special dance performance by the recently acquired slave-girl Megaira. Megaira casts a curse with her dance: She gives life to the beautiful décor in the villa and ties her own life-force to it. Hunted by blood-thirsty artworks, the investigators must flee or live through the night.
Cthulhu Invictus scenario that combines a haunted house theme with survival horror.
Secret Santa
Thomas Newton ($6.62, 58 page PDF)
All I want for Christmas is you . . . We wish you a merry Christmas as you don your black tie and ballgowns to attend the Holmouth Museum of Antiquities fundraiser in celebrating the career of Dr Johnathon Breeze. As you hand over you secret santa present and take a glass of champagne you revel in the seasonal merriment until you realise you are stuck in the middle of a horrific plan for revenge using cosmic artifacts to bring the anti-claus himself to the party - Krampus! Can you survive the hunger of the beast, and the first born of Shub-Niggurath's thousand young? Make your Christmas one to remember this year.

Along came a crystal
Alonso R. Serrano ($3.00, 17 page PDF)
After a geology expedition disappeared, a group of investigators are gathered to find what happened. The expedition's fate will shatter their minds, as they will face an impossible adversary.
The Light At The End
Michael Shelak ($4.95, 26 page PDF)
The pleas of a desperate wife, as well as the promise of rich rewards press the investigators forward. Tracking down clues and exploring lost chambers amidst rumors of dangerous, obscure foes. What they find is quite different than what they bargained for. ...Only at the end will they finally see the light.
A mystery of derangement and betrayal beckons investigators to 1920's Arkham. The investigators are sought out by a group of scriveners, book-binders, and historians to locate an old, valuable collection of papers. The documents are said to have disappeared years ago, last seen in the hands of a madman.
Stranded on the North Shore
Steven Anderson ($1.00, 23 page PDF)
A trip up the north shore of Lake Superior goes awry when your car breaks down. Left to fend for yourself in the village of Beckton, you soon meet the "sea child" and learn that he wants to rejoin his family. Will the investigators save the village, run away with their lives, or become a sacrifice?
His Master's Voice
Matt Nathan ($4.99, 25 page PDF)
Set in September 1925, this scenario takes place near Millers Falls, Massachusetts and the fictional community of Shadwell. A community of patients who have been transformed by an experimental electrical therapy and live in a mothballed cannery are trying to bring about the second coming in a soon to be electrically powered mechanical body. An escapee from the community sends the investigators a cryptic telegram compelling them to find her and avert tragedy on the day the community of Shadwell is to gain electrification.

What Rough Beast
Andy Miller ($8.99, 91 page PDF)
Something foul has come to Alabama – In the spring of 1929, something was flung from a train passing through Cleburne County, Alabama. Now, only a few months later, it comes seeking revenge for its misfortune, and its sights are set on the inhabitants of the tiny village near the tracks where it fell. Can the youths of the town stop the terror that has come to Sanguis?
The Night Terrors of Joseph Pidulski
Neal Glen Jesse ($1.99, 20 page PDF)
A young artiste in Toledo, Ohio is haunted by dreams of an woman in a flooded oaklands plain. As investigators you slowly uncover the secret of the man's ancestors and the terror awakening just outside the city limits.
Border Town
Michael Bertolini (Pay-what-you-want, rec price $1.99, 10 page PDF)
There is a town where something strange is happening, it is slowly consuming the minds of everyone within its borders. The investigators are strangers in this town and they need to find a way to escape before they lose their minds.
Horror on Epsilon IV
P.L. McMillan ($10.00, 37 page PDF)
Set in the far distant future, investigators play as Citizens aboard the Epsilon -- a colony ship headed to newly terraformed Vulminov. Unfortunately, before that happens, they are summoned to the Company Representative's office. It seems that someone on the ship stole some very valuable cargo and the players -- and their fellow passengers -- will be in deep trouble if they don't get it back. However, it turns out that the real danger might not the thief, but the cargo itself...

Food Service
Jonah Knight ($4.93, 38 page PDF)
Just admit it. You pulled a prank, put laxatives in the cafeteria food. Monday morning we're all going in to see the Dean and you dipshits are getting expelled.
Except, you didn't do it! If you don't discover who did and prove it, you and your friends are getting thrown out of Miskatonic University. A Modern Day Miskatonic scenario.
A Place Just For Us
Charles Huysman ($5.49, 18 page PDF)
When do we put aside the things from our childhood? The people, places, games, and secrets? This one-shot adventure unfolds in the fictional town of Twin Rivers, over the course of a few fateful summer nights. A group of reunited friends find the ashes of their old school, and soon learn that a mysterious figure from their past may be stalking the woods near their home, waiting to ensnare them in a deadly game.
Cthulhu maps - scenario map pack - Burning Stars
Lovemaps ($14.90, 12 maps)
Map pack for "Burning Stars", the last of the six scenarios in the Chaosium Call of Cthulhu release Terrors from Beyond.
Cthulhu maps - scenario map pack - The Haunting - Corbitt house
Lovemaps ($6.90, 8 maps)
Who hasn't heard of the Corbitt house...The well known scenario from the Call of Cthulhu Quickstart Rules and 40th Anniversary Keeper Rulebook that takes place in a terrifying house.
WANT TO TAKE PART IN THE MISKATONIC REPOSITORY COMMUNITY PROGRAM?
Under the Miskatonic Repository community content license, Call of Cthulhu fans can make their own work for use with the game line available to the public, using guidelines, templates, and art provided by Chaosium.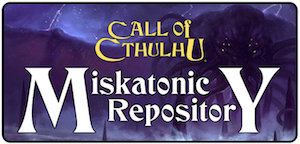 Whether you share your content for free or put it up for sale, this program is a digital home for terror that joins the dreamscapes of all who peruse it.