Miskatonic Monday #43: new November titles!
Posted by Michael O'Brien on 22nd Nov 2021
Here are yet more new Miskatonic Repository scenarios from independent Call of Cthulhu creators. The program is thriving! Remember, if you purchase one of our community content titles at DriveThruRPG please give it a rating or even write a review. The creators appreciate your feedback!
Bad Day at Hanging Rock
Andrew Edward ($5.50, 20 page PDF)
Four friends travel to Hanging Rock to scout the area as a potential filming location for an exciting new motion picture. Whilst there, they pause to relax and take in the lovely autumn sun. They are soon interrupted by a distraught father searching for his daughter who has become lost amongst the crags and tors of Hanging Rock. This event propels the friends into the worst and possibly last day of their lives.
A classic era story set in the Australian Bush.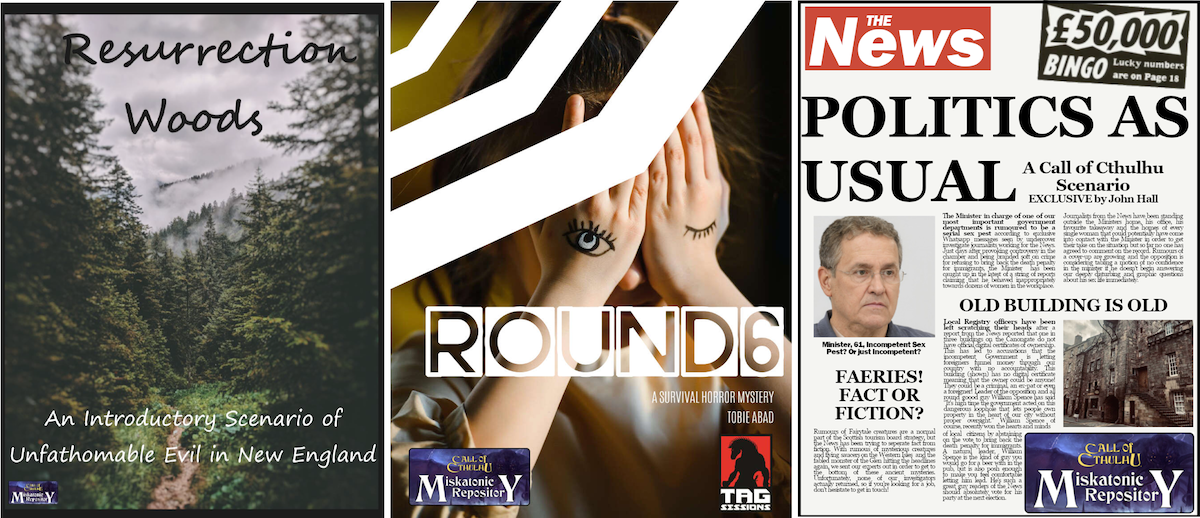 Resurrection Woods
Ryan "Rhyno" Russell ($1.99, 7 page PDF)
A quick trip, during spring break, to see the resort of your cousin, devolves into a desperate attempt to halt the evil that prowls there. Will you, and your friends, be able to unlock the secrets of Resurrection Woods?
ROUND6
Antonio Gabriel IV Abad ($6.00, 90 page PDF)
Everyone desperately needs the money. Times are hard. And life is unfair. But each of you had been invited to take part in a game unlike any other. Known as the ROUND6, all thirty contestants are to play through five different games in hopes of being the winner of over 6 million dollars. But when the reward is this high and the stakes are deadly, who will emerge as the winner at the end of the sixth round.

Inspired by Koushun Takami's Battle Royale, Takashi Miike's As The Gods Will, César Charlone; Daina Giannecchini; Dani Libardi; Jotagá Crema; Philippe Barcinski's 3%, Haro Aso's Alice in Borderland, Kazutaka Kodaka's Danganronpa, and Hwang Dong-hyuk's The Squid Game.
Politics as Usual
John Hall (Pay-what-you-want, rec price $3.00, 20 page PDF)
A prominent politician has faced a series of sexual assault allegations. A group of 'concerned individuals' have gathered to make sure these allegations 'go away' by any means necessary. There's an old house on the Canongate connected to it somehow. The investigators will explore the old house and uncover far more than they had expected. Set in Edinburgh, where the world of Fairytales and Cthulhu Mythos collides, this story involves discussion of sexual assault and deals with misogynistic world views. It can be played in 2-4 hours and is designed to be played in a single session.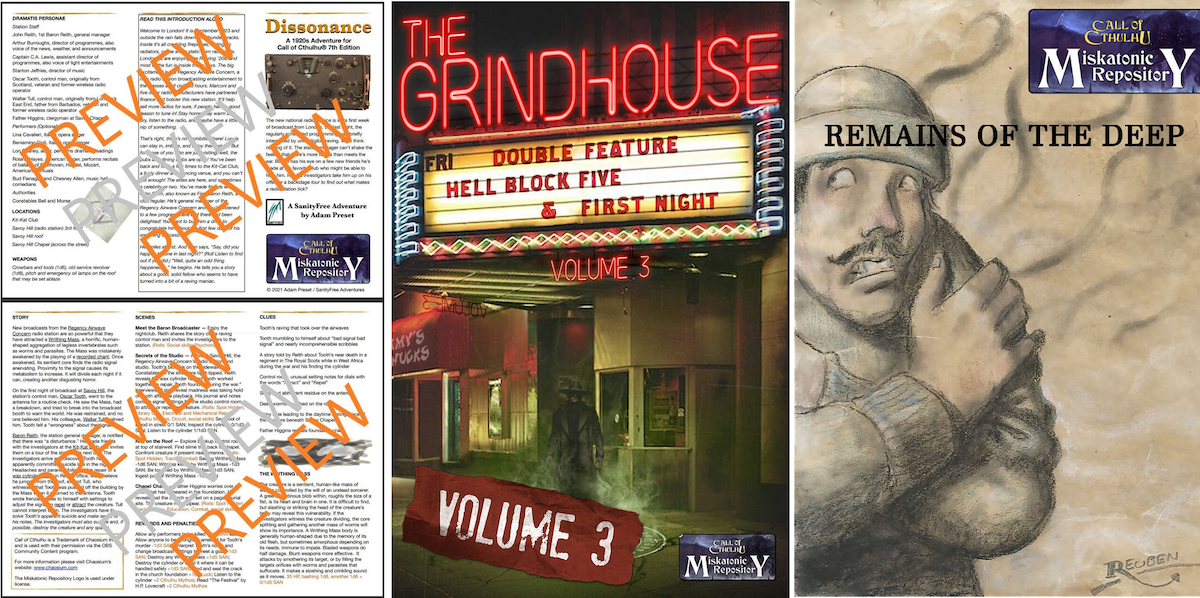 Dissonance - A 2-Page 1920s Adventure
Adam Preset ($2.00, 2 page PDF)
The new national radio service is in its first week of broadcast from London, but last night, the regularly scheduled programming was briefly interrupted by unintelligible raving. Most think nothing of it. The station manager can't shake the feeling that there's more to this than meets the ear. But he has his eye on a few new friends he's made at his favorite club who might be able to help him. Will the investigators take him up on his offer for a backstage tour to find out what makes a radio station tick?
In this two-page one-shot adventure in easy-to-absorb pamphlet format, playable in a single session by two or more players, investigators must discover the cause behind the descent into madness for the radio stations control man and confront a newly unleashed and ancient horror.
Plus optional maps for the adventure ($1.00, 6 page PDF).
The Grindhouse: Volume 3
Alex Guillotte, Ian Christiansen ($2.95, 46 page PDF)
Another Friday Night Double Feature:
Hell Block Five – Irongate Penitentiary in Aylesbury, Massachusetts houses some of the most infamous criminals in the United States, and Cell Block Five contains the worst of the worst. One night in the summer of 1978, all of the cell doors unlock and slide open, but there's no alarm and no guards. Something is very wrong.
First Night – In the Fall of 1980, a group of college girls decide to spend the night in the mansion that was recently purchased by their sorority. Unfortunately, their slumber party turns into a nightmarish fight for survival when they use a witch board and accidentally summon a terrifying entity from another dimension. Unless they can figure out how to send it back, none of them may live to see the dawn.
Remains of the Deep
Michael Bertolini ($2.99, 10 page PDF)
The investigators are employed by a salvage company, Tidal Deep Recoveries (TDR), that is hired to retrieve a floundering ship in the South Pacific near Australia. But they soon find out that the ship became "lost" because it was involved in questionable trade.
Stinky Orphans: A Call of Cthulhu Christmas Special
Alison Cybe ($3.99, 25 page PDF)
A Call of Cthulhu adventure of the holiday season. It is a special and magical time of the year - but you wouldn't know it! As a group of down-on-their-luck orphans, you live together in a rickety old house under the cruel mentorship of Mother Grotswine.
But this holiday season, everything changes as you are thrust into an adventure that will take you far from this bleak home on a mission to rescue Santa Claus himself! Can you save Christmas?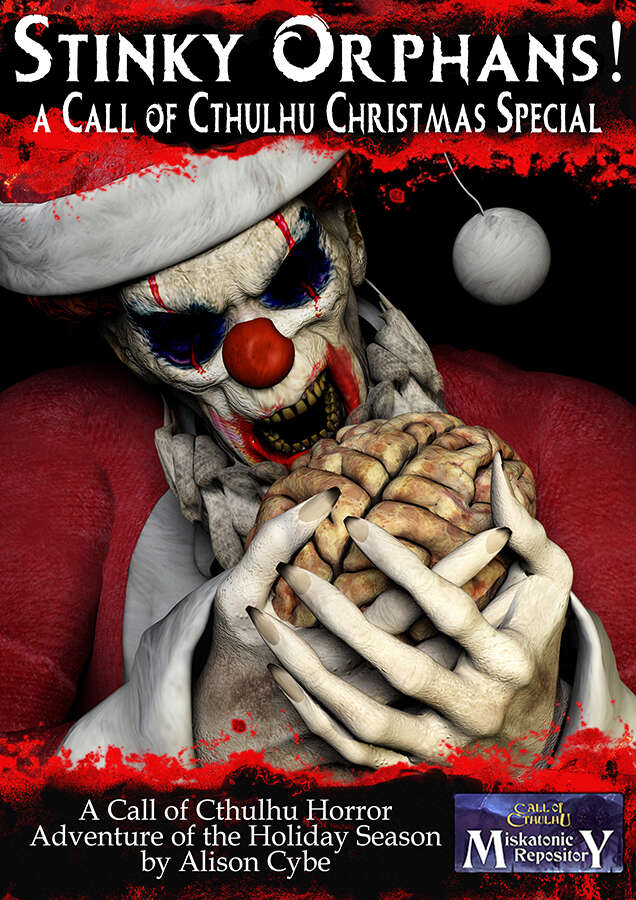 WANT TO TAKE PART IN THE MISKATONIC REPOSITORY YOURSELF?
Under The Miskatonic Repository community content license, Call of Cthulhu fans can make their own work for use with the game line available to the public, using guidelines, templates, and art provided by Chaosium.
Whether you share your content for free or put it up for sale, this program is a digital home for terror that joins the dreamscapes of all who peruse it.