Miskatonic Monday #33: Alumni of the 'Write Your First Adventure' Workshop begin sharing their works on the Miskatonic Repository!
Posted by Michael O'Brien on 2nd Aug 2021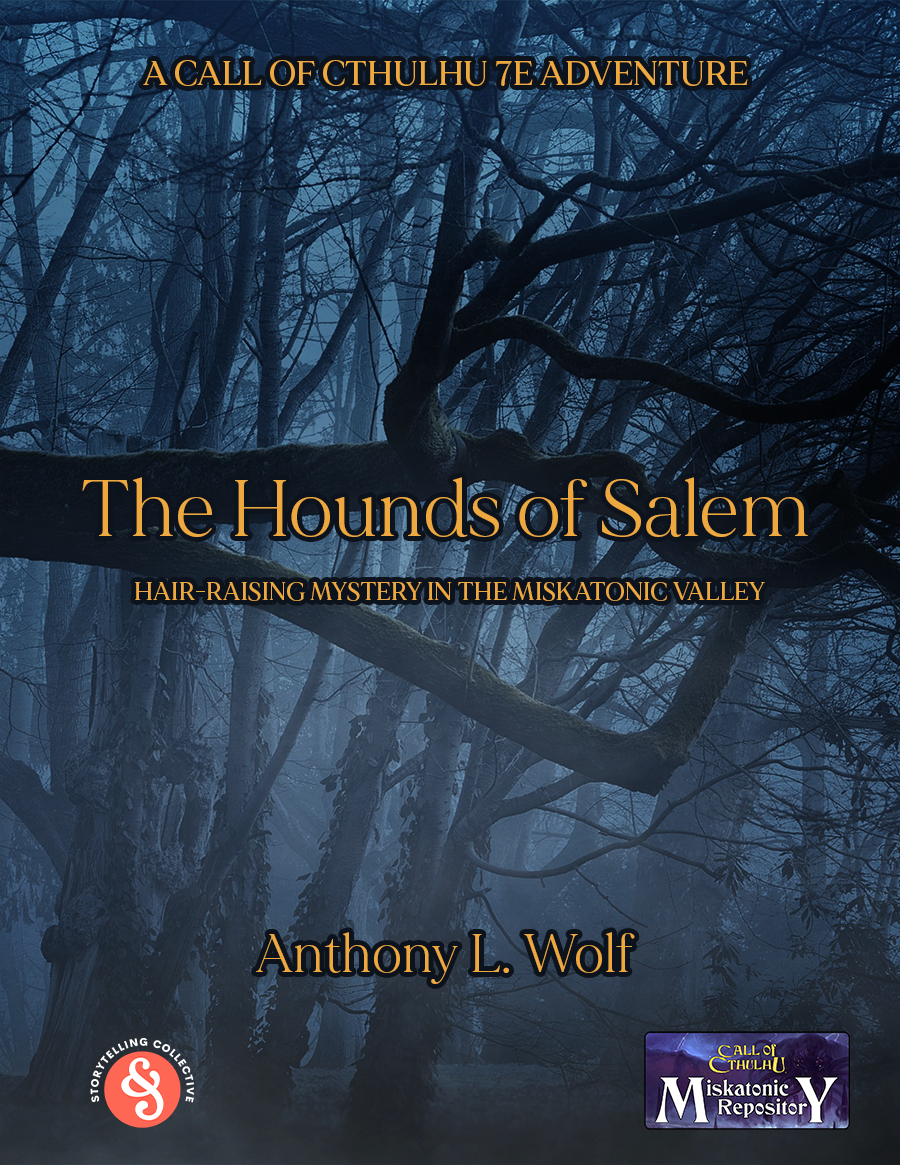 Last month, Chaosium officially partnered with the Storytelling Collective to feature a dedicated Call of Cthulhu path in their popular Write Your First Adventure workshop series. The Call of Cthulhu path of the program was designed by award-winning RPG designer Paul Fricker, co-author of Call of Cthulhu 7th edition.
And now, we're excited to see works produced in that program are beginning to appear in the Miskatonic Repository, among works by established community content creators. There are sure to be many more over the coming weeks too!
The Hounds of Salem
Anthony L. Wolf (Pay What You Want, suggested price $4.99, 36 page PDF)
Arkham, 1923. Rumours of a mysterious crime start plaguing the Miskatonic University: two ancient and forbidden tomes have been stolen from the Orne Library. Suspecting an annoying form of student mischief, unpleasant senior professor Alexander Wallace calls forth a group of eager investigators to help him track down the missing tomes. He hopes it may be a matter of asking just a few questions around campus. As it happens, the truth is way darker than it first appears.
Investigators chase the shadow of religious fanatism from Arkham to Salem, eventually crossing paths with an inter-dimensional creature and its mad summoner – a desperate father, looking to reclaim the life of his child.
A map supplement is available separately, for free, in collaboration with Freelance Illustrator and Designer Spiffeigh.

Long Night's Moon
Todd Miller ($2.99, 22 page PDF)
An unexpected ice storm leaves a group of friends stranded on a dark and dreary road in the middle of the night. But they're not alone. Something in the woods is stalking them, not for prey, but for reasons that are far, far worse.
A modern-day, one-shot survival horror scenario.
The Chocolate Factory
Pete Shanahan ($2.99, 17 page PDF)
Have you seen the "Yellow Ticket"? Winners of this fabulous chocolatey prize are being given a grand tour of the world-famous Monka Chocolate Factory. For years the confectionary secrets have been kept behind the locked gates of this mysterious building. The factory itself is isolated, on a lonely block of land on the outskirts of town. Rumors abound about the wealthy eccentric owner, some say she holds children captive to work the machines, others say the machines run themselves.
Cosa Nostra Conflagration
Nick Olivo ($1.00, 15 page PDF)
Boston, 1923. The heroes are summoned to Boston City Hospital to investigate the immolation of a local baker. Through their investigations, they learn a mobster has gotten his hands on a deadly flame spell and is using it to extort local business owners. Can our heroes put a stop to this fiery menace?
A Pulp Cthulhu scenario for 3-5 players.
Crepid Fornication
Philip G. Orth ($4.16, 57 page PDF)
Following their invitation to Heller House, the investigators pursue their interests, artistic or otherwise. When a fellow artist is murdered, finding the one responsible is a no-brainer. Heller House, however, still harbors a deep dark secret.

A murder mystery with a deep twist, set in Hamburg, Germany in 1928.
The Miskatonic Five
Matthew Sincic, Alex Artang (Free, 17 page PDF)
Unrest rocks the campus of Miskatonic University in May of 1970. The investigators are caught up in the machinations of a professor and a group of cultits. Will they choose to stop the plot, or join it?
Thrown Voices
J. Carter ($4.80, 24 page PDF)
Inspired by living doll stories such as those by R.L Stein and Richard Mattheson, Thrown Voices pits players against Friendly Quince, an antique ventrilloquist doll with murderous intent-unleashed into a seaside hotel by an unwitting gang of bank robbers.
Convalescence - A 1920s Adventure
Adam Preset ($2.99, 21 page PDF)
Wounded investigators take time to heal in a quiet country clinic near Dublin. Almost mended, they are ready to be voluntarily discharged. But they wake to two horrifying and gruesome murders that makes them fear that among angels of mercy may walk an angel of death.
The Bernard Brown's Case
Gry Frejtaga ($10.00, 76 page PDF)
At the beginning, the scenario resembles a typical criminal case. However, in the finale, the pace accelerates as the center of focus shifts from detective investigation to live action and playstyle most would call a 'pulp RPG'. But remember, dear Keeper, it is only up to you how much 'pulp' there will be in 'The Bernard Brown's Case'.

Pop Goes the Weasel
Chris Stewart ($2.00, 23 page PDF)
Summer 1978, Miskatonic University, Arkham, MA – Disco rules the airwaves, Pong rules the arcades and computer technology is about to begin a Quantum Leap from industry into the home. An exciting computer architecture, devised by a recent acquisition from MIT, is about to make Miskatonic University world famous, but only if the product works.

Can your players help investigate the strange happenings around this new product, before someone else snatches the glory and the market share?
Cold Hunger
Paul Dimitrievich ($2.00, 17 page PDF)
This one-shot module pits the investigators against the harsh Canadian wilderness in the dead of winter as they hunt for a missing reporter. But there is more than hypothermia and wolves to contend with in this story of isolation, blood and terror. Can you reisist the Cold Hunger? Inspired by the Lovecraftian story, Pickman's Model.
Trouble in Pinewood
Tineke Bolleman ($3.00, 15 page PDF)
The town of Pinewood is troubled. Lately livestock and even pets are disappearing during the night. If lucky, a pile of bones if found, completely cleaned of meat. People are afraid of this strange animal that must be stalking the night... Then suddenly screams erupt. The monster has abducted a man! Can the investigators find out what is happening before its too late for the monsters last victim?
Seven Sister Hills
E. Gonnella ($3.00, 15 page PDF)
The wooded valley with seven hills is home to a bloody local legend. A graduate student went deep into the valley, but hasn't been seen for days. Out of fear that the authorities will blame him, a retired criminal calls in a few favors that brings some old assocaites to this dying town to find the truth.
One-shot Modern scenario for two to four Investigators in the American Midwest.

At One With Nature
Graham James (Pay What You Want, suggested price Free, 26 page PDF)
A happy young people travel to visit a beloved sister who married and moved to Scotland last year. They discover the sister is missing and, upon investigating, find a macabre and grotesque ritual sacrifice that can only end in one of two horrific outcomes.
The Great Healer
G. A. Patrick ($5.00, 44 page PDF)
Horrid History Boston is being sued by the city over a missing tourist. With a shaky health and safety record they are eager to avoid court and auditing. The rumours online are ablaze that a ghost devoured the poor woman but the City isn't buying it, even with shaky pictures from tourists' phones. The tour company wants to hire every psychic, scientist, horror writer or other charlatan that might be able to prove that the ghosts are real and get them off the hook. All you have to do is take the same midnight boat tour out into Boston Harbour where the tourist vanished, record some readings, and kill some time. Easy money.
Take a walk through history with this time travel epic, and find the cause of the ghosts.
North Island Sanitorium
Michael Bertolini ($5.99, 18 page PDF)
In 2003, production of 'American Ghosts' debuted on TV with decent levels of success. Several episodes were filmed and broadcast, though a steady decline in viewership was noted. Now the threat of cancellation looms, only a truly stunning episode could bring in the desired numbers. Word has reached you that the isolated and nearly destroyed island sanitorium, a site built by Dr. Aldous Brewer but damaged by fires in the 1980's, is available for you. Reports of its haunting go back to the 1920's, do you dare visit?
The Bottle Episode
Benjamin Wenham ($6.95, 22 page PDF)
Earlier this morning Joshua Abbott, lawyer, and amateur historian, disappeared. Unusually, he did so from within a locked room. Where has he gone? How did he disappear? What is the link to a near decade old maritime disaster? Why was abbot in communication with one of Kingsport's most infamous. What is the significance of the bottled ship on Abbott's desk?
Flute of the Gods
Phil Anderson & Allan Carey ($8.99, 23 page PDF)
"A group of musicians are invited to perform for an impresario who can make or break careers – it's a once in a lifetime opportunity. But success can come at a price: and sometimes, the price of success is astronomical..."
Brought to you by award-winning Chaosium licensee, Type40, Children of Chaac is the ninth Call of Cthulhu adventure in the monthly Seeds of Terror range.
Operation Foxglove
Chad Briggs (Free, 33 page PDF)
In February 1944, the German military occupies Norway. A team of commandos is sent from Britain to disrupt the transport system behind enemy lines, and make their way to the remote mountain village of Røros. Unknown to them, the Germans have awakened something deep underground, and the team must decide quickly what is most important- their mission, or the town itself.
The Leprechaun
Pierre-Olivier Gagnon ($3.20, 32 page PDF)
On St Patrick's Eve 1921, young Aidan Ward accidentally freed one of Boston's Degenerates. The creature then made its home in the air vents connecting Kilroy's Butcher Shop and the Wards' apartment. Its antics have put the residents of Green Street on edge: be it gnawed food stores, vandalised displays, stolen dolls and even Leprechaun sightings! Nobody suspects, however, that Aidan's new friend hides a horrific secret.
The Brockton Butcher
Graham Payne ($4.81, 35 page PDF)
Horror is best when it hits close to home. Your Investigator will come face to face with a being of meat and terror. Set in modern day Toronto, Canada, horrify your player by violating their false sense of security as an unnatural horror moves in next door.
The Horror at Right Hook
Elizabeth Hildick ($5.00, 27 page PDF)
It's a frigid January in New York City, 1928. Investigating the grisly death of a promising young boxer draws the players into an illegal fighting ring, brings the attention of a shadowy Society, and sends them into the waiting claws of a lurking beast. If that wasn't trouble enough, they also have the anger of a mad magician to contend with!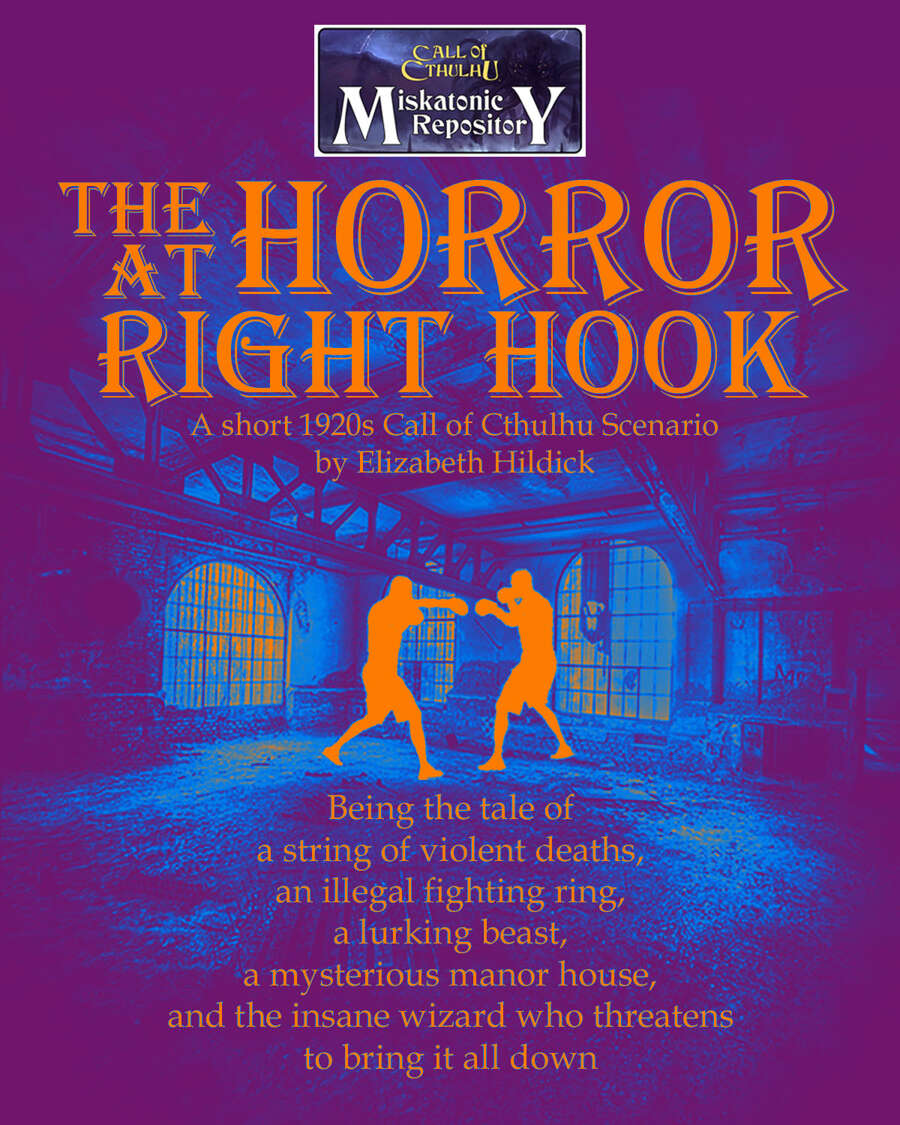 Under The Miskatonic Repository community content license, Call of Cthulhu fans can make their own work for use with the game line available to the public, using guidelines, templates, and art provided by Chaosium.
Whether you share your content for free or put it up for sale, this program is a digital home for terror that joins the dreamscapes of all who peruse it.