Miskatonic Monday #28: April 2021 releases
Posted by Michael O'Brien on 26th Apr 2021
Under the Miskatonic Repository community content license, Call of Cthulhu fans can make their own work for use with the game line available to the public at DriveThruRPG, using guidelines, templates, and art provided by Chaosium.
Here's the latest selection of exciting new releases by community content creators:

Carousel of Fears
Bridgett Jeffries ($7.99, 70 page PDF)
Welcome to the Carcosa Carnival. We're so happy that you've come to play with us. We're going to have some good, funny times... A group of post-apocalyptic survivors seek supplies and their missing friends in an abandoned carnival. Once inside, the Investigators find themselves unable to leave. Their only chance for escape is to interact with the Carnival's malicious, cruel and treacherous attractions in order to receive tickets to redeem upon exit.
Unfortunately, this Carnival is sentient, and it serves as an insanity inducing playground for an "unspeakable" Mythos deity. This modern day (post-apocalyptic) Call of Cthulhu scenario includes easy to follow rules to allow playtimes of 2, 4, 6, or 8 hours.
The Future's Shadow
Przemysław Kociołek, LM Publishing ($3.99, 53 page PDF)
David de Grey inherited the family mansion from his eccentric aunt Matilda. He has moved there with his wife Catherine and started to have nightmares about the beast chasing and devouring him. He is convinced that the house itself is haunted and has bad influence on him, so he decides to ask for help from his brother Ethan, the paranormal researcher. Ethan and his assistant Larry arrive at David's house to investigate the case.
Devilarium: The Mythos Merchant - a Zgrozy supplement
Marek Golonka, Piotr Kozioł, Keith Mageau ($1.49, 8 page PDF)
Inside this supplement you'll find a creature that can appear in your games as a problematic helper of the investigators. The way the Merchant operates resembles classic tales of pacts with devils – gladly trading in knowledge and artifacts but demanding a high price, often a part of the client's very self.
Dream House
Evan Perlman ($3.99, 31 page PDF)
On a snowy winter's evening, an elderly friend needs help finding something he's lost. He's preparing a cozy dinner as a way of saying thanks. Isn't it nice to see familiar faces again? Can you help him find what he's lost? Are you sure that you want to?
In honor of the 40th anniversary of Call of Cthulhu, this one-shot scenario pays tribute to classic scenario The Haunting. It's not necessary to have run or played that scenario to enjoy Dream House. Fans both familiar and unfamiliar with it will find themselves in for a spectral treat.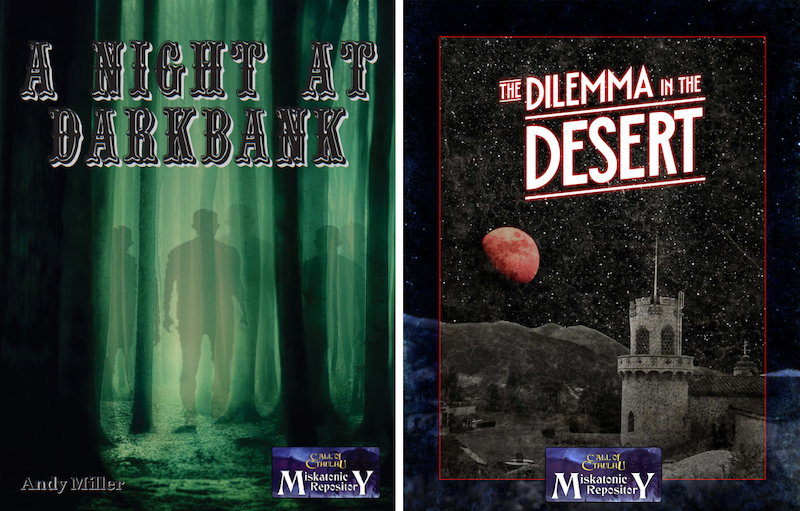 Without Warning
William Adcock ($3.99, 27 page PDF)
November, 1957. An isolated DEWline radar station in the Canadian Arctic has radioed in a medical emergency. A relief flight carrying a medic is dispatched, but as a winter storm closes in, the crew of the Hula Honey discovers something far worse than seals and seabirds roaming the Arctic ice.
Written in loving tribute to 1950s sci-fi and horror films, Without Warning is designed to be completed in a single session of play, ideal for convention games.
Under the Tree
Rex Waid ($5.99, 29 page PDF)
A journalist, driven insane. A forgotten disaster. A government cover-up. All clues that lead investigators to a remote area of the English countryside and a village that should no longer exist. Will they be able to discover the secret of Caldale and its inhabitants? More importantly, will they be able to escape with the knowledge? Or will they, too, go under the tree...?
Under the Tree is a scenario set in the present-day UK.
The Lunar Eclipse Gala
Benton Hodges ($4.99, 41 page PDF)
The Lunar Eclipse Gala is an event hosted by the Occult Society of Miskantonic University every year to celebrate the end of another year. However, a students dissapearance a week prior to the event spells disaster for the gala, and only the investigators can save the day.
Prisoners' Dilemma
Aaron Sinner and Todd Walden ($5.99, 55 page PDF)
Strange events are afoot in 1920s Russia. The investigators, all prisoners of the Russian State, have been press-ganged into service in the barren, frozen wilderness of central Russia. As members of the investigators' traveling party are exposed to the machinations of an original Mythos terror, the prisoners will quickly run out of allies as it becomes less and less clear who they can trust, and who--if anyone--might be working for the supernatural forces that hound them.
Prisoners' Dilemma: Inspired by the true life Dyatlov Pass Incident.
Under The Miskatonic Repository community content license, Call of Cthulhu fans can make their own work for use with the game line available to the public, using guidelines, templates, and art provided by Chaosium.
Whether you share your content for free or put it up for sale, this program is a digital home for terror that joins the dreamscapes of all who peruse it.