Miskatonic Monday #23: new titles for the new year!
Posted by Michael O'Brien on 4th Jan 2021
Here are new Miskatonic Repository titles to kick off 2021! Looking forward to another big year of community content!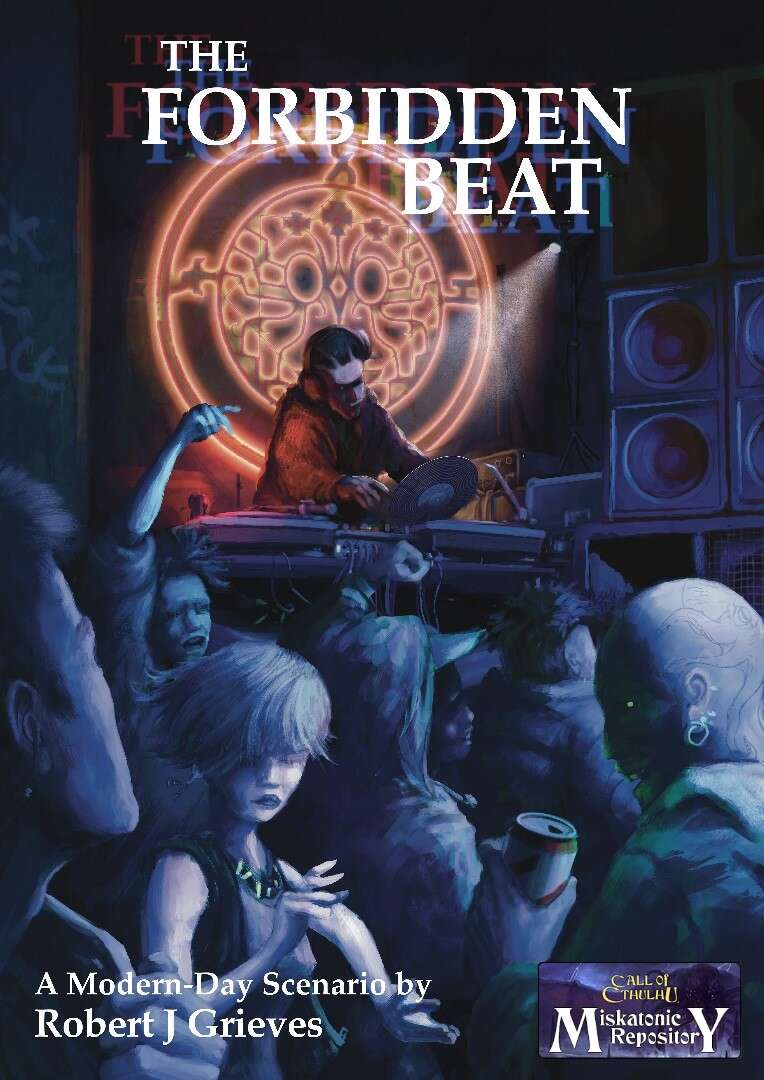 The Forbidden Beat
Robert J Grieves ($6.99, 23 page PDF)
The London Rave scene in the early 2000s is full of wannabe gangsters, techno-pagans and shamen. Most are frauds….most. Within this world, one producer makes music that seems to come from beyond the stars to shatter egos and set dance floors on fire. However, the strange and fascinating music he plays is being channeled from a foul and terrible source...
'The Forbidden Beat' is set in the anarchist free party scene of East London in the early Millennium and is designed to be a one-shot adventure.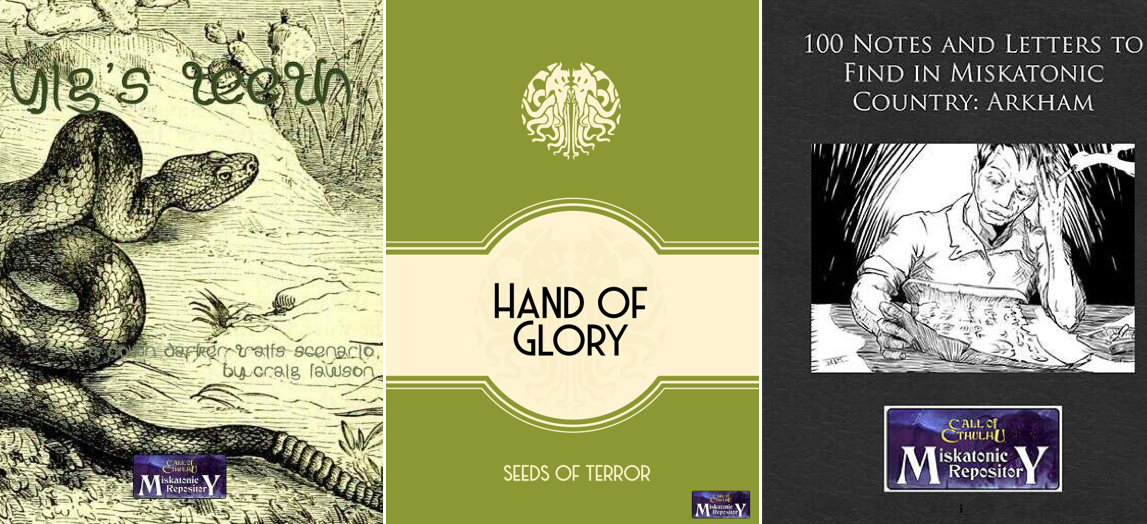 Yig's Teeth: A Call of Cthulhu Scenario for Down Darker Trails
Craig Lawson ($2.50, 34 page PDF)
In the town of Republic, the wild hooting and hollering of cowboys enjoying themselves in the Ruby Saloon and Dancehall is interrupted by furious hissing and a terrifying rattle. Father Yig has come to The Ruby! Will the investigators survive the night? Or will Yig's coils and fangs spell doom for this small town?
Inspired by the writing of Louis L'Amour, the HBO series Deadwood, and the Weird Westerns of Robert E Howard, Yig's Teeth pits the Investigators against ancient serpent person magic and a mighty avatar of Yig. With plenty of combat and stealth, and only minimal investigation, the scenario has a very pulpy, monster-hunt feel, but in Yig's Teeth the monster is hunting the Investigators!
Hand of Glory
Allan Carey ($8.99, 32 page PDF)
"On the bleak North Yorkshire moors, the Wych Elm pub sits nestled in the leigh of a dark woods. Isolated, alone and miles away from anywhere, a dark secret awaits any who stumble across it..."
Brought to you by award winning Chaosium licensee, Type40. Designed to be played in a single evening of terror with 4 - 5 players. Hand of Glory is the fourth scenario from their new monthly "Seeds of Terror" range, following One Less Grave, Endless Light, and The Mummy of Pemberley Grange.
100 Notes and Letters to Find in Miskatonic Country: Arkham
Adrian Kennelly ($1.49, 5 page PDF)
This supplement contains 100 notes and letters that characters could find in Miskatonic Country, focusing in or about Arkham. They may be simple letters about appointments or musings, or perhaps clues towards something more sinister. Keepers can use them as background colour, misinformation or as potential adventure hooks.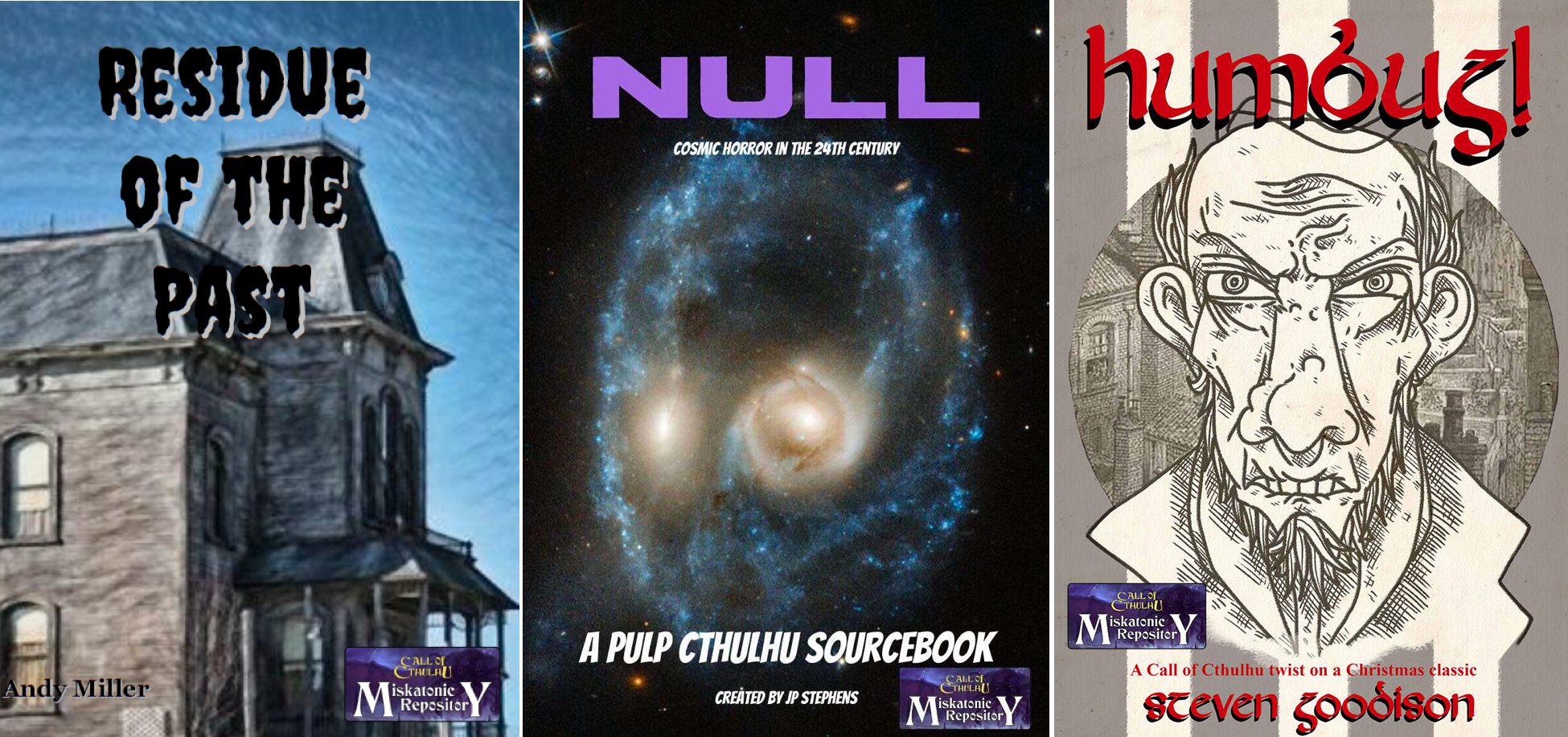 Residue of the Past
Andy Miller ($5.99, 60 page PDF)
The Greely House near Monson Center, New Hampshire, has been the site of everything that's perfect for ghost hunters: black magic, murder, kidnapping, disappearances, strange lights, ritualistic killings, and even the place where several ghost hunters died or disappeared 50 years ago. What more could an up-and-coming ghost hunting organization ask for in a haunted house? Now, a small group of amateur ghost-hunters with Ghostlore is going to spend the weekend at the house in hopes of getting some footage. Will any of them escape alive or is this their last assignment.
Originally written as a convention scenario but is detailed enough for home play. Set in the Spring of 2020 during the height of the COVID-19 pandemic but can easily be adapted to different times or locations. Something dangerous has dwelt in the Greely House for over a hundred years. Something unlike anything the ghost hunters have encountered before.
Null: A Pulp Cthulhu Sourcebook
JP Stephens ($9.99, 32 page PDF)
Dark cultists of the King in Yellow seek to corrupt mortals on Earth, the vanguard of an invasion force. Cults devoted to Cthulhu sabotage one another as they seek to achieve conflicting goals. Acolytes of Nyarlathotep climb to the highest positions of power, reveling in the chaos their activities spawn. Rival factions posture for dominance over the solar system while exploiting the colonies. The time has come for the Old Ones to return.
Welcome to Null, a sci-fi setting for the 24th Century. This setting features cosmic horror, exploration, dark conspiracies, and gritty action designed for play using the Pulp Cthulhu rules.
HUMBUG!
Steven Goodison ($0.75, 41 page PDF)
We all know the story of Ebenezer Scrooge and his tormet at the hands of the three ghosts of Christmas past, present and future. Well what if he failed?
HUMBUG! Is a gaslight era Cthulhu twist of a Christmas classic.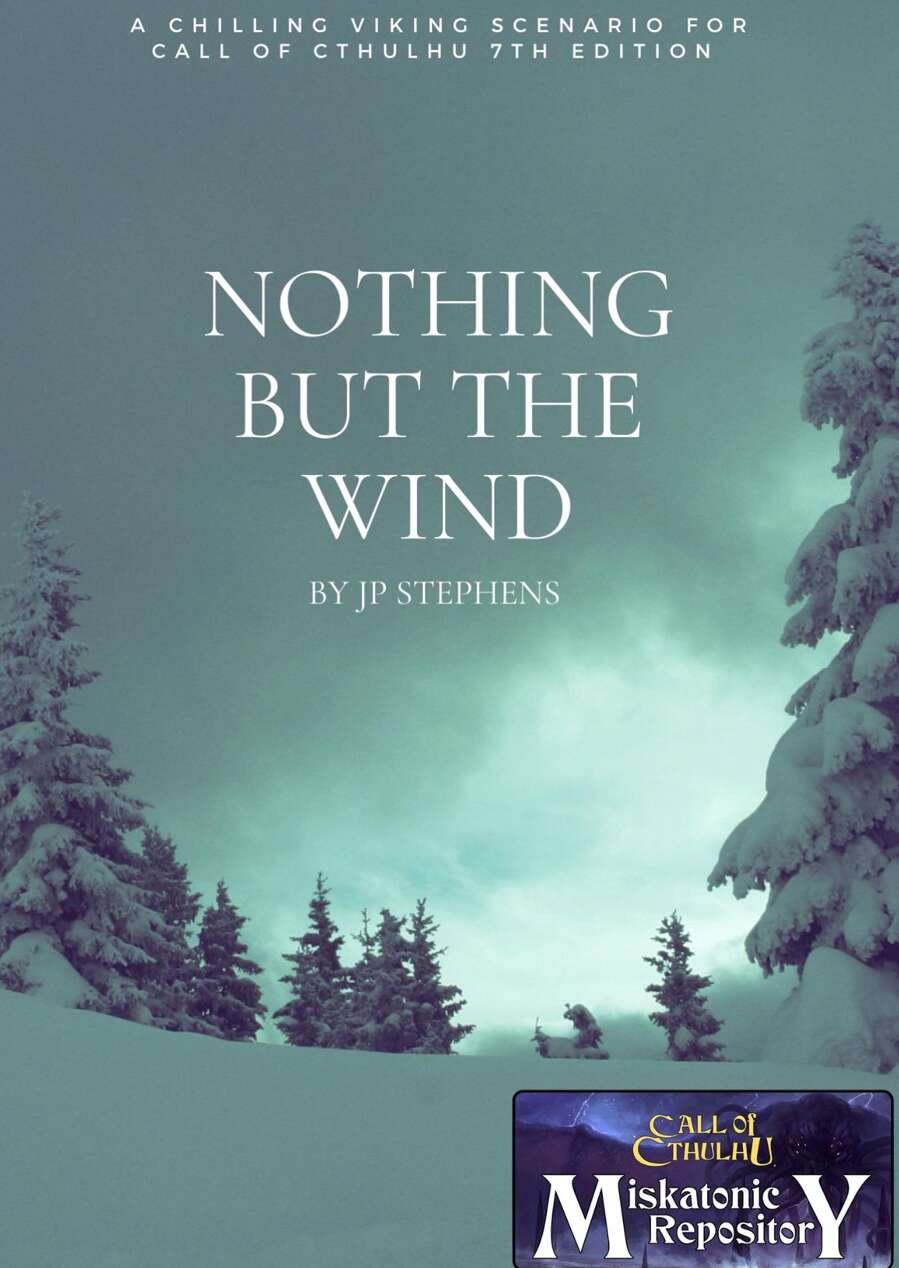 Nothing but the Wind
JP Stephens ($4.99, 16 page PDF)
Six Vikings arrive at Howling Rock to investigate the disappearances plaguing the area. People are going missing from their beds and rumor begins to swirl of a formless predator in the night. Can the party put an end to this madness?
Here's Actual Play of the scenario, presented by the Gamelark Cooperative!
Plus new releases in Korean!
Want to take part in the Miskatonic Repository yourself?

Under The Miskatonic Repository community content license, Call of Cthulhu fans can make their own work for use with the game line available to the public, using guidelines, templates, and art provided by Chaosium.
Whether you share your content for free or put it up for sale, this program is a digital home for terror that joins the dreamscapes of all who peruse it.