Mike Mason discussing Using RPGs to Learn History at The Game Academy's Online Convention, this Saturday (Nov 14)
Posted by Michael O'Brien on 11th Nov 2020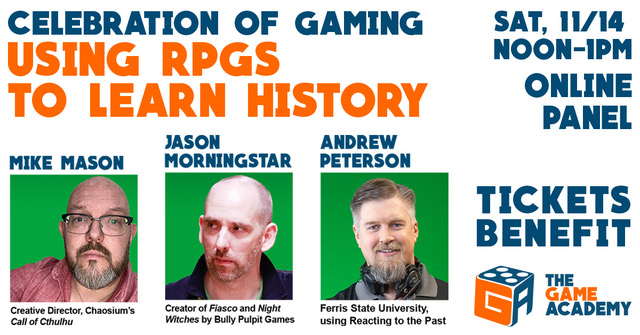 This Saturday, November 14, from 10am to 1am Pacific time, The Game Academy, a game-based learning non-profit organisation, is hosting an online fundraiser convention. The Game Academy is an inclusive educational program for children 8 to 18 that uses tabletop and live action role-playing games to teach history, science, math, drama, English and life skills in a way that is engaging and fun.
As part of the program, Chaosium's Call of Cthulhu creative director Mike Mason will be part of the 'Using RPGs to Learn History' panel, Noon-1PM PST.
The program also features gaming sessions (including Call of Cthulhu), a silent auction, and more!
For more information and tickets ($5.00 for the whole event): https://www.thegameacademy.org/fundraiser