ENnies 2018 Spotlight: Down Darker Trails
Posted by Michael O'Brien on 15th Jul 2018

Down Darker Trails, our Call of Cthulhu 'Old West" supplement caught the ENnies judges' eyes twice—it has been nominated for BEST COVER ART and BEST MONSTER/ADVERSARY.
The cover art is by Sam Lamont, who won the BEST COVER ART Gold ENnie last year for the Call of Cthulhu 7th Edition Players Handbook. With your help - and your vote - can Sam go back-to-back and win this year too?
As for the Monster/Adversaries? - down these dark trails the taint of the Cthulhu Mythos stirs, ready to lure the unwary and tempt the power hungry with whispered secrets of cosmic knowledge.
Congratulations to Sam Lamont, and Kevin Ross and the rest of writing team for these nominations!
Voting is live and runs until 11PM EST on July 21st. Please vote for Down Darker Trails and all the other Chaosium nominations!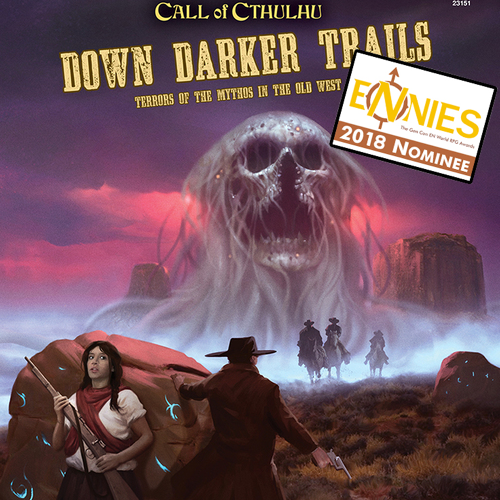 Down Darker Trails product page here.
More about the Call of Cthulhu RPG here.
Chaosium ENnies Nominations
BEST ADVENTURE—The Two-Headed Serpent
BEST ART COVER—Down Darker Trails
BEST FAMILY PRODUCT—Khan of Khans
BEST FREE PRODUCT—RuneQuest Quickstart and Adventure
BEST MONSTER/ADVERSARY—Down Darker Trails
BEST PRODUCTION VALUES—The Grand Grimoire
BEST RPG-RELATED PRODUCT—Khan of Khans
BEST SUPPLEMENT—Reign of Terror
FAN FAVOURITE PUBLISHER—Chaosium