Call of Cthulhu writer Bridgett Jeffries joins Chaosium's Community Ambassador team
Posted by Michael O'Brien on 7th May 2021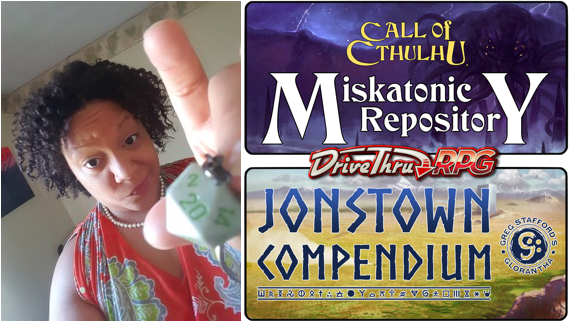 Chaosium is pleased to welcome Bridgett Jeffries to its Community Ambassador team, which supports independent creators in its community content programs on DriveThruRPG.
Along with existing Community Ambassadors Allan Carey and Nick Brooke, on Chaosium's behalf, Bridgett will act as a first point-of-call and helpful sound board for prospective Miskatonic Repository and Jonstown Compendium content creators.
Bridgett says she heard the Call of Cthulhu about 10 years ago and has been madly in love with the game ever since. Bridgett's own independently-created scenarios can be found on the Miskatonic Repository. She is also now writing Call of Cthulhu material directly for Chaosium, and is part of the Rivers of London RPG development team.
The recently-published Gnome Stew article "You Too Can Self-Publish Call of Cthulhu" was written by Bridgett, and is essential reading for aspiring community creators:

"Bridgett told us she wrote the Gnome Stew article to inspire and encourage independent Call of Cthulhu creators, and offer plenty of helpful advice and links to where you can get more of both. This is exactly what we're looking for in a Community Ambassador, and we're happy to have her on board.", said Chaosium vice president Michael O'Brien.
Chaosium's Community Ambassadors
Allan, Bridgett, and Nick are here to provide advice with the various aspects of creating and publishing a community content work, including ideas generation, IP issues, writing, editing, art direction, layout, publication, and preparing a title for print-on-demand. Our Community Ambassadors can also direct queries to the appropriate person at Chaosium or DriveThruRPG if need be.
The Miskatonic Repository is Chaosium's platform on DriveThruRPG for independent creators of gaming material for the Call of Cthulhu tabletop roleplaying game. It was launched in December 2018. The Jonstown Compendium, established in December 2019, fulfils the same function for RuneQuest and Greg Stafford's world of Glorantha.
The success of these fan-driven programs is evident by their thriving communities of creators and the rapidly growing number of titles available, with more added every week.