New 20th Scenario for Horror on the Orient Express!
Posted by Michael O'Brien on 1st Dec 2016
All HotOE Backers to receive free PDF of EMPIRE OF DEATH
EMPIRE OF DEATH is a new historical Call of Cthulhu scenario for Chaosium's Gold ENnie award winning Horror on the Orient Express. Written by Mark Morrison, EMPIRE OF DEATH is a decadent scenario which uncovers hitherto unknown secrets from the back story of the Orient Express campaign.
"It's been a very long journey, but with the recent despatch of the 'Clandestine Game Case', delivery of Horror on the Orient Express is complete. As a gesture of thanks for their patience and endurance, we'll be sending every backer a free PDF copy of the new 20th scenario", said Chaosium President Rick Meints.
EMPIRE OF DEATH is a playable version of an existing handout in the epic campaign's Paris 1923 scenario, concerning the raid on the estate of an infamous aristocrat of the court of Louis XVI in June 1789. The player characters are French soldiers who investigate an atrocity at a printing press and uncover a conspiracy which brings nightmare to Paris.
This additional scenario was made possible by super backers Jason, Thomas, Tom and Travis, the original players at Gen Con 2013. It has since been expanded to include six pre-generated player characters and has been playtested in Melbourne and Seattle.
The scenario contains the background and guidance necessary for running the scenario in the 18th century setting, and is being written to the standard of the other historical scenarios in the campaign.
EMPIRE OF DEATH can also be played as a stand-alone Call of Cthulhu scenario, without reference to Horror on the Orient Express.
EMPIRE OF DEATH will be formally released at Gen Con 2017, and will be available in both print and PDF.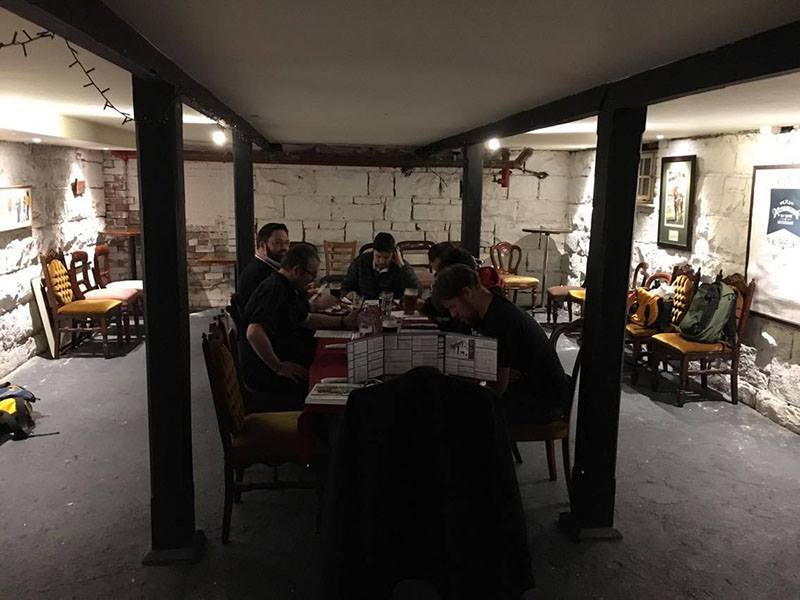 [Photo: Second playtest of EMPIRE OF DEATH in a 19th century cellar at the Metropolitan Hotel in Melbourne, Australia]
[Artwork courtesy Delphes Desvoivres /infographic Denys Corel]