Masks of Nyarlathotep - Fantasy Flight's newest expansion for Eldritch Horror is based on the classic Call of Cthulhu campaign
Posted by Michael O'Brien on 7th Oct 2017
In Fantasy Flight Game's popular board game Eldritch Horror, players move their investigators around the world in a fight against the unspeakable forces of the Ancient Ones. For the game's next expansion, it was announced today that Chaosium's classic Call of Cthulhu campaign Masks of Nyarlathotep will be brought from the realm of tabletop roleplaying games to cooperative board games, for the enjoyment of fans of horror and mystery everywhere.
Call of Cthulhu line editor Mike Mason commented: "I'm looking forward to playing the Masks of Nyarlathotep expansion for Eldritch Horror. The campaign is a classic of role playing - its transformation into a board game is likely to become a classic too!"
New Edition of Masks of Nyarlathotep for Call of Cthulhu RPG
The first edition of the relentless, globe-trotting campaign Masks of Nyarlathotep came to print more than 20 years ago and is widely considered "one of the best RPG adventures ever made" (Gizmodo). An exciting expanded version was recently announced for Call of Cthulhu 7th Edition. Chaosium's new RPG release will coincide with Fantasy Flight's release of the boardgame expansion in the first quarter of 2018.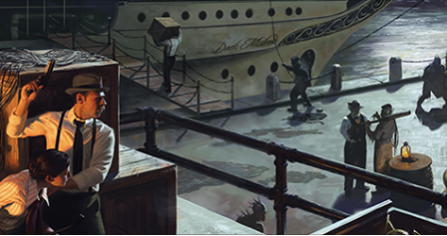 Want to Know More?
For more information about Eldritch Horror and the new Masks of Nyarlathotep expansion: here.
More about Chaosium's new edition of Masks of Nyarlathotep for the Call of Cthulhu RPG: here.