It's not too late to take part in "A Time to Harvest"!
Posted by Michael O'Brien on 23rd Apr 2016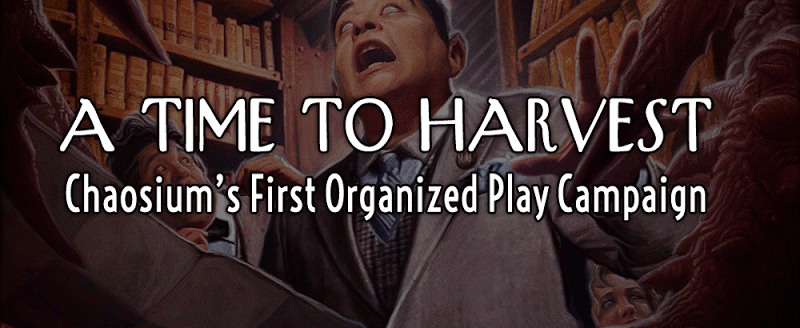 Call of Cthulhu Keepers and Players! It's not too late to join the Cult of Chaos and participate in our 6-part Organized Play campaign A TIME TO HARVEST!
Part One is currently available, and Call of Cthulhu Keepers all over the world have started their campaigns. Join and we'll send you the link to download it free. You can play this anywhere you like - game stores, online, clubs, at home, wherever!
Each new part will be released on the 15th of the month, so the second installment is coming on May 15th!
Join the Cult of Chaos here (it's free): http://www.chaosium.com/organized-play
Free Pregen Characters for A Time to Harvest are available here: http://www.chaosium.com/gm-resources
And we have a special "Keepers Only" forum at BRP Central - The Chaosium Forums for advice and discussion about running the campaign (you'll get the password for the forum when you join up): http://basicroleplaying.org/forum/7-call-of-cthulhu
More information and FAQ here: http://www.chaosium.com/a-time-for-harvest