Final instalment of A Time to Harvest to be released on September 15
Posted by Michael O'Brien on 6th Sep 2016
From strange encounters in the woods, mysterious locals, and strange agendas, the investigators have faced dark and terrible things as they have progressed through A Time To Harvest...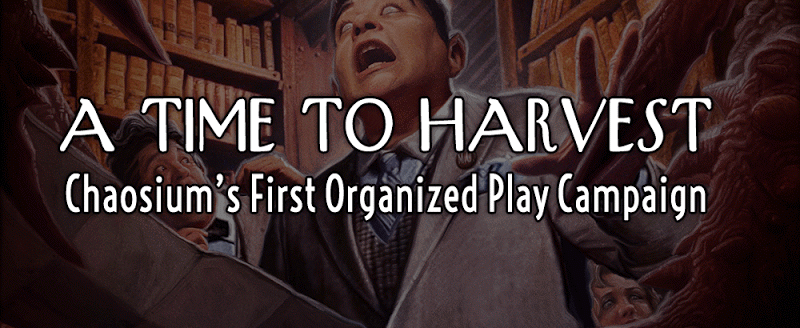 The last part of Chaosium's Call of Cthulhu organized play campaign will be released to Cult of Chaos members on September 15. Over the past six months, over 1200 Keepers have downloaded the instalments to run A Time to Harvest in game stores, clubs, conventions, homes and online.
A dedicated discussion forum was also set up for the campaign at the Chaosium forums on BRP Central, leading to dozens of threads where Cult of Chaos members shared ideas and resources about the campaign.
"The uptake of the campaign exceeded our expectations and we're already planning what we can offer for organzied play next year", said Michael O'Brien, Chaosium vice president.
So what's in store in the final climactic part? Co-author and Call of Cthulhu line editor Mike Mason offers these tantalizing hints:
"Episode 5 saw things come to a head and disaster strike in an otherworldly conflagration of insanity and mayhem. But it isn't over yet! Episode 6, the final chapter of the campaign, takes the investigators in a new and surprising direction in their fight against the forces of the Cthulhu Mythos. With our world and universe in the balance, can the investigators go where no man has gone before and put and end to the alien menace once and for all? Expect the unexpected in this gripping and cataclysmic finale to this epic campaign."
Chaosium will publish the whole A Time to Harvest campaign as a full color supplement in 2017, incorporating feedback from Keepers and players who participated in the Organised Play campaign.