Unnatural Selections #67 - what reviewers and readers are saying about RuneQuest: Weapons & Equipment
Posted by Michael O'Brien on 1st Oct 2022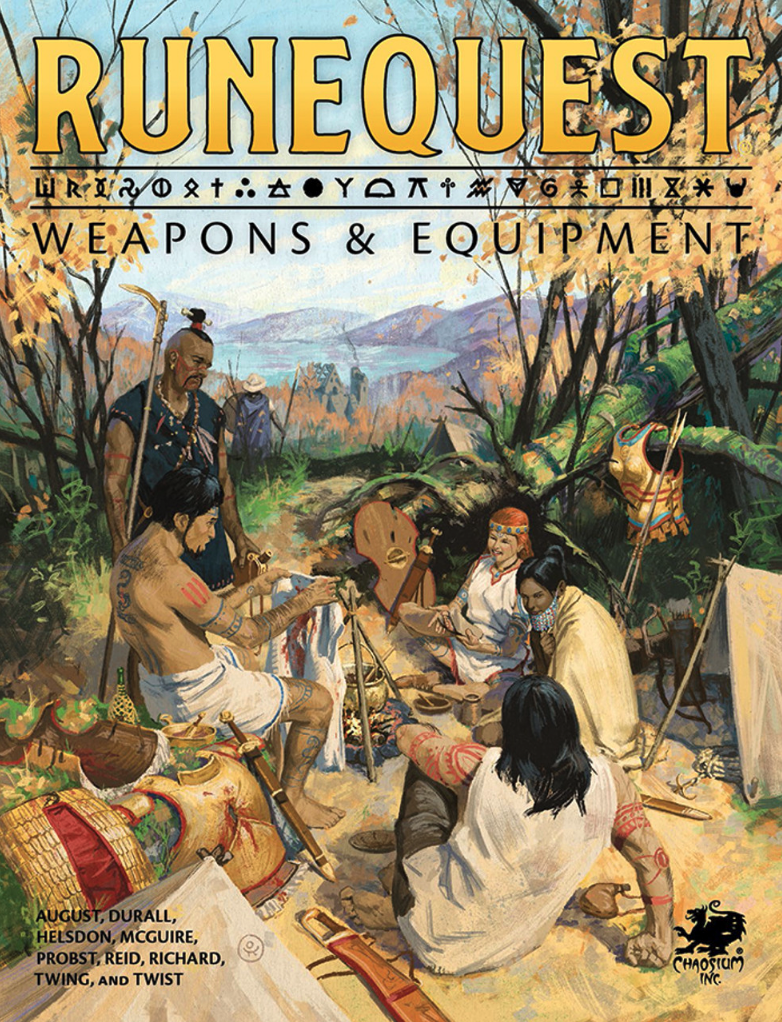 The 'Unnatural Selections' series is our regular round up of notable Chaosium reviews worth a look.
"It's how you do a weapons and equipment guide right", is how RPG Imaginings describes RuneQuest: Weapons & Equipment, out in release in hardback, special leatherette, and PDF. Also available at DriveThruRPG.
Reviewers and readers agree: here's what they think of the book: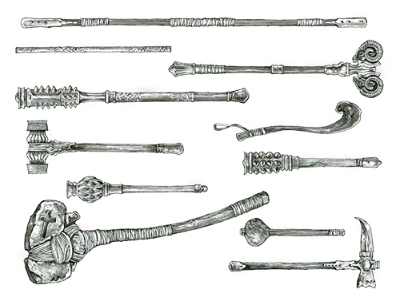 5 STARS: Wow
I have owned RuneQuest products for three decades, since the Avalon Hill boxed set... I've read many books since, but nothing has immersed me in what the world of Glorantha would be quite like this book did. Seeing the armor and equipment was one thing, but reading about regional foods, currencies, trade, and even seeing examples of shelters and an idea of what I can do with my ill-gotten loot helped me switch gears from bog-standard D&D-style fantasy into the Mythical bronze-age fantasy of Glorantha. It's not just a gear guide, it really does help wrap your head around Glorantha. Well worth the purchase." — Jeffrey W., DriveThruRPG review.
5 STARS: A must have for any RuneQuest GM
So much more than a mere equipment book, or a plain catalogue of weapons, armors, etc., this is a precious guide to create a lively and vibrant world around Gloranthan characters. As always, a beautiful book, richly illustrated in a high quality print. — Ann J., Chaosium.com review.
5 STARS: So much more than just Weapons & Equipment
Packed full of detail on weapons, armour and equipment but also covering markets, materials, beasts, labour, travel, dwellings, training and exotic items. It contains a wealth of Glorantha information and Runequest rules and is beautifully and informatively illustrated. — Tim C., Chaosium.com review.
5 STARS: Fantasy Shopping
Like Tatler or Cosmo for the flush Conan the Barbarian in your life. Apart from how to spend your loot, there's plenty of insightful articles and essays that really add colour and depth to the game-world of Glorantha. Oh, and again: brilliant artwork & layout/design. Well done Chaosium! Keep 'em coming! — Innes S., Chaosium.com review.
5 STARS: A must have for GM and players that wants to add trade in their games
Don't get fooled with the title, this book is very much more than just a list of weapons and equipment.... The First chapter is a must read if you want to introduce bartering and roleplaying opportunities to your markets and "shopping"... It follows with a chapter on "A Bronze Age world" full of information on specificities about Glorantha and its "Bronze Age" vibes. And then you have all those informations on goods, equipment (weapon and armors and much much more), mounts, beasts and even Dwellings. Top this with a chapter on Trainings and a very well written chapter on Exotic items and Enchantments. I'm always amazed at how Chaosium can fit this much of information and cool art in 130 pages. — Manuel M., Chaosium.com review.
"This book is superb and offers so much more than you might expect in an equipment guide. Highly recommended." — M.T. Black.
"I have a bone to pick with the brand-new RuneQuest Weapons & Equipment guide. Its title... Weapons & Equipment sounds like a laundry list for player character adventurers. This book is so much more. This book is RuneQuest: The Material Culture of Dragon Pass... For all of her wonders, her strangeness, Glorantha is an incredibly defined and real setting. Weapons & Equipment underscores this, and I suspect will change the way you think and feel about the game." — Andrew Logan Montgomery, Excavating Glorantha: A look at the RuneQuest Weapons & Equipment Guide.
"It's how you do a weapons and equipment guide right — highly recommended." — RPG Imaginings.