Unnatural Selections #38 - Reviews of our POD Call of Cthulhu titles, all 25% off until Dec 31st
Posted by Michael O'Brien on 21st Dec 2020
Our Print On Demand Call of Cthulhu titles are 25% off until December 31st! Here is what the critics have said about these titles: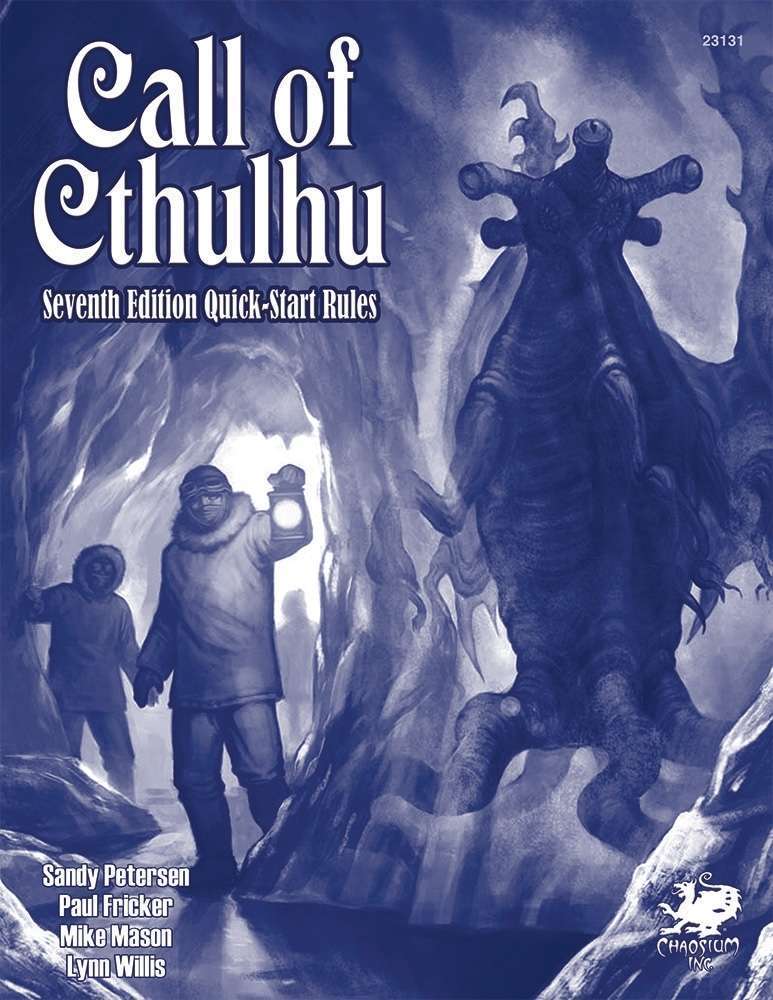 Call of Cthulhu Quickstart Rules
2014 ENnie Awards - Best Free Product Silver Award
"Call of Cthulhu is, for me, the best RPG ever created irrespective of genre. Yet I do recognise that its approach to heroism is not for everyone. Buying an enormous rulebook without being certain of whether one likes it or not might not be as prudent, so here's the answer. Eleven pages of rules, which can be clearly understood in under an hour…"— Antonios S. Review, RPGNet.
"There's a reason why [Sandy Petersen's scenario 'The Haunting', included in the Call of Cthulhu Quickstart] has been in print constantly for nearly 30 years and has been a rite of passage for nearly every Keeper in that time"—Seth Skorkowsky (video review).
"Call of Cthulhu is one of the greatest of its kind… the Quickstart Guide is a great introduction to the game."—Geeks A Gogo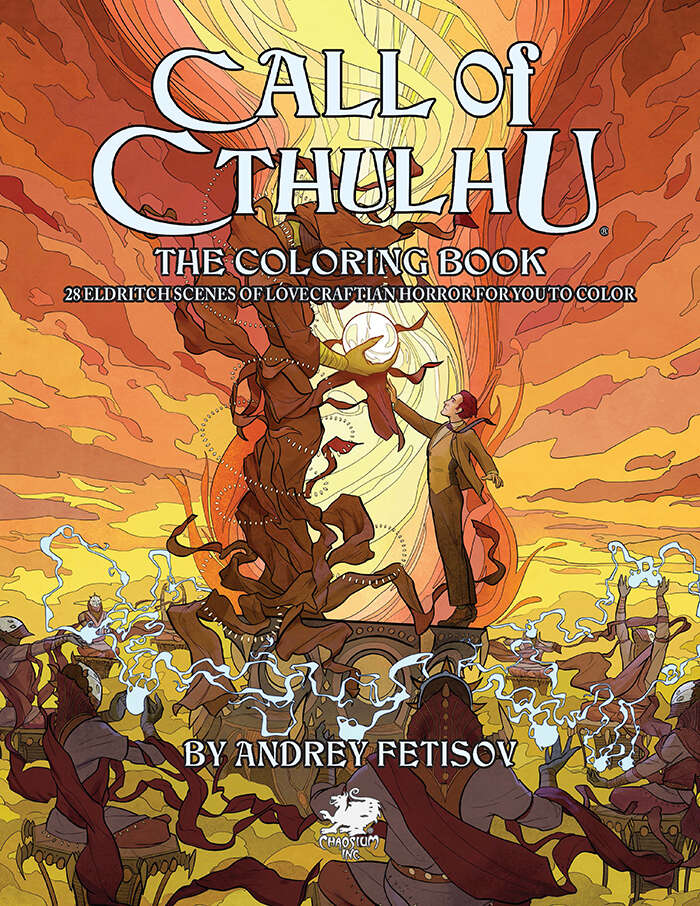 Call of Cthulhu the Coloring Book
2017 ENnie Awards - Best RPG Related Product Gold Award
2017 Origins Awards - Best Game Accessory Nominee
"...the artwork is fantastic, it does illustrate the Mythos, and it acknowledges the contribution of the Call of Cthulhu RPG to the Mythos and thus to horror. Whether you are merely going to look at it, splash colour over it, or use it as a visual aid, the Call of Cthulhu – The Coloring Book delightfully combines whimsical nostalgic format with cosmic horror—and that is as weird a combination as you might ever hope for." - Reviews from Rl'yeh
"The pictures in this book are brought to life with striking and vivid detail. Each tells a story within itself, but it also complements the source material to a striking degree." - Shattered Ravings
"Artist Andrey Fetisov illustrates the madness-inducing horror of some of H.P. Lovecraft's best stories, including "The Dream-Quest of Unknown Kadath", "The Dunwich Horror", "The Shadow Over Innsmouth", and (of course) "The Call of Cthulhu." Just look at those colors! As vivid as our nightmares." - Tor.com
"I still can't believe that a product like Call of Cthulhu The Coloring Book actually exists. Yet, not only it does, but it wins awards too. It's magnificent; it's mesmerizing; it's complex; it's engaging; it's deeply rewarding. Irrespective of whether you buy it for yourself or for a younger target group, it's money well spent."—Antonios S. Review, RPGNet.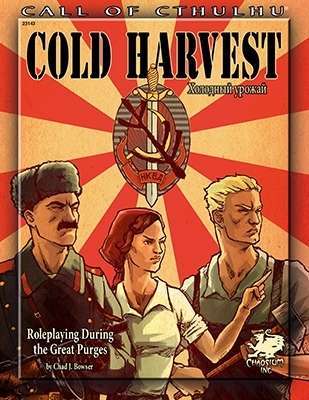 "I really loved Cold Harvest… It's a truly outside the box adventure that reminds the average CoC fan that not everything has to involve Arkham, ancient evil tomes or the usual Mythos antagonists."—Diehard GameFan.
"Though a Mythos threat hovers in the background throughout, the true monsters in Cold Harvest: Roleplaying during the Great Purges of Stalin's Russia may be the player characters themselves. This is a pleasingly atmospheric affair which asks the question, 'Can monsters make moral choices in an immoral system?'"—Reviews from R'lyeh
"…a great opportunity to step into someone else's shoes that is completely foreign and unique to most players. It creates some very uncomfortable and morally challenging situations and makes for a great story."—Justus Productions.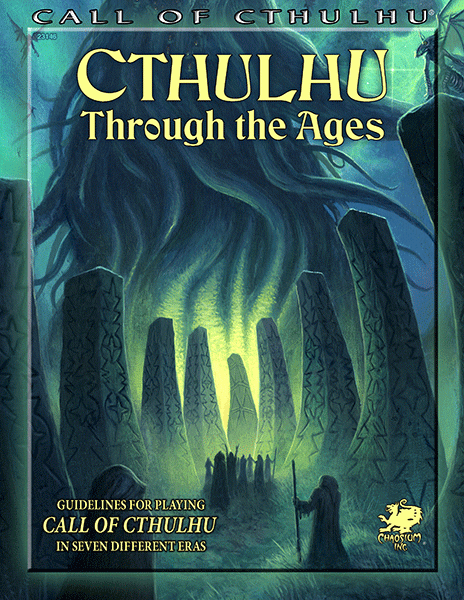 "Cthulhu Through the Ages is a fantastic idea…It's a gateway to many well-written sourcebooks and sources of new adventures for you and your gaming crew. "—Diehard Gamefan
"A great aid for running Call of Cthulhu scenarios in different settings… what makes this book so useful is that Call of Cthulhu is a game of investigation that involves ancient tomes of magic. Investigators may uncover timeless horrors known to the Ancient Romans or medieval scholars, and game keepers may want to run scenarios in different time periods."—Geeks-a-go-go.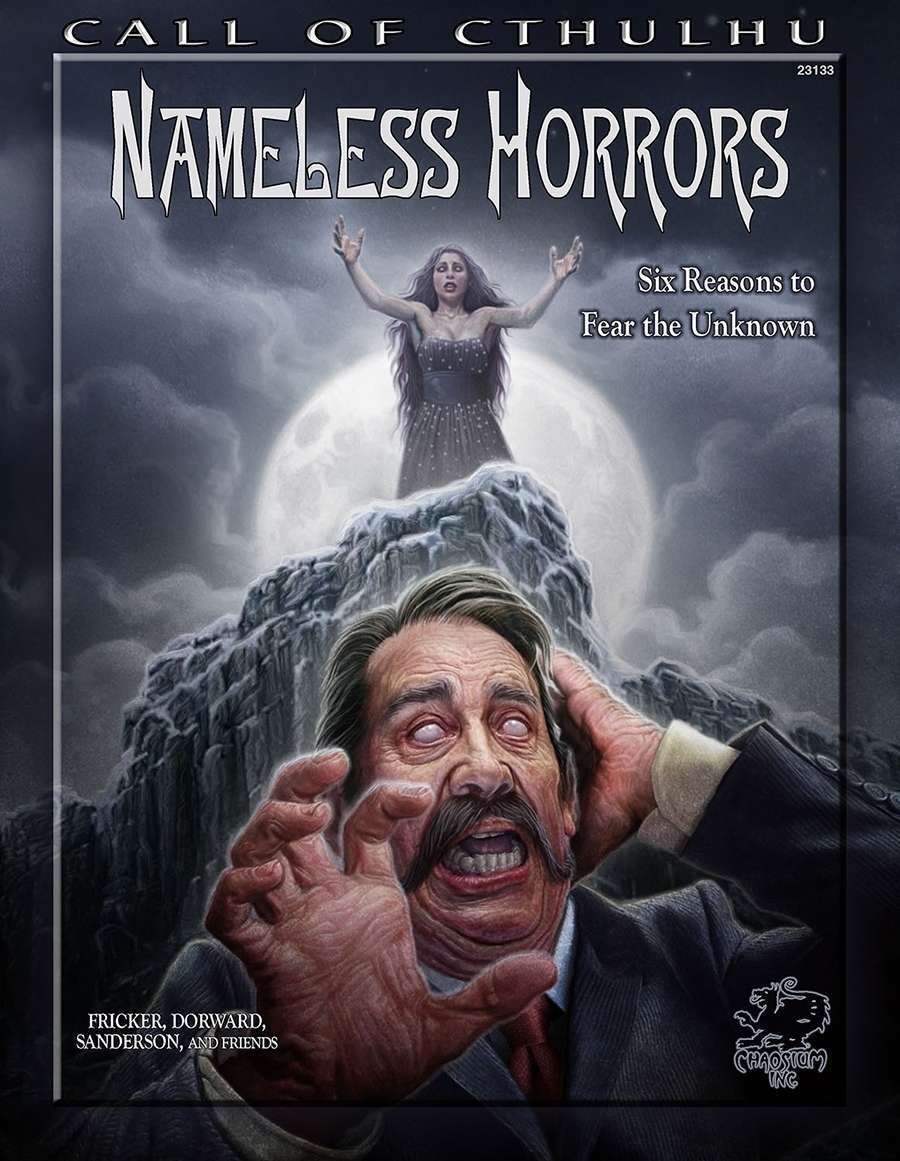 "Nameless Horrors is an adventure collection worthy of carrying the Call of Cthulhu name... it ticks all the right boxes."—Antonios S. Review, RPGNet.
"Overall, I really enjoyed Nameless Horrors… For those looking for something outside the box instead of the usual Mythos rigmarole, definitely consider picking (it) up."—Diehard Gamefan.
"What marks this anthology out in comparison to previous releases for Call of Cthulhu is that none its scenarios involve traditional horrors of the Mythos. No Nyarlathotep or the King in Yellow, no Elder Things or Shoggoths, no Ghouls or Byakhee, and so on. This is not to say that none of the scenarios in Nameless Horrors are Lovecraftian, for many exude a sense of the greater or cosmic unknown and embrace the fragility of humanity in the face of this unknown… Nevertheless, there is not a bad scenario in this anthology."—Reviews from R'lyeh.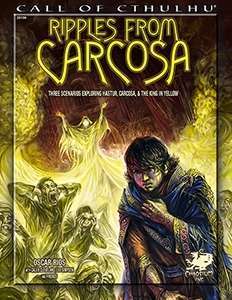 "VERY different from the usual CoC campaigns and adventures, but that's kind of the point... Ripples From Carcosa takes a chance by doing something very different: allowing players to experience three different time periods in one mini-campagin and being different enough from the usual Call of Cthulhu pieces that it stands out as a truly memorable experience."—Diehard Gamefan.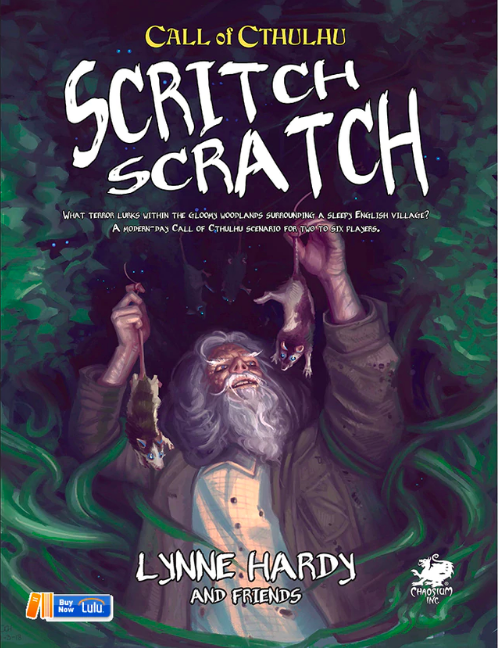 "A pleasingly low key one-shot of bucolic mystery and horror."—Reviews from R'lyeh.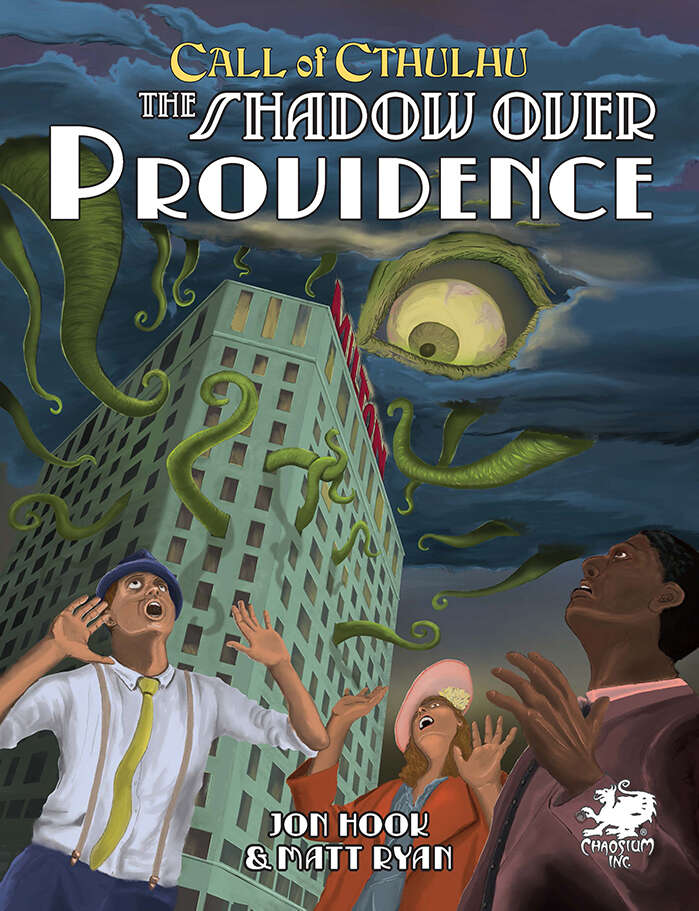 "A well-crafted story that is both interesting and exciting… It's a fast-playing, easily approachable scenario for new and experienced Keepers alike."—Rolling Boxcars.
"Delivers a solid balance of creepy investigation and scary action, whether as a one-shot or potential campaign starter."—Reviews from R'lyeh.
Our entire range of Print-On-Demand titles are all 25% off until December 31st. There are eight Call of Cthulhu titles and 19 RuneQuest titles on offer. Price includes PDF. Details here.