The Arkham Investigator's Wallet: the latest amazing Call of Cthulhu prop set from the H.P. Lovecraft Historical Society
Posted by Michael O'Brien on 21st Jul 2023
From our wickedly inventive friends at the H.P. Lovecraft Historical Society: The Arkham Investigator's Wallet.
Already two-time ENNIES Product of the Year winners for their amazing Call of Cthulhu gaming props, the HPLHS continue to raise the bar, taking a real vintage-style leather wallet and packing it full of more than 40 things that an investigator in 1920s Arkham might have on them.
And to help crank up the fun, they include in an all-new Call of Cthulhu scenario written to feature the wallet and its contents!
Open now for preorders at a special introductory price and scheduled to start shipping on August 7th (once it begins shipping, the price will have to go up!).
---
P.S. Our friends the H.P. Lovecraft Historical Society are also helping us by creating more props for our current Graveyards of Arkham Kickstarter. A reward for all backers $19 and above is a digital copy of our new Town of Arkham Street Map. It features wryly authentic advertisements of local Arkham businesses, created by our our wickedly inventive friends at the HPLHS.
And if you'd like a printed copy of our new Arkham Map that the HPLHS contributed to, it's available as an add-on in the Graveyards of Arkham Kickstarter.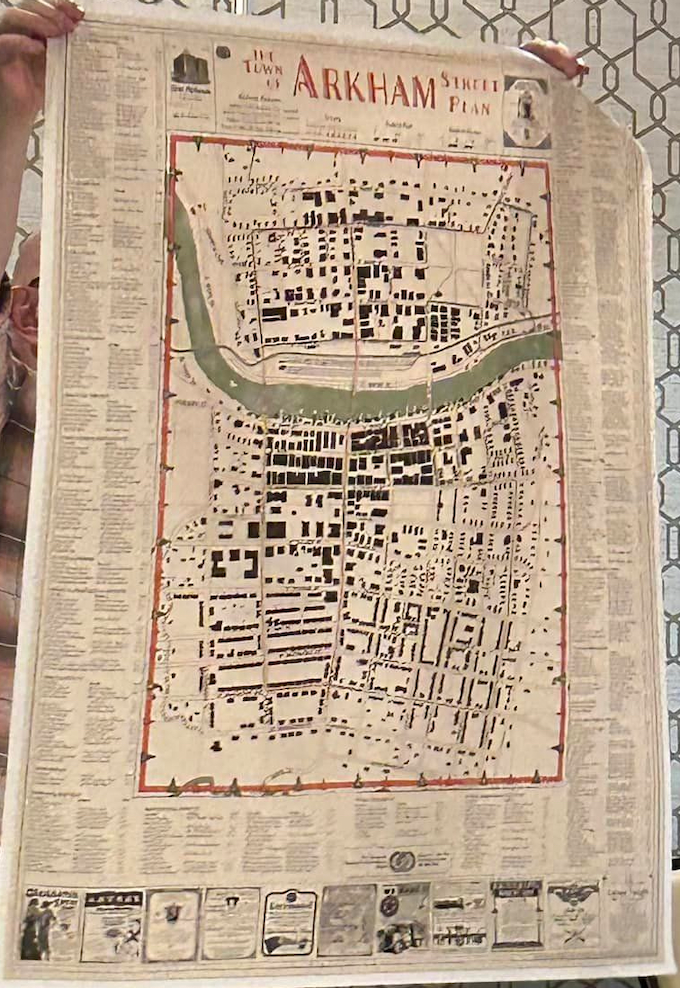 The physical poster is 23.4" x 30.4" / 59.5 x 77.3cm and printed on semi-gloss paper. It comes shipped in a rolled tube - perfect for the tabletop! And the add-on price includes worldwide free postage! So nothing to pay later.

The HPLHS are also helping us create the Old Arkham Graveyard Map and Plot Certificates. Specific backer levels allow you to reserve a graveyard plot of your own, pick out a headstone from our selection of master masonry, and write your epitaph.
Please check out the Kickstarter here and help us make this new series!
https://www.kickstarter.com/projects/chaosium/graveyards-of-arkham