Syrinscape launches Part One: Peru sound pack for Masks of Nyarlathotep
Posted by Michael O'Brien on 5th Jul 2018
Cthulhu is coming, can you hear him?

Mind-bending cosmic horror sounds will envelop your gaming table in an atmosphere of unease, suspense and dread with Call of Cthulhu's first official soundtrack from the award-winning Syrinscape app. Install Syrinscape today and play the legendary Call of Cthulhu RPG like never before!
Our friends at Syrinscape have launched their first sound pack for Masks of Nyarlathotep, covering the new Peru Prequel Chapter. This enables players to experience and explore this new scenario with fully immersive background sound and music matched scene by scene to the adventure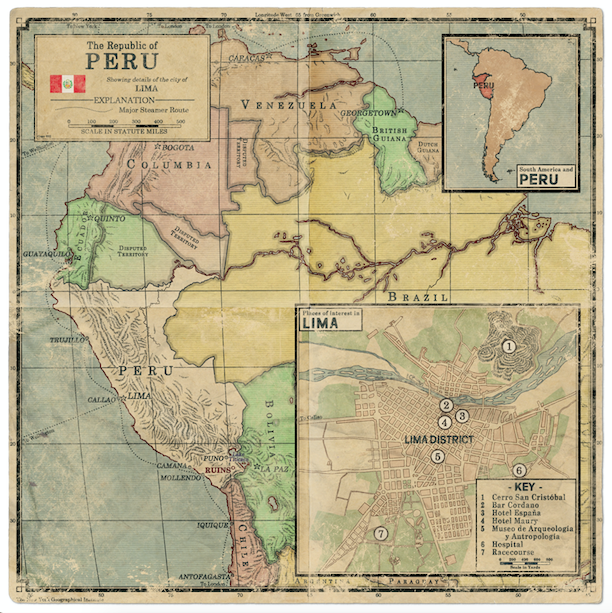 The "Part 1 - Peru" SoundPack supports:

the exotic bustling streets of Lima
trendy cafes and busy streets filled with 'classic' cars
Bar Cordano with actual music from the period
a high stakes chase on foot
a steamboat journey
not quite entirely deserted tunnels
bumping trucks up terrible roads
the extra-ordinary Father of Maggots
lamas and many more ungodly mind destroying creatures to haunt your Players' dreams
and so much more!
Here's Syrinscape's Ben Loomes to tell you more about it:
Next steps
Here are some basic instructions for people who have bought the Syrinscape "Masks" sounds:
Download the Syrinscape Sci-fi Player on something (PC, Mac, Android or iOS)
Install & sign in with your Syrinscape account
Find the "monp" SoundSets (near the bottom of the leftmost column)
Experiment by clicking a few of the MOODS (2nd column from the left)
These MOODs correspond to locations or encounters in the adventure
Now ask questions at support@syrinscape.com or on the very friendly forum.syrinscape.com