Miskatonic Monday: our first Miskatonic Repository adventure in Japanese!
Posted by Michael O'Brien on 9th Jul 2018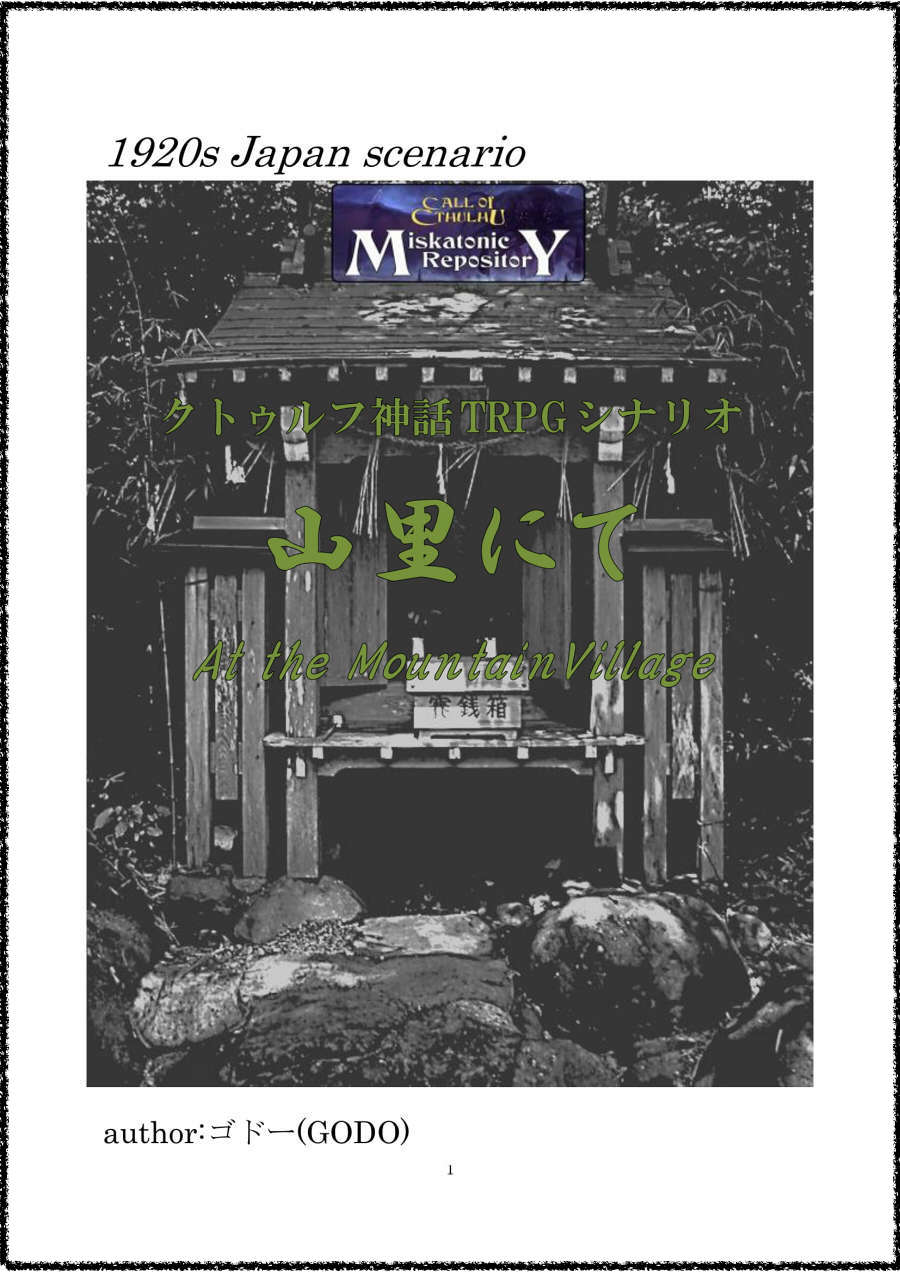 You may not be aware, but the Call of Cthulhu RPG is immensely popular in Japan, with the rules published under license by our friends Arclight outselling versions in any other language. So we're excited to receive our first contribution in Japanese to the Miskatonic Repository. Even better, it comes with an English language version of the scenario!
山里にて(At the Mountain Village) is a 1-2 hour beginner-friendly scenario for 1 to 2 players. It is set in the 1920's in in a small village in Yamanashi Prefecture, Japan.
The scenario takes place during the winter, as powdered snow gently engulfs the surroundings. The Investigators receive a letter from their common friend, Akira Kawakami, informing them of mysterious earthquakes around the village. As the Investigators are about to approach the village, they are assaulted by a sudden earthquake. Will the Investigators be able to find the cause of the Earthquake and save the village?
$3.64/ 400¥ - features Japanese version (6th) and English version (7th).
GUIDELINES FOR OTHER LANGUAGES—Miskatonic Repository
From the Miskatonic Repository Guidelines (DriveThruRPG)
Products in the Miskatonic Repository may be in English or any other language.
If a current, in-print Call of Cthulhu translation exists (e.g. Japanese, Korean, German, French etc) creators must use the current edition of the game in that language. For example, Japanese contributions to the Miskatonic Repository must use the current Japanese edition of the rules (6th).
For languages where a current, in-print edition does not exist, creators must use the English Call of Cthulhu 7th Edition rules as their reference.
What is the Miskatonic Repository?
Are you a Keeper looking for new scenarios and story elements? A player looking for something mysterious to spark a character idea? Is your group looking for eerie ideas to use in your game? The Miskatonic Repository is where you can find —and create —self-published material for the Call of Cthulhu roleplaying game.