Miskatonic Monday #75: new indie releases for Gaslight, Down Darker Trails, 1930s and other Call of Cthulhu settings
Posted by Michael O'Brien on 29th May 2023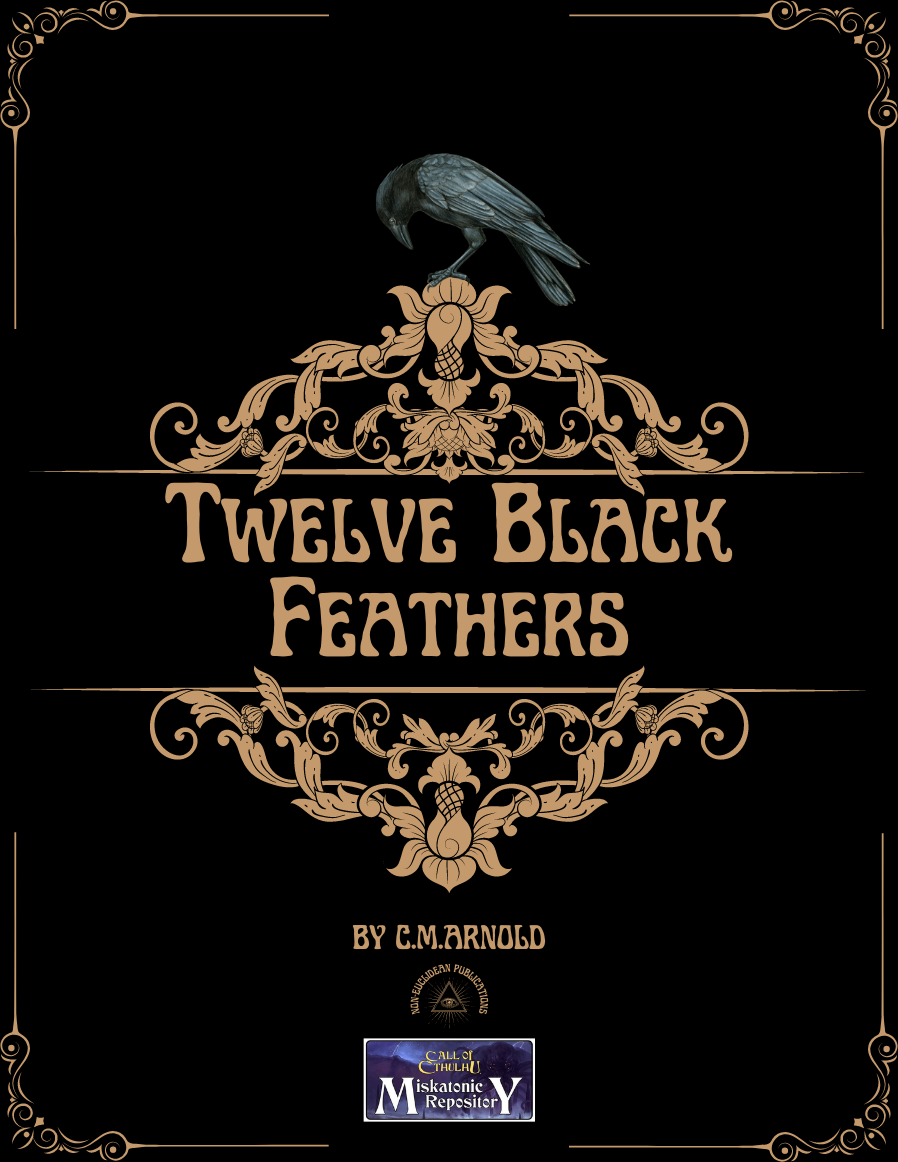 For creators, one of Call of Cthulhu's best aspects is its versatility. Beyond the classic 1920s setting, scenarios can and have been set in pretty much any historical setting, from the distant past to the far future. Here are new releases by independent creators from a variety of those settings – and there are many, more to explore in the Miskatonic Repository!
CTHULHU BY GASLIGHT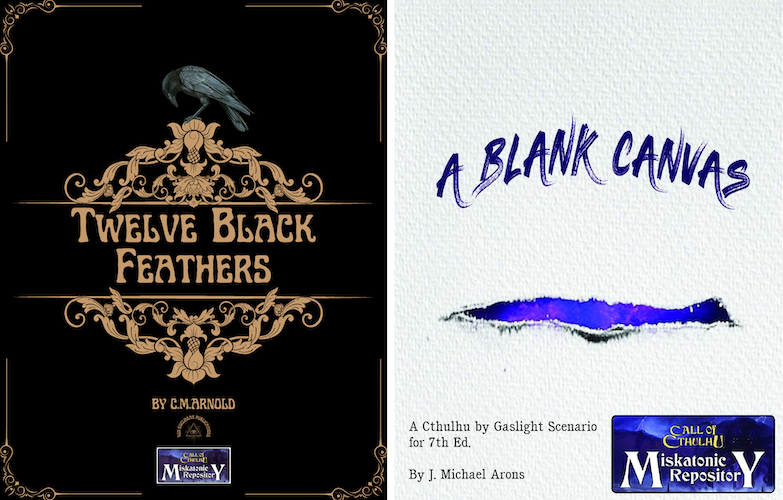 Twelve Black Feathers
C.M. Arnold ($2.99, 32 page PDF)
It is the winter of 1892. A Freak, March snowstorm has struck the gas lit streets of Baltimore, covering the city in a mantle of white. Dockside, the soot-stained snow has been further stained by the bloody remains of a local whaler, Billy Birmingham. Much of his torso has been ripped open and the few remains of his entrails are spread clumsily around him. Around the body are multiple avian footprints and black feathers suggesting, however unlikely, that this was a savage bird attack.
A Blank Canvas
J. Michael Arons ($2.99, 7 page PDF)
A Mysterious Package is delivered, leading to a crime scene and the opportunity to stop another murder, will the Investigators succeed? A One-shot for Cthulhu by Gaslight.
DOWN DARKER TRAILS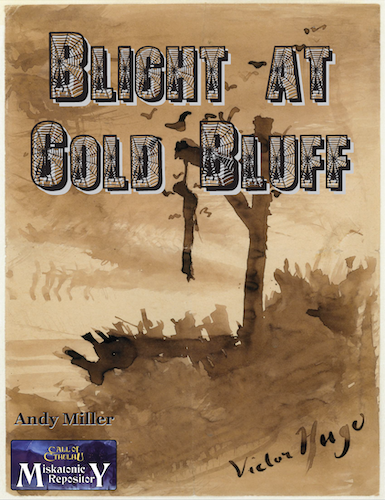 Blight at Gold Bluff
Andy Miller ($5.99, 66 page PDF)
Where are the people of Gold Bluff? The village of Gold Bluff has seen better days, but in the last week, there has been little or no contact with the people there. Whether the investigators are just travelers who stumble across the village where people seem to be disappearing, or whether they are there to find a friend who seems to have dropped off the face of the Earth, the people of the village desperately need help before they all vanish.
Down Darker Trails scenario set in the tiny village of Gold Bluff in 1883.
CTHULHU DARK AGES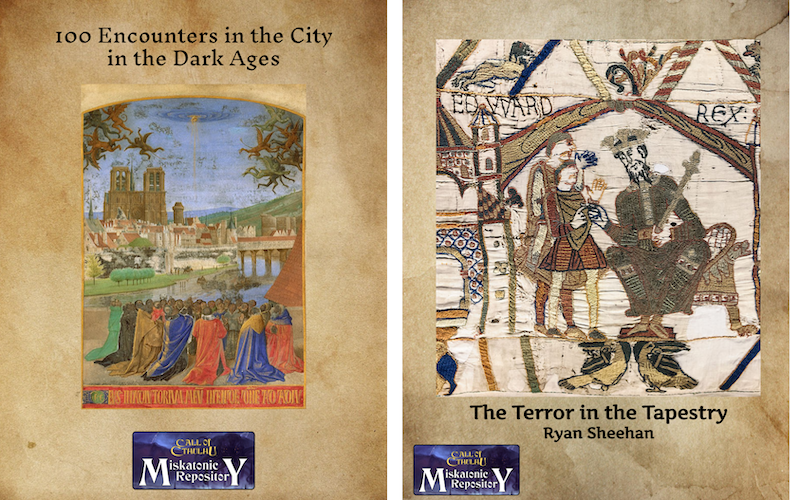 100 Encounters in the City in the Dark Ages
Ryan Sheehan ($0.99, 13 page PDF)
Stop! Thief! Did you hear that an image of Christ appeared in Oswald's shop last night? That man in the crowd, his face just... melted? What is he?
Supplement for Cthulhu Dark Ages, providing 100 different encounters, from the mundane and humorous to the mysterious and horrific, for Keepers to use while their investigators are staying in the cities of medieval Europe.
The Terror in the Tapestry
Ryan Sheehan ($2.99, 18 page PDF)
It's a stolen tapestry, it was probably just some angry monk that swiped it, right?
Cthulhu Dark Ages adventure set in the monastery of St. Swithun near the town of Totburh. After the idyllic calm of the monastery is violated by a brazen theft in the middle of the night, the monks of St. Swithun ask the investigators to help find their stolen tapestry. The investigators must track down the thief, but perhaps there is more to the tapestry than meets the eye.
REGENCY CTHULHU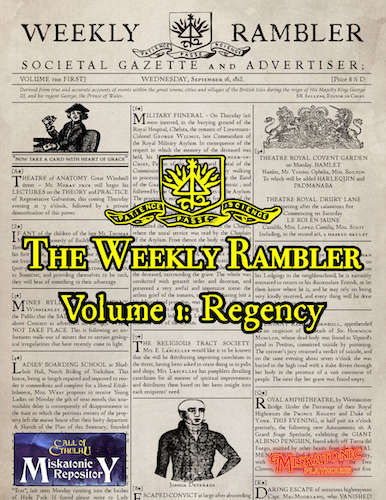 The Weekly Rambler vol. 1: Regency Hooks and Seeds
SR Sellens ($0.75, 5 page PDF)
Presenting The Weekly Rambler: volume 1, a collection of scenario hooks and seeds for your Regency-era game, laid out in the style of a period newspaper. Whether you're looking for a starting point for an evening of improvised horror, or a diversion for investigators during your ongoing campaign, you will find it in this publication.
1930s-40s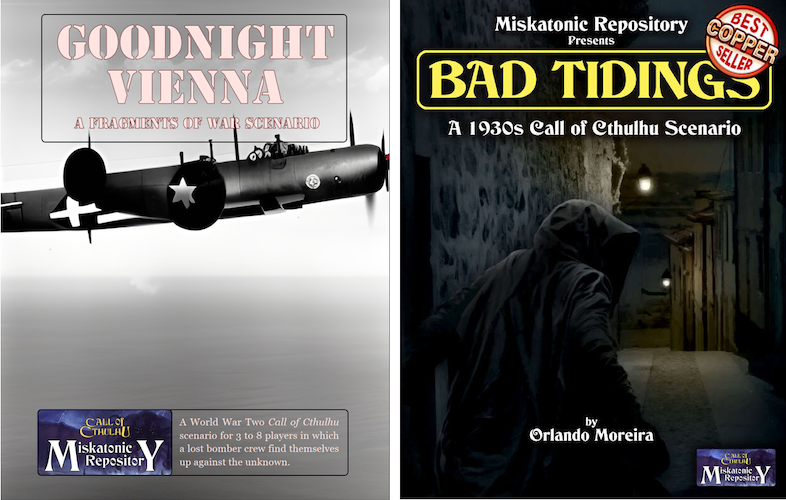 Goodnight Vienna
Glyn White ($7.00, 100 page PDF)
One-off scenario in which the players are the crew of an Allied bomber returning to their North African base after a raid on Naples in late 1942. Malfunctioning equipment on the plane means all they know is that they are somewhere over the Mediterranean and, after twelve hours flying, it is time to bail out. A horrible struggle for survival awaits below.
Note: The scenario Goodnight Vienna previously appeared as the first scenario in Chaosium's Miskatonic University Library Association MonographShadows of War (2008).
Bad Tidings
Orlando Moreira ($4.95, 30 page PDF)
Portugal, 1937, the shadow of war looms over Europe, and the country is under the iron fist of a dictator. The investigators are summoned by their former mentor and friend to his house located near a secluded coastal village. Professor Borges is dying from a mysterious affliction that defies explanation. As a storm of unprecedented violence approaches, the investigators find themselves embroiled in a deadly mystery that interweaves terrible secrets and shocking revelations. Death lurks in the shadows. Time is running out. Will they uncover the truth before it's too late?
The Night Haunt
Kerem Tugran ($7.56, 39 page PDF)
Something's wrong with the Duplantier house. House folk is suffering from nightmares and unrest from strange noises in the night. Now Duplantier family has decided to put an end to this.
But ending things are not always easy if a painting is involved by Ferdinand Hodler and H.P. Lovecraft's Dreamlands has something to do with this. Can be optionally used with Pulp Cthulhu.
Earthly Delights
Kerem Tugran ($7.56, 39 page PDF)
Hieronymus Bosch's world-famous painting The Garden of Earthly Delights will undergo renovations. Just before the renovation, the directors of El Prado Museum are organizing an exhibition with the participation of the art and society community. On this important night, art is not the main topic, but something much more insidious and terrifying awaits the guests.
Can be optionally used with Pulp Cthulhu.
DREAMLANDS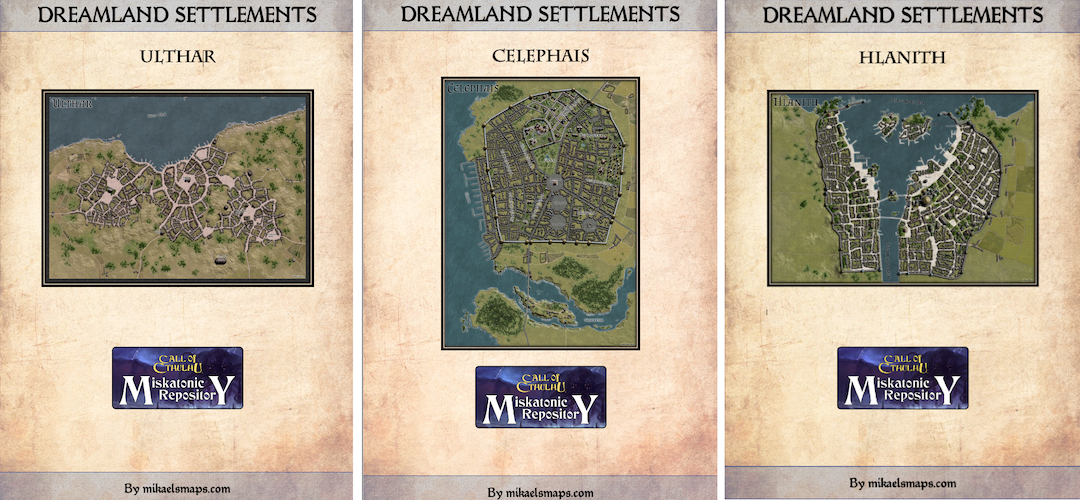 Dreamlands Settlement - Ulthar
Mikael Mansen ($5.05, 4 maps)
Contains 4 maps of the city Ulthar in Chaosium's Dreamlands.
Dreamlands Settlement - Celephais
Mikael Mansen ($4.05, 2 maps)
Contains 2 maps of the city Celephais in Chaosium's Dreamlands.
Dreamlands Settlement - Hlanith
Mikael Mansen ($4.05, 4 maps)
Contains 4 maps of the city Hlanith in Chaosium's Dreamlands.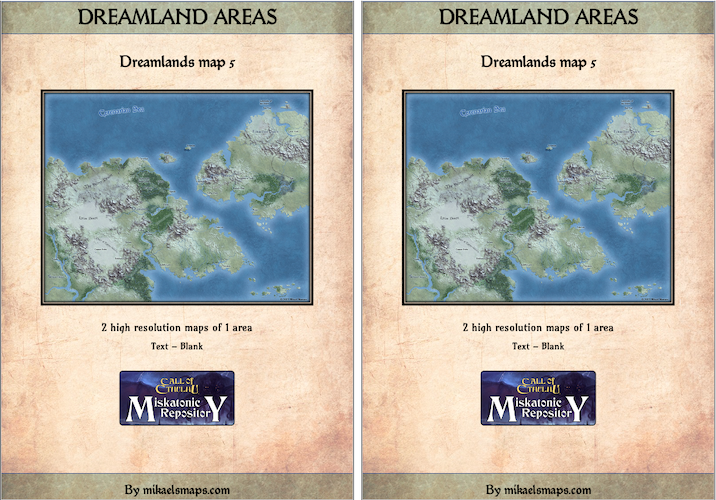 Dreamland Areas - Maps 4
Dreamland Areas - Maps 5
Mikael Mansen ($4.95, assorted maps)
Regions from Chaosium's Dreamlands.
WANT TO TAKE PART IN THE MISKATONIC REPOSITORY COMMUNITY PROGRAM?
Under the Miskatonic Repository community content license, Call of Cthulhu fans can make their own work for use with the game line available to the public, using guidelines, templates, and art provided by Chaosium.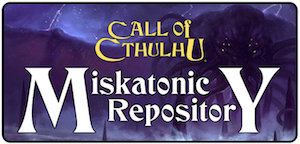 Whether you share your content for free or put it up for sale, this program is a digital home for terror that joins the dreamscapes of all who peruse it.