Miskatonic Monday #60 + Journey to Jonstown #45: Call of Cthulhu and RuneQuest Bundles from the Summer 2022 RPG Writers Workshop
Posted by Michael O'Brien on 5th Sep 2022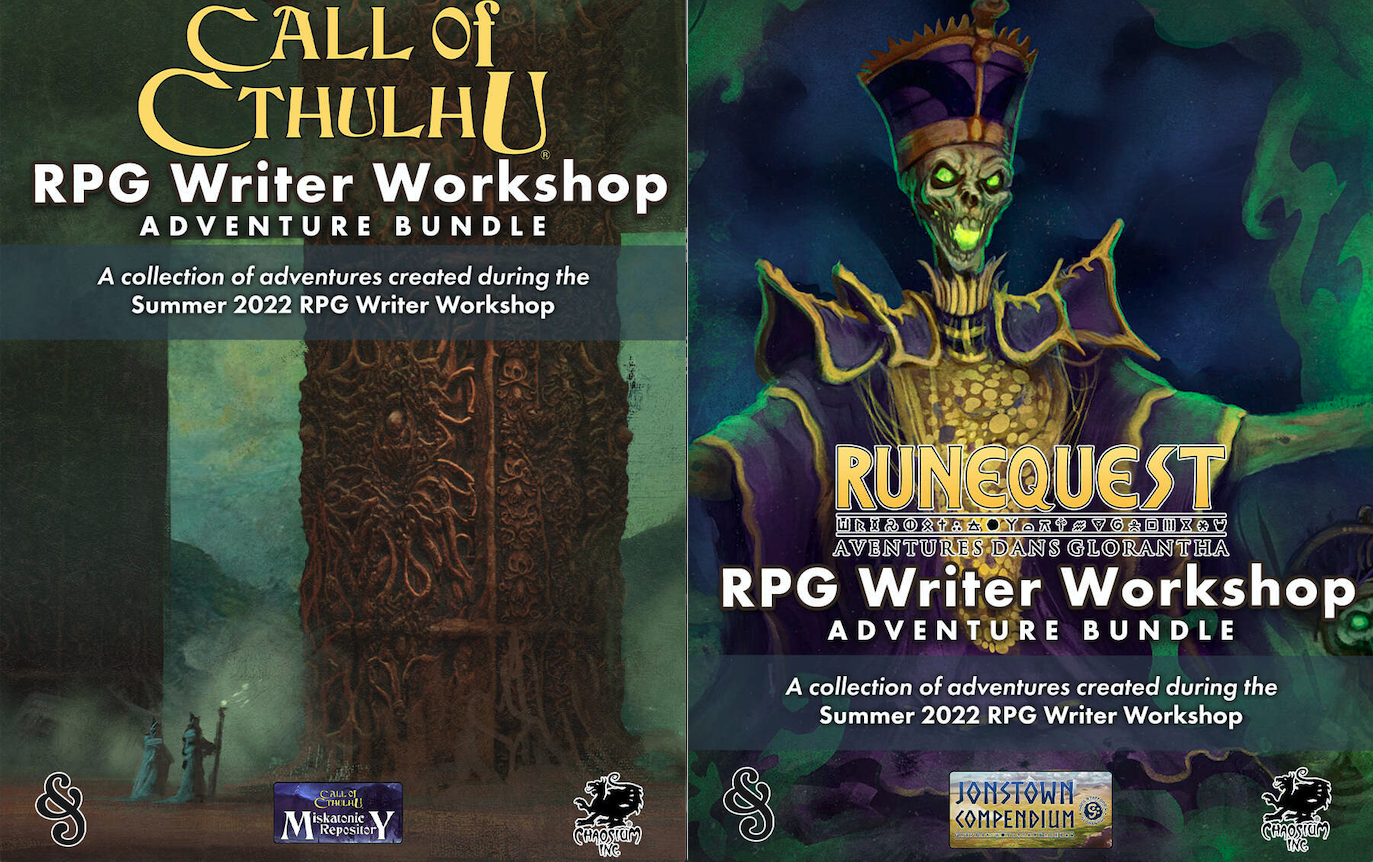 We are very proud of the alumni of the Summer 2022 RPG Writer Workshop! These new bundles at DriveThruRPG are a great way to see their handiwork and support and encourage these talented first-time TTRPG creators.
In this one-month-long, self-paced workshop by the Storytelling Collective, aspiring creators write, produce and publish a 3,500-word adventure!
The Call of Cthulhu Path was designed by co-author of Call of Cthulhu 7th edition, Paul Fricker, author of the bestselling Miskatonic Repository titles Full Fathom Five and Dockside Dogs.
Paul said, "When Chaosium asked me to write the Call of Cthulhu, I had no idea how fantastically popular it would be! See the link for a bargain bundle of 24 scenarios from the course!"
The new RuneQuest Path was designed by Chaosium community content ambassador Nick Brooke, author of the best-selling Jonstown Compendium titles Black Spear and The Duel at Dangerford.
Nick said: "I was delighted to adapt Paul Fricker's Call of Cthulhu writing course for RuneQuest (replacing Lovecraftian cosmic horror with Bronze Age mythological heroism throughout), and impressed with the quality of the published graduates' work. I do know several other participants are still finishing their adventures too."
Also check out the other Call of Cthulhu bundles from previous workshops.
Please note, as with all DriveThruRPG bundles if you've already bought any of the titles included you don't pay twice for the titles you own.
Coming up on the next Miskatonic Monday (we promise this time)
In our previous Miskatonic Monday (#59) we said we'd be announcing the 1000th Miskatonic Repository release in this post. But we've decided to postpone marking that milestone until next time in order to celebrate the RPG Writer Workshop Bundles on their release.
Meanwhile, please do check out the 250th release on the Jonstown Compendium, our community content platform for RuneQuest and Greg Stafford's world of Glorantha.

Under The Miskatonic Repository community content license, Call of Cthulhu fans can make their own work for use with the game line available to the public, using guidelines, templates, and art provided by Chaosium.
Whether you share your content for free or put it up for sale, this program is a digital home for terror that joins the dreamscapes of all who peruse it.

Under the Jonstown Compendium community content license, fans of Greg Stafford's world of Glorantha can sell and share their own material on DriveThruRPG. If that appeals, check out the Jonstown Compendium Guidelines and start creating!