Miskatonic Monday #59: The Bloated Saint and other new Cthulhu Dark Ages community content releases
Posted by Michael O'Brien on 29th Aug 2022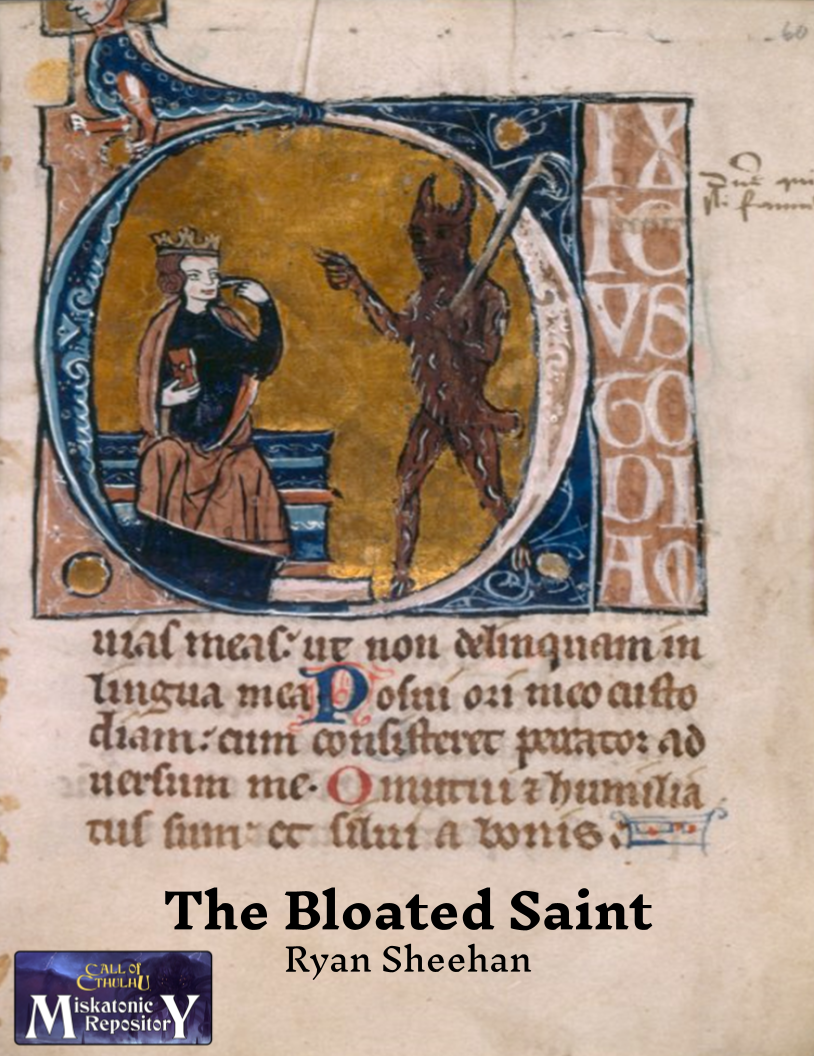 Our supplement Cthulhu Dark Ages Third Edition is set in the medieval world of Anglo-Saxon England. It comes with three scenarios – The Hunt, The Doom That Came to Wessex, and Eseweald. And when you've played through those, the Miskatonic Repository can keep your Call of Cthulhu investigations firmly rooted in the Dark Ages.
Here are newly-released Cthulhu Dark Ages titles from independent Call of Cthulhu creators:
The Bloated Saint
Ryan Sheehan ($2.99, 19 page PDF)
When a beloved friend calls on the investigators for help, a mission to help repair their friend's reputation soon uncovers a horror that once lurked amongst the residents of Tour-sur-Mer.
Cthulhu Dark Ages adventure set in the fictional town of Tour-sur-Mer in the Duchy of Normandy in 984 CE. The investigators are tasked to help a dear friend who found himself a social pariah in his hometown after a trip to Rome. Is there reason behind the change, or is something more sinister at play?
Expanded Occupations for Cthulhu Dark Ages
Ryan Sheehan ($1.99, 7 page PDF)
Expanded Occupations for Cthulhu Dark Ages adds twenty-six new occupations for Dark Ages investigators, more than doubling the original twenty found in the Cthulhu Dark Ages sourcebook.
Branches of Bone - A Viking Age Cthulhu Dark Ages Scenario
Michael Reid ($4.95, 40 page PDF)
Beleaguered chieftain Askr Yelloweye leads you and your impoverished clansmen to the rocky isle of Skógrbein, off the coast of Northumbria. Askr chases a vision from Freya, claiming she showed him a relic of Yggrdasil held in the heathens' stone temple sitting upon Skógrbein. How far you believe your chieftain, who can say? But you know the people of these lands hold treasures in their temples.
A Cthulhu Dark Ages Scenario of Viking Age Survival-Horror.
100 Encounters on the Road in the Dark Ages
Ryan Sheehan ($0.99, 10 page PDF)
Supplement for Cthulhu Dark Ages, providing 100 different encounters, from the mundane and humorous to the mysterious and horrific, for Keepers to use while their investigators are traveling from place to place.
Never leave town without it!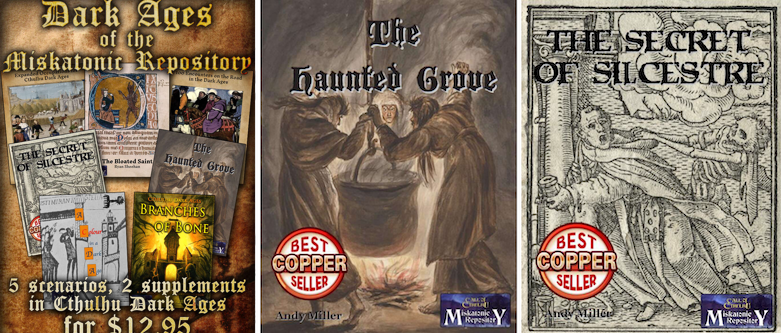 Dark Ages of the Miskatonic Repository [BUNDLE]
($18.89 $12.95, 7 PDF titles)
This Cthulhu Dark Ages bundle contains the four titles listed above, plus:
The Haunted Grove
Andy Miller ($1.99, 22 page PDF)
There's a place in the woods avoided by the local villagers, a grove reputed to be cursed or haunted or worse. Though none of the locals tread those dark paths, sometimes travelers get lost and find themselves there. A man can disappear if he doesn't keep his wits about him … or worse. This Cthulhu Dark Ages scenario is set in the summer of 1003 A.D. and easily incorporated into any campaign.
The Secret of Silcestre
Andy Miller ($4.99, 52 page PDF)
Something is wrong in Silcestre. The tiny village of Silcestre (Sil-chester) stands on part of the old Roman town of Calleva Atrebatum that was important in its time, nearly 500 years before. Unlike other villages built on old Roman towns, Silcestre is of newer construction. The villagers hide in their houses when nightfall comes, but not even that is always enough to protect them. Silcestre has always been plagued by certain terrible secrets and now various forces seek them out for their own gain. Who are these people and what exactly do they want? Can the investigators learn The Secret of Silcestre before others?
The Secret of Silcestre is a Cthulhu Dark Ages scenario set in England in the year 1002 A.D. The investigators are travelers on the road from London to Winchester, stopping in Silcestre overnight, when they learn of strange things happening in the village.
A Colour in a Dark Age
Jonathan Baxter ($0.99, 19 page PDF)
The players are travelers in the forested wilderness of 10th century Germany. They must get to the heart of a mysterious blight that is plaguing the land, all while dodging roaming bandits and monstrous woodland creatures. They will find themselves caught between two warring human factions and must forge alliances or play both sides off each other in order to survive the scenario.
This download includes seven full-page maps in addition to 16 statted NPCs. This scenario can be played in three to four sessions of one to two hours each. This scenario is ideal for a group of three player Investigators but can easily be structured for larger or smaller groups.
Plus here are some more Cthulhu Dark Ages titles in the Miskatonic Repository!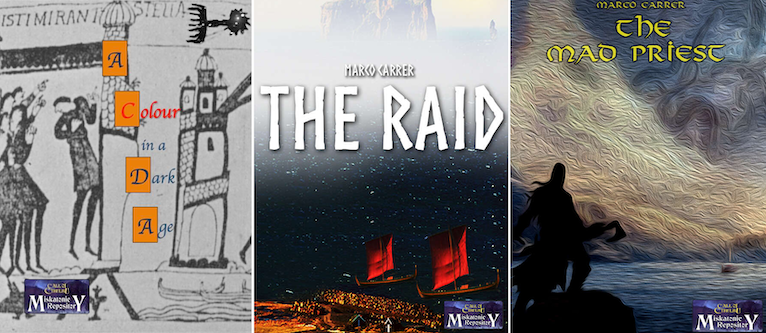 The Raid
Marco Carrer ($1.00, 12 page PDF)
A journey to the West has become a nightmare for a crew of warriors. Will they be able to come back to their families and their motherland? Or will they perish?
A one-shot scenario set in the Viking era. Includes 6 pre-gen characters. Also available in Italian.
The Mad Priest
Marco Carrer (Free, 10 page PDF)
The mad priest has arrived in your village. Are you ready to face the consequences?
A one-shot scenario set in the Viking era.
Cthulhu Dark Ages 3rd Edition is available from:
Coming up on the next Miskatonic Monday...
We mark the 1000th Miskatonic Repository release! In the meantime, also check out the 250th release on the Jonstown Compendium, our community content platform for RuneQuest and Greg Stafford's world of Glorantha.

WHAT IS THE MISKATONIC REPOSITORY?
Are you a Keeper looking for new scenarios and story elements? A player looking for something mysterious to spark a character idea? Is your group looking for eerie ideas to use in your game? The Miskatonic Repository is where you can find —and create —self-published material for the Call of Cthulhu roleplaying game.
Interested in submitting content? Go here to see the guidelines, and here for the additional guidelines. No extra license is required. Get started and download the MS Word template or the InDesign template for Miskatonic Repository submissions, and check out our other free creator resources.