Journey to Jonstown #9 - new releases include the first title to use the Questworlds rules
Posted by Michael O'Brien on 23rd Jun 2020
New entries in The Jonstown Compendium, our community content program for gaming in Greg Stafford's world of Glorantha: check them out at DriveThruRPG!
Treasures of Glorantha: V1 — Dragon Pass
Akhelas, Shawn Carpenter, Austin Conrad, Gil Cruz, Simon Phipp, Jerry Thorpe ($14.95, 65 page PDF)
Treasures of Glorantha is an irregular series from Akhelas providing magic treasures, secrets, and gamemaster advice to enrich your game of RuneQuest: Roleplaying in Glorantha. This inaugural volume lays eyes on the core game region of Dragon Pass. It describes thirty magic items found throughout Dragon Pass, curated to provide exciting play opportunities for players and gamemasters alike.
"...a fantastic treatment of treasure in Dragon Pass, combining thoughtful and interesting essays on the subject with numerous relics to help the Game Master weave treasure into the fabric of her Glorantha campaign." —Pookie, Reviews from R'lyeh.
A Sword Turned Inward - Part 3 of Red Deer Saga
Paul Baker ($10.00, 98 page PDF)
The final instalment of the three part series which runs up to the Battle of Queens.
Blue Moon, White Moon
John Wick ($0.99, 14 page PDF)
Adventurers encounter a Blue Moon Assassin from the Lunar Empire. What is she doing out here in Dragon Pass? And what is she running from? Will prejudices and superstitions overcome empathy and curiosity? It's up to your players to decide.
"an excellent scenario which will present the player characters with an interesting moral dilemma and test their passions. It is also quick to set up and add to a campaign. It is also written by John Wick."—Reviews from R'lyeh.
Author John Wick talks about Blue Moon, White Moon on YouTube:
Among the new entries is a release for the QuestWorlds rules (which are completely compatible with HeroQuest: Glorantha), and permitted on the Jonstown Compendium. Hopefully The Valley of Plenty is the first of many such titles!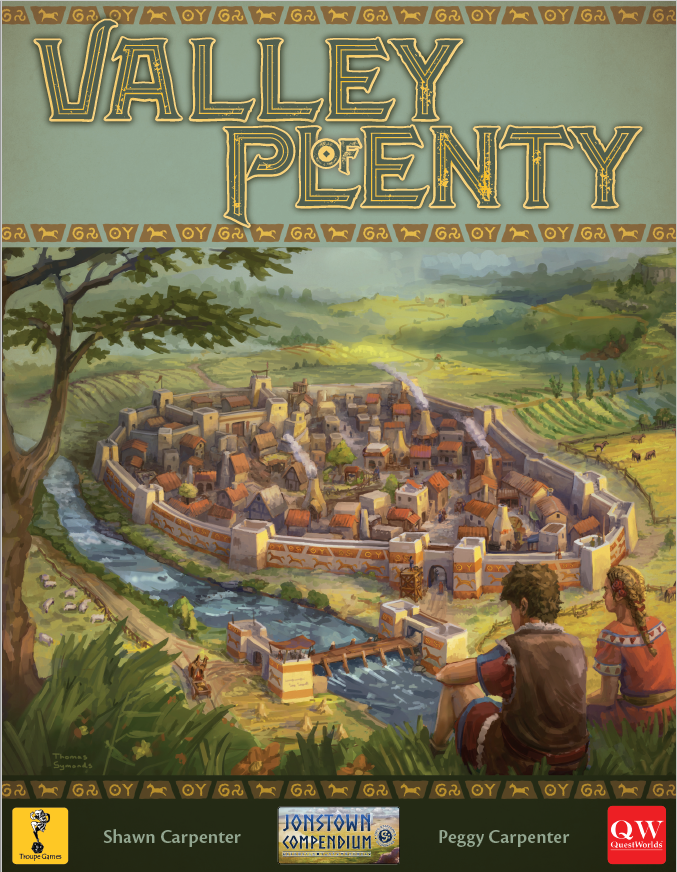 Valley of Plenty
Troupe Games ($24.95, 150 page PDF)
The first book of The Jaldonkillers Saga, a grand campaign that follows the careers of a band of player characters through the destruction of their tribe, its reconstitution in exile, and the effort to reclaim its lost lands and glory. The saga begins in 1602 and stretches to the Dragonrise and beyond. It is intended as a vehicle to support the development of characters from childhood to Herodom in a fluid but consistent setting, in which players can experience adventures ranging from slice-of-life challenges to world-changing conflicts.
Valley of Plenty is a campaign source book for Glorantha written for the QuestWorlds rule-system. It is completely compatible with HeroQuest: Glorantha and easily adaptable for use with RuneQuest: Roleplaying in Glorantha.The presentation of the Dundealos tribe's culture and community is system agnostic.

Take part in the Jonstown Compendium Community Content Program yourself...
Under the Jonstown Compendium community content license, fans of Greg Stafford's world of Glorantha can sell and share their own material on DriveThruRPG.
Check out the Jonstown Compendium Guidelines and start creating!