Journey to Jonstown #31 - "A best practice example of community content creation"
Posted by Michael O'Brien on 30th Nov 2021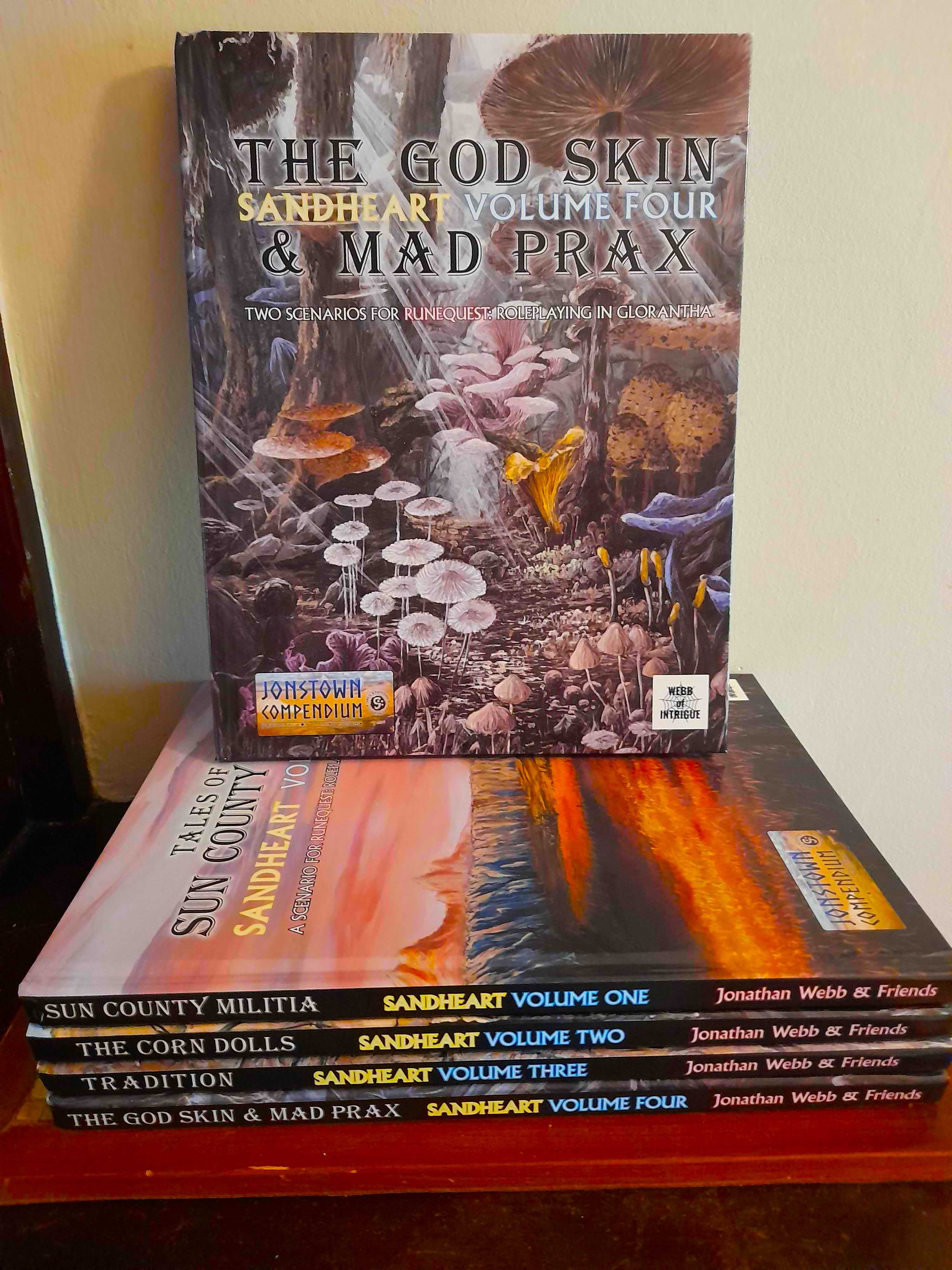 All four volumes of the best-selling Sandheart series of Sun County adventures for RuneQuest are now available in full colour print format at DriveThruRPG!
Chaosium's Michael O'Brien (MOB) writes:
"I was delighted to receive print copies of the final volume of the Sandheart series today (Vol 4), featuring my scenario 'Mad Prax: Beyond Sun Dome'!
The Sandheart series of Sun County adventures began as a one-person operation (Jonathan Webb), evolving into what I think is a best practice example of community content creation, with Jon gathering the talents of Glorantha-loving layout experts, cartographers, artists, and writers, to produce what have become some of the most well-received and popular titles in the Jonstown Compendium.
For me, it was great to collaborate creatively again with Nick Brooke, just like we did back in the days of Tales of the Reaching Moon, and a special surprise to reconnect and work again with Mark Baldwin, who illustrated the spec RuneQuest manuscript I sent to the Avalon Hill in 1991. That spec manuscript of course became Sun County, published in 1992, but sadly without Mark's art. So it is especially delightful that, some thirty years later, his vision of the Sun Dome lands and its inhabitants has finally reached the audience it deserves.
Other community creators involved in the Sandheart series include Laura Baldwin, Ludovic Chabant, Dario Corallo, Katrin Dirim, Colie Dixon, Brian Hebert, Kristi Herbert, Ollie Larwood, Darren Page-Mitchell, Diana Probst, Shaun Rimmer, Beverley Webb, Jacob Webb, and many playtesters!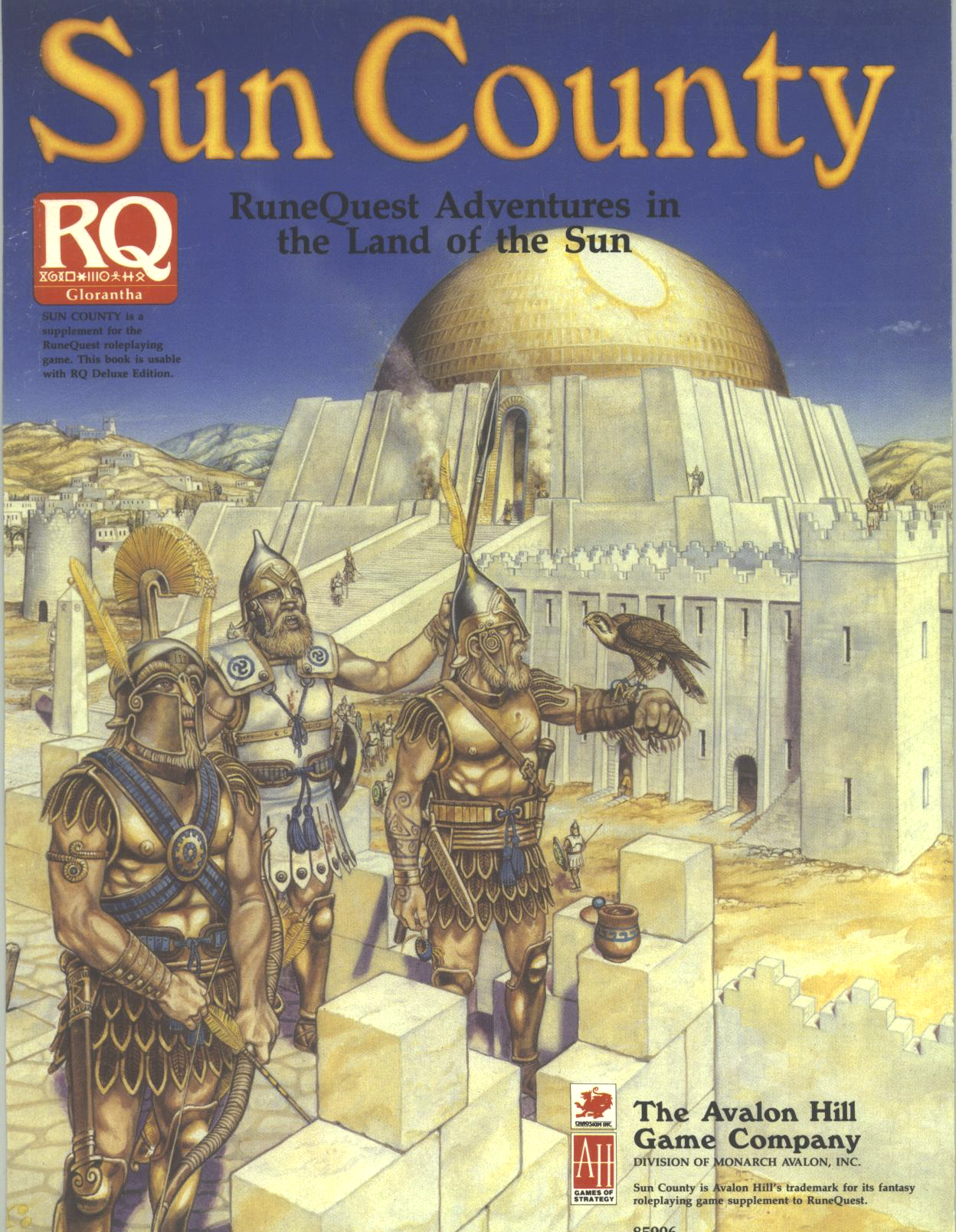 I was honoured when Sandheart creator Jon Webb asked me to write a foreword for the first volume, one of the inaugural releases of the Jonstown Compendium.
In that first forward I noted that these days we're fortunate to be living in an all-new "RuneQuest Renaissance", with the Jonstown Compendium giving independent Gloranthan creators access to a worldwide audience in ways we didn't even dream about back in the early days. And by Yamsur's Truss, haven't creators in the Jonstown Compendium grasped that opportunity!
I enjoyed contributing two scenarios myself, the aforementioned 'Mad Prax' in Vol 4 and 'Fortunate Sun' in Vol 2 (which recently reached Gold bestseller status).
As amply demonstrated by the popular reception of the Sandheart series, and other Jonstown Compendium releases like Nick Brooke's recent and most wonderful Black Spear: it's immensely gratifying for me to see that, coming up to thirty years since Sun County was published, there is still much to be written about, discovered, argued over, and gamed in, in this small and distant, yet special, part of Glorantha. — MOB.