Get ready to enter the Miskatonic University Restricted Collection, very soon!
Posted by Michael O'Brien on 19th Mar 2018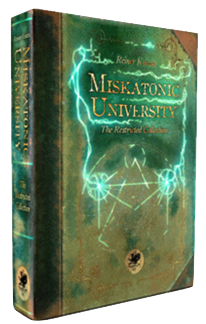 A quick note from Susan, our board games line editor:
Exciting news—our next board game is close!
Last year, after some 25 years away, Chaosium got back into boardgames. This first foray brought together German board game wizard Reiner Knizia and "the Grand Shaman of Games" himself Greg Stafford, for the family game Khan of Khans set in the mythic world of Glorantha.
Very soon we'll be back with a Kickstarter for our first Lovecraftian board game since 1987! I'm excited to be working with Reiner again, exploring the world of horror in a fast-paced, fun-filled, push-your-luck game.
Set in the treacherous and terrifying Restricted Collection of Miskatonic University's Orne Library, the game features grimoires, elder signs, academic politics and madness — and that endlessly renewable resource, graduate students!
When the time comes we hope you'll join us on our journey by supporting this Kickstarter and make the Miskatonic University game a reality!
Kickstarter Launch Date: late April!