Chaosium's 2018 ENnies Success: thanks to all the creative teams
Posted by Michael O'Brien on 5th Aug 2018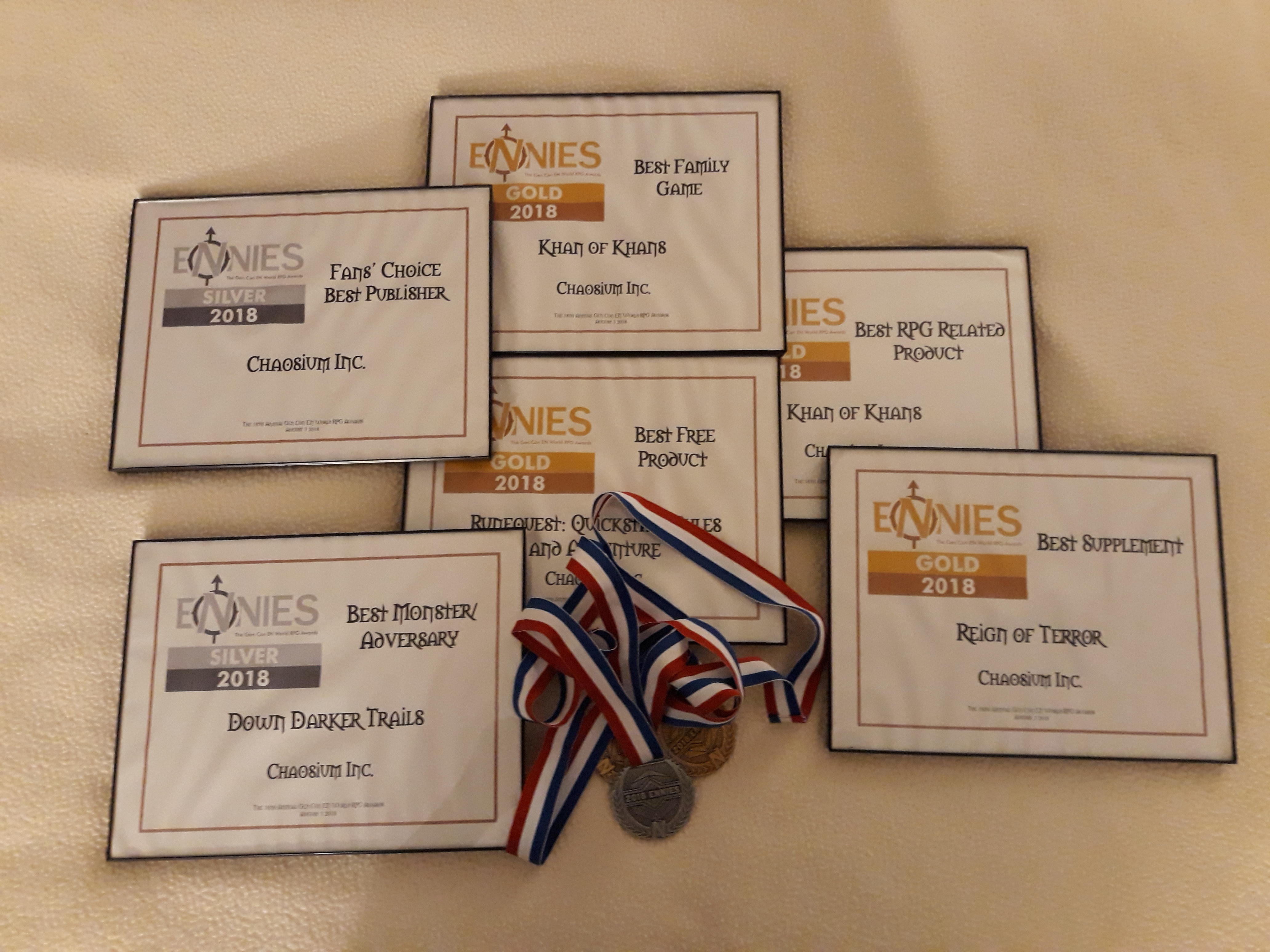 Chaosium had a great night at the 2018 ENnies Awards at Gen Con, picking up four Gold and two Silver awards from nine nominations.
Many thanks to the ENnies judging panel for shortlisting our work for consideration, and to the Chaosium tribe and voting public for your support!
The Chaosium winners were:
Thanks to the creative teams behind each of our winning titles!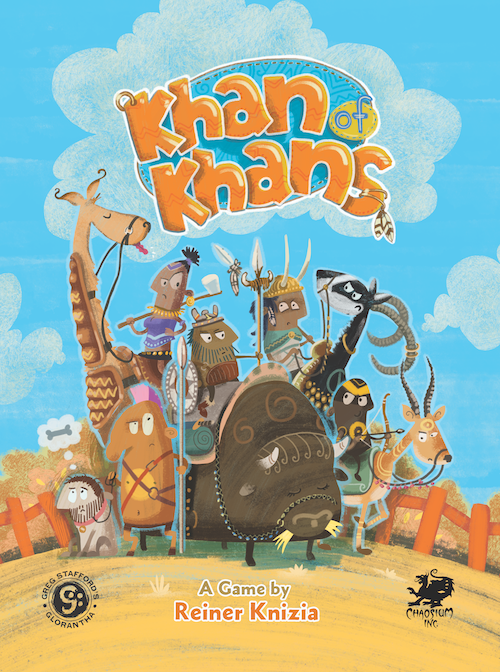 KHAN OF KHANS - Best RPG-Related Product GOLD, Best Family Product GOLD
Designer – Reiner Knizia
Game Development – Susan O'Brien
Glorantha Development – Greg Stafford
Additional Development – Michael O'Brien
Art & Graphic Design – Ian O'Toole
Play testing – Andrew Bean, Barbara Braun, Neil Robinson, Jane Saleeba, Aidan O'Brien, Harry O'Brien, Leo O'Brien, Jeff Richard, Rick Meints, Robert Schade, Ben Schade, Otto Schade, and the kids at Swan Con 2016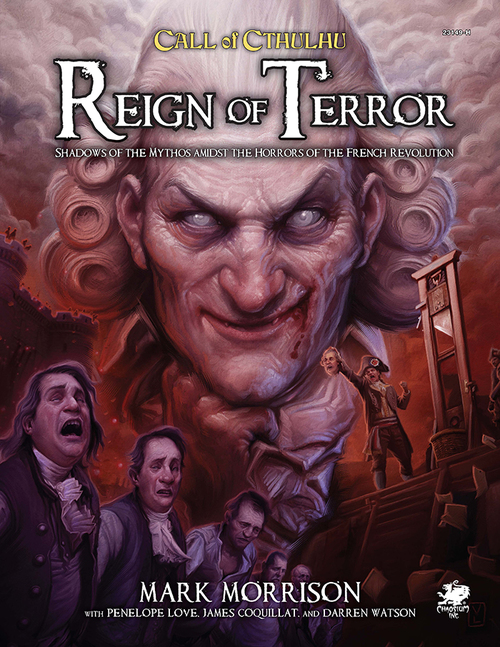 REIGN OF TERROR - Best Supplement GOLD
Author – Mark Morrison
Additional Writing – Penelope Love, Darren Watson, James Coquillat
Editing and Development – Mike Mason
Additional Development – Rick Meints, Michael O'Brien
Front Cover and Interior Art – Victor Leza
Back Cover Art – Delphes Desvoivres and Denys Corel
Cartography – Stephanie McAlea and Olivier Sanfilippo
Layout and Art Direction – Nicholas Nacario
Book Design – Michal E. Cross
Proofreading – T.R. Knight and Doug Bailey
Special Thanks – to the original play testers Kickstarter patrons who helped to make this special scenario a reality: Jason Donahue, Thomas Lynch, Tom Bockert and Travis Henson
Additional play testing – Euan Buchanan, Simon Keane, Christian Moura, Mark Thomas, Ryan Phelan, Ben Turner, Jason Bulmahn, James Jacobs, Rob McCreary, Erik Mona, Daniel Bower, Vincent Chau, Jackson Heenan, Natasha Hirt, and Alex Smiles.
RUNEQUEST QUICKSTART - Best Free Product GOLD
Authors – Jeff Richard and Jason Durall
Based on work by – Steve Perrin, Greg Stafford, Sandy Petersen, Ken Rolston, Ray Turney, and Chris Klug
Cover Art – Andre Fetisov
Art Direction (cover) – Michael O'Brien
Interior Illustrations – Roman Kisyov
Art Direction (interior) – Jeff Richard
Graphic Design & Layout – Nicholas Nacario, Rick Meints, and Michal E. Cross
Cartography – Simon Bray
Play testing – Andrew Bean, Eric Borg, Barbara Braun, Mara Braun, Mark Dunleavy, T.F. Druid, Todd Gardiner, Sven Grottke, Kris Alice Hohls, Claudia Loroff, Harry O'Brien, Michael O'Brien, Susan O'Brien, Christine Reich, Neil Robinson, and Jane Saleeba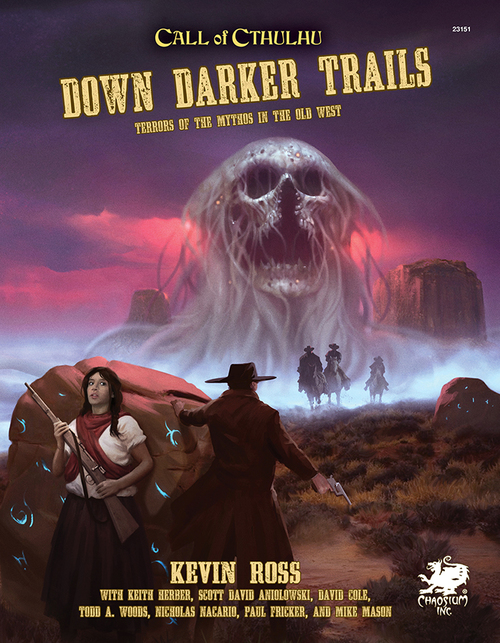 DOWN DARKER TRAILS Best Monster/Adversary SILVER
Authors – Kevin Ross, Keith Herber, Scott David Aniolowski, David Cole, Todd A. Woods, Nicholas Nacario, Paul Fricker, and Mike Mason
Cover Art – Sam Lamont
Artists – Rachel Kahn, M. Wayne Miller, Loic Muzy, Jonathan Wyke
Cartography – Vandel J. Arden, Andrew Law
Development for 7th Ed Call of Cthulhu – Mike Mason, Paul Fricker
Editing – Mike Mason
Art Direction & Layout – Nicholas Nacario
Book Design – Michal E Cross
Proofreading – Doug Bailey, TR Knight CHAOSIUM Fan Favourite Publisher SILVER

The Chaosium Team is Greg Stafford, Sandy Petersen, Dustin Wright, Nick Nacario, Mike Mason, Rick Meints, Jeff Richard, Neil Robinson, Michael O'Brien, Raja Panchmatia, Todd Gardiner, Jason Durall, Susan O'Brien, James Lowder, Lynne Hardy and James Coquillat



We also want to highlight and congratulate Chaosium licensees and friends Darker Hues Studios for Harlem Unbound (GOLD - Best Cover, GOLD - Best Setting, GOLD - Best Writing) and Miskatonic University Podcast (GOLD - Best podcast).
Many thanks also to our friends at Syrinscape, who composed the special walk-up music from their amazing new Masks of Nyarlathotep Sound Set. This was played every time Chaosium won an award!