Chaosium at Origins Game Fair 2017, Columbus OH
Posted by Michael O'Brien on 9th Jun 2017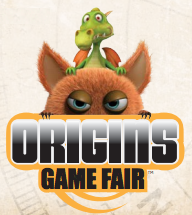 Chaosium will be at Origins Game Fair next week (June 14-18), in Columbus Ohio.
Come and say hi to Rick and Todd at the booth (#123), and buy the latest Chaosium products—including The Two Headed Serpent and Grand Grimoire.
We'll also be demoing our forthcoming boardgames, Khan of Khans and Miskatonic U!
Todd has arranged a great selection of Chaosium RPG sessions on offer at Origins too, including Call of Cthulhu events in the Cthulhu-thon, with our friends Petersen Games and Cubicle 7.
Games sessions we are running at Origins:
For Call of Cthulhu:
1922 - Slot "Red" (aka Weekend in the Woods): A group of Boys Scouts from Arkham, Massachusetts have gone on a scout trip to the Green Mountains in New Hampshire to hone their skills. The woods hold more danger than mere bears --- and the Scouts are disappearing, one by one.
What's in the Cellar?: In this 1930s mystery, investigators have been asked to clear the name of their friend Arthur Blackwood, who has been charged with his wife's murder after her disappearance. Will they find her body, or something else?
Necropolis: 1930s Investigators exploring a tomb in the Valley of the Kings are trapped by the sudden shift of a stone slab. Soon discovering they're not alone, time is of the essence to escape alive.
Cult of Chaos Contest Winner - Slot "Black" (aka Midnight Masquerade): In 1932, agents in the Bureau of Investigation's Department 29 assist in an unusual prohibition bust, where the money leads back to a cult leader. Can they survive a masquerade where danger hides in plain sight?
Cult of Chaos Contest Winner - Slot "Argent" (aka The Kids are Alright): Montana. 1975. When a bus comes back from a field trip, three young women are missing. Their parents follow the trip leader back into the wild at the base of the Rockies, where an archaeological site and the very woods around them may hold untold horror.
Camp Sunny: In the age of Instagram and Facebook, you and a group of friends set off on a spur of the moment vacation to the Great Lakes, leaving college, steady connectivity, and all your cares behind you. But if a group of college students scream in the woods, does anyone hear them?
For RuneQuest:
Broken Honor (aka Stealing the Eye): Sent by your clan to steal a valuable jewel, your band hopes to be in and out before you are detected by the temple guards of Yara Aranis. You'll slip out like shadows before dawn once you've succeeded in stealing the jewel. If things go bad? You'll fight your way out!
The Old Ruin (aka The Broken Tower) from the RuneQuest Quickstart: When the chieftain sends a small band out to find the tribe's stolen cattle, they find more than cattle theft afoot. In the badlands at the edges of their territory, their cattle are held in ancient ruins where something otherworldly seems to dwell. There's a mystery to solve and a herd to save, before it's too late. NB if you play in this session you'll get a copy of the RQ Quickstart to call your very own!