Unnatural Selections #33 - our student collaboration 'Refractions of Glasston' earns critical praise
Posted by Michael O'Brien on 13th Feb 2020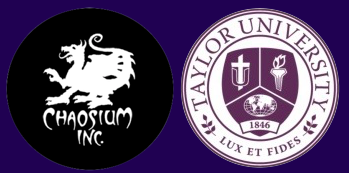 In a creative collaboration between Chaosium and the Professional Writing department at Taylor University (Upland IN), Prof T.R. Knight took a group of students through the process of developing and publishing a RPG scenario, with mentoring by Chaosium's Mike Mason and Lynne Hardy. You can read about that process – involving picking a topic, outlining, researching, writing, editing, rewriting, proofreading, choosing art, laying out, and publishing the final book – in the updates we made throughout the semester.
The end result, Refractions of Glasston, was published in the Miskatonic Repository community content resource on DriveThruRPG. Here are some reviews of the work.
RPG Imaginings says:
When I first heard of a group of college students working with faculty and Chaosium mentors to write a scenario I was simultaneously hopeful and skeptical. On one hand, anyone who has played role-playing games for an extended period of time knows that writing content for a wide audience for a game is challenging. My head spins a bit when I think about taking quality writing and needing to support it with art, handouts, editing and layout that makes for a truly professional-looking package. That isn't easy. On the other hand, Miskatonic Repository has provided a lovely platform to allow amateur writers access to publication avenues that were not present in the past. Why shouldn't a college course provide an opportunity for experiential learning? With these competing perspectives in mind, I dove into Refractions of Glasston with a positive and open mind. And I was not disappointed...
... In summary
Refractions of Glasston is an excellent scenario with an interesting cast of characters and a truly frightening, otherworldly, unique threat. I find it easy to visualize squirming at a gaming table as the clues are uncovered and the Glass Plague is encountered. This student group should be proud of what they accomplished!
Verdict: A solid 4 out of 5 for me. Highly recommended.
Verified Purchaser Justin L. says:
I like this little adventure. It's pretty solid, makes sense as a story, and delivers most if the info in a very usable way. 4/5 stars
Reviews from R'lyeh says:
Refractions of Glasston serves up a (mason) jarful of rural noir and body horror with a degree of transparency... At its core, Refractions of Glasston is a good mix of background and plot, with some nicely creepy—and well thought out—aspects to the body horror that plagues the town. Overall, Refractions of Glasston tempered in northern Indiana a solid, commendable first foray into writing for roleplaying games and for Call of Cthulhu.
Verified Purchaser Daniel P. says:
Amazing, well researched product. Why is this free?
Things like this - a school having their young scholars study and write scenarios for an RPG - fill me with hope that humanity just might have a chance (at least in their heads) against the Mythos. 4/5 Stars
Throatpunch Games says:
I majored in the hard sciences in college, so I never did anything as cool as write a CoC adventure for credit. But, if this is the quality I can expect going forward, I think I really missed something awesome. This is a good intro adventure with a fun variety of toys to spring on and for the adventurers. The story has a harder start, but once it's going, it takes off. The execution is decent. It's not perfect, but the issues are minor enough that the players won't know if you think on your feet as a keeper. Good layout and text make this easy enough to read. I did enjoy the line about completely reading the adventure before you start because that NEVER happens. Overall, this is a fantastic intro adventure I feel like I can spring on any group of new players and get an amazing CoC experience that will hook them for decades to come. 90%
REFRACTIONS OF GLASSTON
Taylor University PWR Press, Sam Guinsatao, Carson Jacobs, T.R. Knight, Joy Lemont, Elijah Oates, Rayce Patterson, Emily Pawlowski, and J. Tucker White (free, 46 page PDF)
A 1920s horror scenario tempered in northern Indiana. the result of a creative collaboration between the Professional Writing major at Taylor University, Upland IN and Chaosium Inc. The creators are all students at Taylor University.
Elias Taylor Winters, the CEO of TWJ Co., discovered a secret to the glass-making process that finally put him above his long-standing competition: Ball Glass. Shattering expectations for such a small company in rural Indiana, Winters has put Glasston on the map. The town and its economy are booming. But not everything in Glasston is as it should be…
Available free at the Miskatonic Repository on DriveThruRPG.
Prof TR Knight says the students would love to see more critical feedback about their work: leave a review at DriveThruRPG if you can!