RuneQuest Starter Set Design Diary #1: What to expect in the RQ Starter Set
Posted by Michael O'Brien on 21st Mar 2021
By Jason Durall, RuneQuest creative director
The Starter Set for RuneQuest: Roleplaying in Glorantha is coming! Between now and its release later this year, RuneQuest creative director Jason Durall's Design Diary will share insights about the development of this exciting new boxed set which will introduce the RuneQuest RPG and Greg Stafford's mythic world of Glorantha to all-new audiences.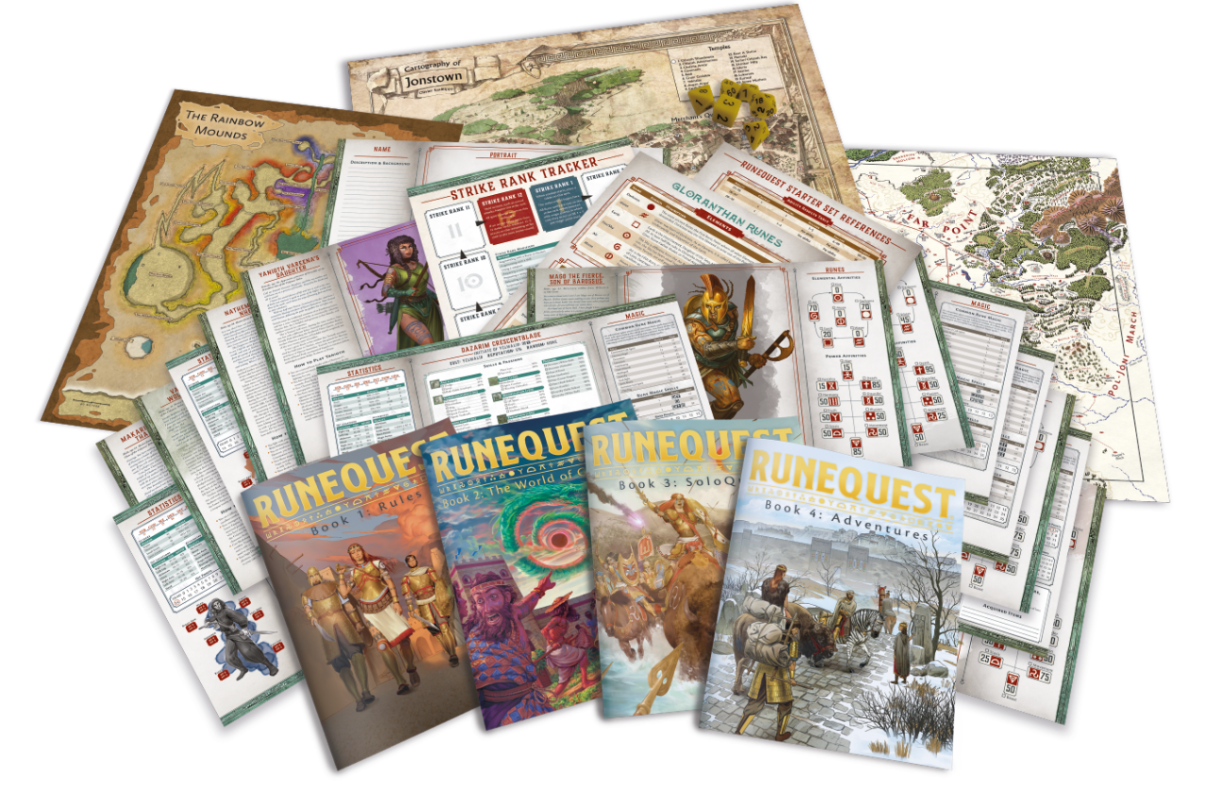 JASON DURALL: Two years ago, in the center of Chaosium's booth at Essen Spiel, the largest game convention in the world, I sat down with my colleagues Jeff Richard, Rick Meints, and Neil Robinson to plan a Starter Set for RuneQuest: Roleplaying in Glorantha. It was the middle of a long day full of meetings with international partners and working the booth. The Call of Cthulhu Starter Set was on sale and receiving a wonderful across-the-board response, giving us hands-on feedback as customers from all over the world bought it and looked through the display copy.
Design Goals
This enthusiasm made it clear that we needed to make a Starter Set a priority for RuneQuest and for the company as a whole. So sitting in a small table in the middle of the teeming exhibition hall, as thousands of game players wandered past, together we established the following creative and design goals:
First and foremost was to make a wholly accessible product to newcomers, instilling in them an enthusiasm for the world of Glorantha and the RuneQuest game system and the confidence to jump right in and start playing.
We would draw from the valuable experiences making the runaway bestseller Call of Cthulhu Starter Set and the Ennie-award-winning RuneQuest Quickstart & Adventure.
The RuneQuest version had to appeal to new and old fans of the line equally. Many starter sets are limited in that regard: we wanted something everyone could use and enjoy.
Under no circumstances would it be a throwaway product to be used once and discarded, after a short introductory play experience. It needed to have 'legs', as they say.
Rather than a stripped-down or abstracted version of the rules, the system would be presented as closely to the regular game line as possible. We wanted this to be an easy step into RuneQuest and Glorantha, as compatible with other products as we could make it.
Once those goals were established, the next steps became clear, and it began to take shape in our minds. This would also be a deluxe product, staggeringly good value for the price ($USD29.99). But the most important aspect was that it be a manageable product, something that would let new players and gamemasters have an easy entry to one of the most well-developed settings in all of fantasy roleplaying.
As one can expect, though, the exact contents shifted back and forth over the course of development, but finally have focused into a product we're very happy with and can't wait to share with everyone!
Next Design Diary: Cover art reveal and what's inside the Box!
Also, in the latest of our Chaosium Interview series, Jason discusses more about what's to come in the RuneQuest product line including the RQ Starter Set:
New RuneQuest Books! | Chaosium Interview

AB CHAOS NEWSLETTER SIGNUP
Be the first to hear our latest news and updates about the RuneQuest Starter Set and fine Chaosium games.