Ossi Hiekkala shares his unconventional approach for the forthcoming RuneQuest Weapons and Equipment Book
Posted by Michael O'Brien on 24th Nov 2021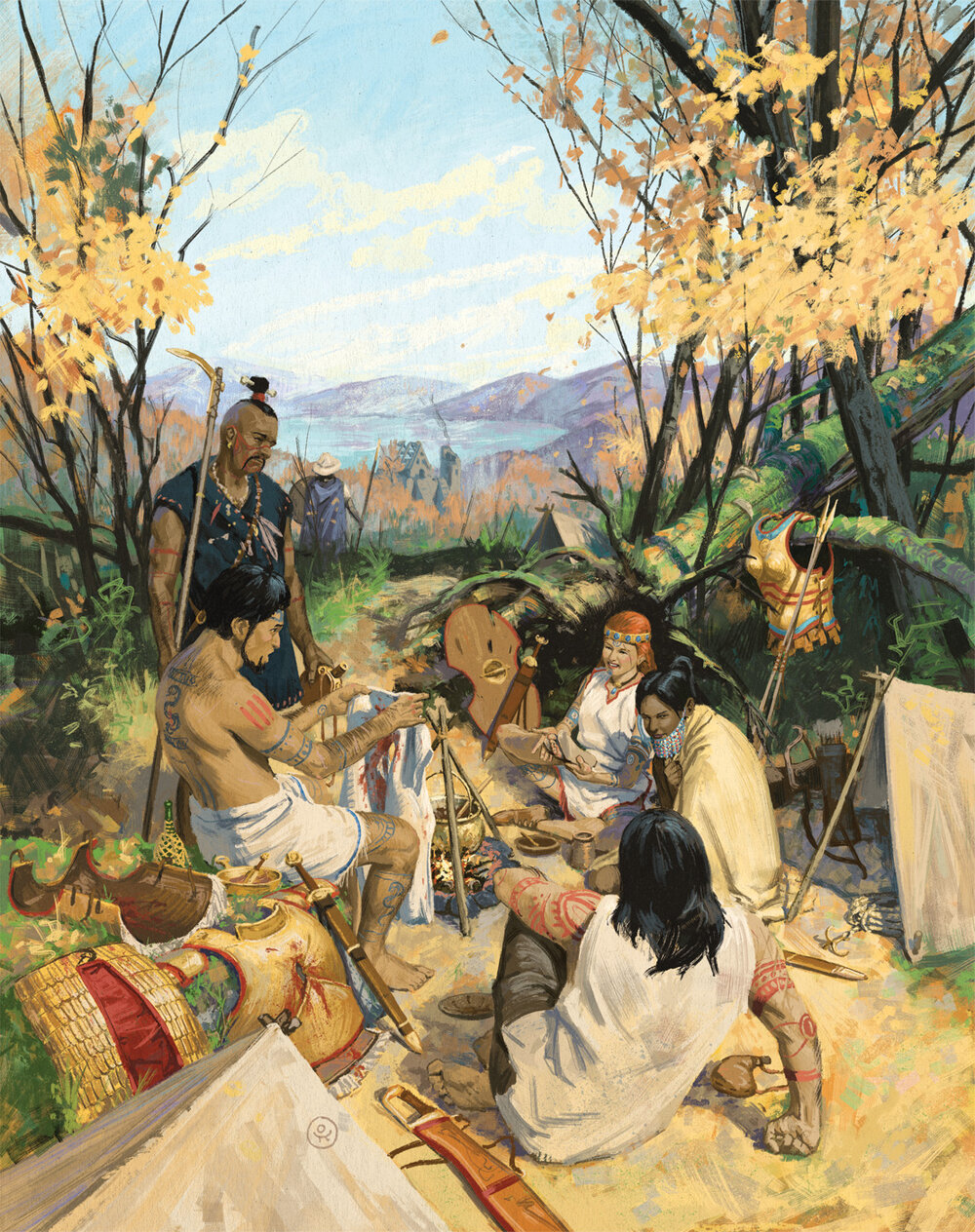 On his blog, acclaimed artist Ossi Hiekkala shares his unconventional approach for the forthcoming RuneQuest Weapons and Equipment Book (to be released on December 10th).
"Instead of the obvious choice of showing gear porn, I painted the group of pre-gen characters camping and enjoying each other's company after their previous encounters and before the eventual hard adventuring the next day, a scene that must be very common for any RPG group, but not often portrayed in the cover art. I am delighted Chaosium was happy to go with this kind of unorthodox cover image."
And RuneQuest creative director Jason Durall has confirmed that the RuneQuest Weapons and Equipment cover art is linked to Ossi's previous cover work for RuneQuest, for the RuneQuest Starter Set:
"Note that on the RQ Starter Set cover, Harmast is healing his wounded, blood-soaked chest, and Vasana is rocked back off her feet by the powerful blow from the krarshtkid.
Later, Harmast is wincing at his bloodstained tunic and Vasana notices her shoe is trashed. Yanioth is taking a nap to recover her lost magic points, and Nathem is watching over her. Vostor, last seen face down, is still a bit stiff from his injuries."
The RuneQuest Starter Set is out in general release for USD$29.99. Purchase direct from Chaosium.com or a FLGS that is part of the Bits & Mortar program and you get the PDFs included in the price.
The RuneQuest Weapons & Equipment Book will be released on December 10th.